A splash of paint in all its glory.
4th Sep 2009
Ronnie Renton
In the last blog we managed to post the first shots of the plastic Elves, in their naked state, so to speak!
Now we have our first top draw paint job of the champion (thanks Chris).
Here he is in leading the Elves into battle!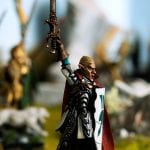 Click the thumbnail to see the full image.
I can almost hear the arrows whistling through the air!
Cheers. R