We've been really really excited in the Mantic offices for a little while now. Not only have we got Garius Maximus, guardian of Mantic Tower's dankest dungeons, releasing all of the Undead into the wild, we've also got our first Paint set, our first Undead metal set and a brand spanking new metal Elf set – the Elf Lord on Battle Dragon.
This monstrous mount has been hinted at for a little while now, and we can finally say that it will be released in April and included in a brand new Elf army deal (more on that in the this weeks newsletter!). There's nothing quite as impressive as a dragon in an army… well, except for maybe an army with a dragon and drake cavalry!
Pictures speak a thousand words, so we'll leave you with this shot of the Elven Battle Dragon, painted by Chris Straw. Click on the thumbnail for a larger image.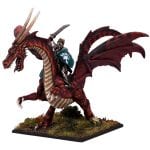 Remember: keep watching this space, the newsletter (and considering there's Dragons about, the skies too) for more on April's preorders and make sure you drop us your comments below!
Editor's Note: Hey guys, don't forget that the FREEDELWW code runs out midnight 31st March – 2 days time!