Clash of Kings is Mantic's premier Kings of War tournament.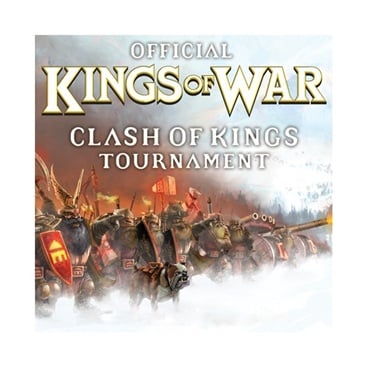 Here's our top five reasons why we think you should come:
5) It's fun!
Mantic tournaments are all about having fun, so whether you're a hardcore tournament gamer or just want to spend the weekend at Mantic HQ and have a laugh with the crew (and maybe see some of the sneak peaks lying around!) there will be something for you at Clash of Kings.
4) You don't need to build an army especially for it.
The event is open to anyone with a fantasy army – no matter the manufacturer – only the bravest will take to the field of battle and try and lay claim to the title of tournament champion 2014!
3) Great People!
The 2-day event will see a limited number (30) of attendees fight it out for the Title of Kings of War Champion 2014, including the likes of Daniel King, two-times Clash of Kings champion, and Nick Williams, who will be running the Kings of War games at the Mantic Open Day.
Dare you challenge these masters of the game?
2) There are lots of prizes!
6 games will be played over the course of the two days, with prizes for 1st, 2nd and 3rd places. In addition there will be prizes for:
The best painted army (must be majority Mantic models to qualify)
The best painted character model (must be a Mantic model to qualify).
The best painted warmachine (any model you like!)
1) Big Armies, Big Battles
To reflect the enormity of the event armies have been increased in size to 2,000 points – that means there will be some epic sized armies on show!
It's most hobbyist's dreams to one day lay their collection down on the table and play a big battle – with Kings of War, the simple quick rules make it possible. So don't leave your fantasy army on the shelf collecting dust, bring it to the Clash of Kings tournament and put it through its paces.
Clash of Kings will be held at the Mantic HQ in Nottingham on the 11th and 12th of October. There are less than 15 tickets on sale so join in before they're gone!
The ticket includes entry to the tournament and lunch on both days. Download the tournament pack here for details.
And don't forget – all of the basic rules and army lists for Kings of War are available to download for free from our website.
So come and take part in Mantic History. Will the King fall?