Hot on the heels of last month's Elf Army Set and Elven Archers comes a new monster mount for the Elf Army – the Drakon. These draconic creatures are smaller cousins of the Dragon, though more fiery and agressive. In times of conflict, mighty Lords will take to the skies on these fearsome beasts, whose large jaws spew fire over enemy formations or wrap around the necks of the monsters that align themselves with the forces of evil, tearing and ripping out their throats.
An Elf Lord may also gift a number of his lieutenants the use of Drakon Mounts in times of war. These expert cavalrymen take to the skies, lance in hand, circling the enemy before swooping through the clouds and crashing into the ranks of Undead or Orcs, cutting swathes through these terrible monstrosities.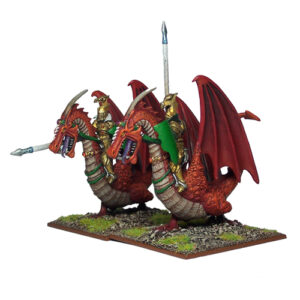 The metal Elf Drakon Lord and Drakon Riders were painted by the guys at Golem and are now available to pre-order before being released on the 25th April. These kits make a perfect addition to the Elf Army Set released last month. Containing over 70 plastic miniatures, an exclusive Elf Wizard on Horse, 10 Extra Free Spearmen and Free Printed Kings of War Rules, the Elf Army Set is fantastic value and the ideal way to start or expand your Elf Army.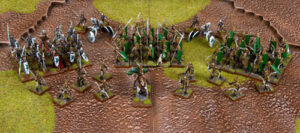 Watch out for details on the new Salute Army Deals later on today, these will be available from the website for a limited time only!