The Art of War.
3rd Aug 2009
Ronnie Renton
The main site www.manticgames.com has a picture emerging week by week. It is just coming to the point where the full Elf army will be visible in all of its glory. These were all designed as individually vignettes, which go together to form one huge battle scene.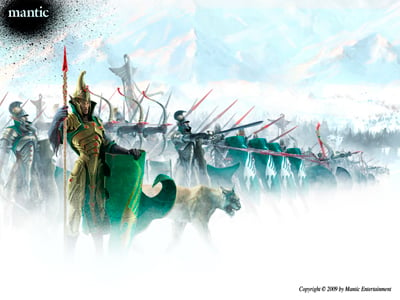 The central idea behind the art is to capture the moment just as the battle is about to break. The background gives a sense of calm before the storm, but the stillness and quiet is just about to be broken…in a massive way!  By evening the scene would look so different, and the art tries to capture all of these contrasting themes.
Secondly, the snowy background also really lifts the central images, so the individual figures become the main focus of the art, and it happens to go very nicely with the actual boxes (storage cases!) we have made…more on this later!
Finally, there is also only one army on this picture, but I have a feeling that might change over time…
The work has been done by Stef Kopinski. We knew we needed a really talented artist to pull together such a complex piece of work, they not only had to know and understand the genre, but also produce pieces that were both great as a large battle scene, but also capable of being used individually on the boxes. No easy feat.
Pictures this good have to be shared, so I have included the artwork (in a few different resolutions) for download. Click the link for the resolution you want, it will open in a new window and just right click and choose "Save Image As…"
800×600 – 1024×768 – 1280×1024 – 1600×1024
1280×800 – 1440×900 – 1920×1200 – 2560×1600
I think you will agree Stef has done a terrific job on the art for the elves; and he's just starting work on the art for the second army. Now I wonder if we could get those two battle scenes to stitch together somehow? Hmmm.
Ronnie