So if you saw Friday's newsletter, you'd have got a copy of this little beauty: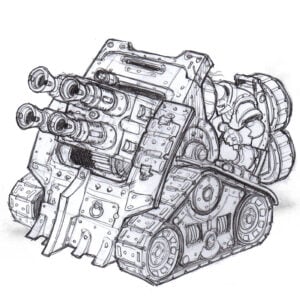 Jotunn Heavy Hailstorm Cannon
This is the concept art for the Jotunn Heavy Hailstorm Cannon, the first Forge Father vehicle kit and one of the two vehicles that will be included in the "Fate of the Forgestar" Warpath Battle Set.
For a full reveal of the painted model, make sure you keep an eye out for the Beasts of War Warpath Reveal starting on the 16th September and if you don't want to miss any more Warpath sneak previews, get signed up our newsletter!
While you're at it, make sure you've got the blog bookmarked and check back tomorrow for more Warpath goodness as we have another preview to show off!
Drop us your comments below please!