Warpath month continues and the concept for the Jotunn Heavy Hailstorm Cannon wasn't the only little sneak peak in last week's newsletter – there was also this…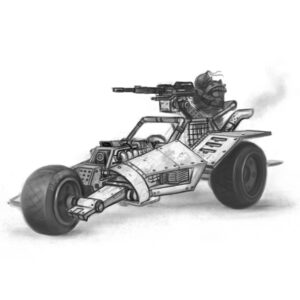 This is the concept art for the Marauder vehicle that is included in the 'Fate of the Forgestar' Warpath Battleset, most of the Army Deals and the Marauder army set when it is released. In turn, we think this concept art has been turned into an utterly fantastic attack vehicle for the Marauders, and we hope you tune in to the Beasts of War Warpath Weekend starting tomorrow for a full unveil of the painted model and much much more!
Before then, leave us your comments below or on Facebook, and get signed up our newsletter for all of the latest Warpath, Kings of War and Mantic news.