Undead Resin Wyrm Wings
Earn 1,998 Reward Points
£9.99
7 users
have this item in wishlist
While a Revenant King on an Undead Wyrm is terrifying enough to face, one mounted on a winged Wyrm is worse still. Taking to the sky on leathery, decaying pinions, these vicious creatures swoop down upon isolated victims, devouring them whole. When a winged Wyrm soars above the battlefield, nowhere is safe.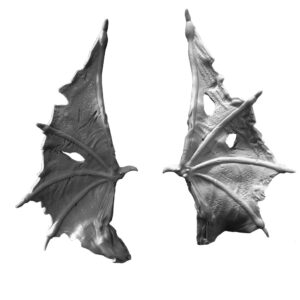 CONTENTS
This set contains a pair of wings for the Revenant King on Undead Wyrm for Kings of War, including:
2 Resin Decayed Wings
Each wing Measures approximatly 160mm/6″
Miniatures supplied unassembled and unpainted. Requires superglue. DOES NOT INCLUDE WYRM!