Kings of War Factions: Salamanders products
The Salamanders are cursed with the chill of Winter. Only the power of Kthorlaq and their mastery of flame keeps them alive. Salamanders' blood burns with great heat, manifesting in billowing vapours that exude from their fanged mouths, and channelling through their crude weapons, which sear and burn as well as they cut and crush.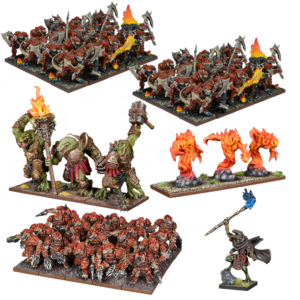 The solid ranks of powerful and stoic Salamanders are warmed by the magical heat of fire elementals summoned by the mage priests. Brutish Tyrants are used as lethal shock troops while the veteran ceremonial guard provide an elite backbone to the forces of the reptilians.
From the volcanic island known as the Three Kings come the salamanders. Reptiles whose blood burns with magical heat, they are formidable warriors who can be found across Pannithor. Each salamander is covered in toughened scales which are as effective as plate amour and sharp claws and teeth that can rend flesh. This all combines to make them fearsome warriors.