Kings of War: Featured products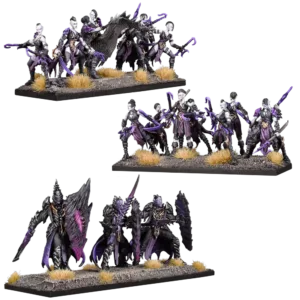 The Twilight Kin have developed a culture and mindset that has diverged drastically from the other elven kindreds. Though they share a common history, the Twilight Kin have deliberately cast aside the morality and compassion that endowed Elvenholme with much of its grandeur at the height of the kingdom's power. In their ruthless drive to restore the glories of the past, the Twilight Kin have shed the very essence of that past.
Please note this is a pre-order, dispatching on Wednesday the 18th October 2023.
Despite their rougher appearance, the elves known as Ice Kin are every bit as graceful and swift as those of other kindreds. With sharp blades and sharper senses they fight to protect their newfound home, their winter attire doing little to stymie their elven celerity.
Many refugees from the Free Dwarf Clans have travelled north of late. Under threat of invasion and unwilling to join the Imperial Dwarfs, these outcasts are drawn to Chill, braving the harsh frozen wastes to reach sanctuary.
This fantastic Ambush starter set is the perfect way to begin your Kings of War adventure!
The Nightstalker Ambush Starter Set is the perfect, best value way to start your Nightstalker army with 10 Reapers and 6 Butchers / Ravagers.
They lurk in the cold shadows of the world, and of the mind. The nightstalkers are the fears of mortals come to life. This Ambush starter set is a fantastic place to start building your creepy army of these horrors.