Kings of War Factions: Trident Realm of Neritica products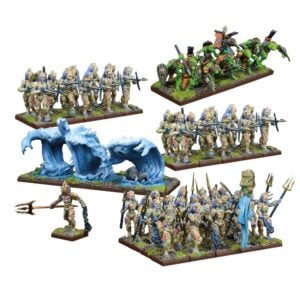 The Trident Realms are proud and territorial, and can commit to violence with little provocation. The lord of any land-bound territory would be wise to treat their inlets and coasts cautiously, lest they stir the fierce Neriticans who claim them as their own.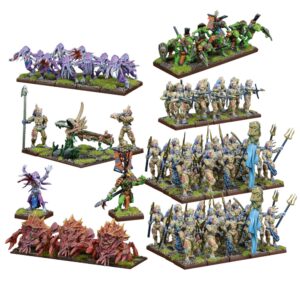 When the Trident Realms stir the very seas boil – storms rage, waves crash upon coastlines and the tides rise only to retreat, revealing the Neritican host, water cascading off shells and armour and ready for war.
Deep beneath the seas of the known world lies the Trident Realm – a triumvirate of glittering underwater kingdoms, ruled by an aquatic race far beyond the ken of land-dwellers. Created during the God War by the Dark Smith, the Neriticans are as capricious as the vast oceans that surround them, in parts gentle and nurturing, in others spiteful and full of wrath.