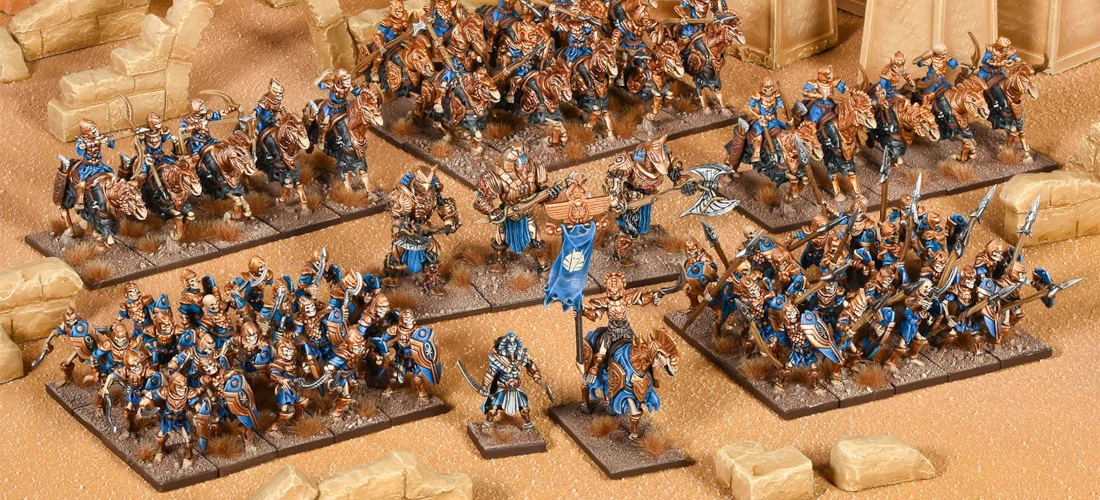 Kings of War Factions: Empire of Dust products
The cursed armies of the Ahmunite pharaohs march from the deserts to reclaim their masters' once-great empires. Rank upon rank of gilded skeletons and revenants march into battle, unheeding of their casualties – for any who fall can simply be raised again to fight for the glory of the pharaohs.
The legions of dust are equipped in death much as they were in life. Infantry regiments carry tall shields and fight with either spears or a variety of ancient hand weapons. Ranged troops are generally equipped with bows and some of the most skilled archers fire from horseback, harassing the enemy with bow fire and driving them into the shield walls of infantry. The high priests of the Ahmunites know neither bound nor taboo. In their effort to create the armies of the dead, they even raid ancient tombs of nobility, using their foul magic on the embalmed corpses of past royalty.
The ancient Ahmunite empire consumed itself from within as necromancy ran rampant and settlements became necropolis-cities, where soon the dead outnumbered the living. As retribution, the God-Kings or Ophidia summoned the most powerful and spiteful of the demonic djinn. Together, they unleashed a monstrous and lethal sandstorm that engulfed the Ahmunite armies, flensing skin and flesh from bone and driving them back to the wastes.
Today the Ahmunite pharaohs are driven by a willpower that conquered death itself centuries past, and are now almost unstoppable in their unquenchable wrath. To the sound of golden trumpets, the pharaohs roar their proclamations from parchment-dry throats: the great kingdom will be restored. The world of the living will end, starting with the treacherous Ophidians, and a new empire will rise.
An empire of dust.
Ancient and immortal, the Empire of Dust has conquered death. Sweeping forth from their desert catacombs in their hordes, these tireless warriors will conquer all.