Kings of War: Army Deals products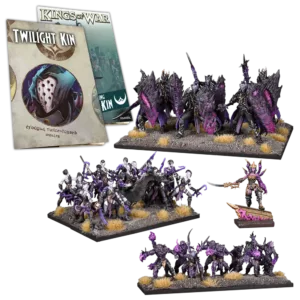 Dwelling in their underworld caverns for so long has brought physical changes upon the Twilight Kin. They are paler than other elves, their skin taking on a sickly, almost pasty cast. The beauty of their countenances is clouded by a cruelty that has become almost innate to them. The Voidwalkers and those who commune with entities from the Void, have peculiar eyes that convey a terrible intensity that is unnerving to look upon.
Please note this is a pre-order, dispatching on Wednesday the 18th October 2023.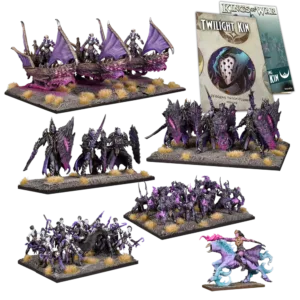 The scruples of elven character have been conditioned out of each and every member of the Twilight Kin. To become one of their dark cult, an elf must become hardened to torture and savagery. Initiates are tested continually to ensure their hearts have no sympathy for their victims – that no moral doubts will cause them to stray from their devotion to the Great Return.
Please note this is a pre-order, dispatching on Wednesday the 18th October 2023.
The forces of Talannar's alliance are hardy, veteran warriors with years of experience surviving and fighting in the harshest of conditions. Life isn't fair, so deal with it – a common saying amongst the northern tribes that make up the bulk of the troops at Talannar's disposal.
The humans of the Northern Alliance come mostly from the northern clans who have sworn allegiance to Talannar, but they can come from many disparate lands. Of these, some are remnants of eastern tribes desolated by Varangur raids.
Others are refugees of wars to the south, or exiles from the numerous Kingdoms of Elves, Dwarfs and more. Whatever their heritage, each has found a home as part of the Alliance and will fight to their last breath to protect it.