Armada Factions: Trident Realm products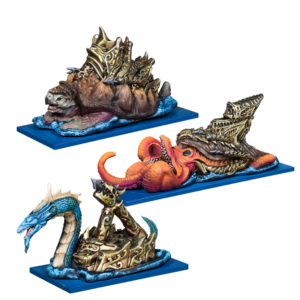 In their natural environment, the armies of the Trident Realm have adapted to the intrusion of land-dwellers upon their waters by training the giant creatures of the ocean depths in the art of warfare. Sometimes total destruction of the enemy is called for, but other times, precious resources and cargo need to be safely captured, and so cohorts of naiads are trained in boarding actions and other special operations.
MGARR101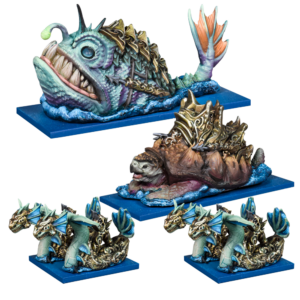 Utilising its natural gifts, the giant Kyr-Angler is able to blind opponents, while the ensnaring nets of the Wrym-drawn sloops cause havoc amongst the enemy's crews. Supported by the reliable gun-turtles, a Trident Realm fleet is highly manoeuvrable and deadly in its home "turf".
MGARR102
These ocean terrors are drawn to the fleets of the Trident Realm and fight alongside the larger creatures, supporting their attacks and disrupting the enemy battle lines.
MGARR301