Is Kings of War any good?
Kings of War is enjoyed by hundreds of thousands of players all over the world.
3rd Edition is the most balanced, feature rich version to date.
The Kings of War model range provides fantastic value plastic, resin and metal kits to build massive fantasy armies on a budget.
JUST HOW GOOD IS KINGS OF WAR?
Kings of War 3rd Edition Reviews
Hear what the wargaming community has to say about Kings of War 3rd Edition:
"3rd Edition offers a concise clean set of rules.
It's a fun and well thought out game that knows what it wants to do and does it well."
- Bell of Lost Souls
"Kings of War is Fantasy wargaming done right."
- OnTableTop
"We really want to emphasize just how epic Kings of War can feel when a battle is underway and the imagination gets going."
- Goonhammer
"Kings of War is the best tabletop wargame on the market."
- The Lair
"If you can't find something you like in Kings of War you aren't trying!"
- The Hashtag Show
"what shocks me is how simple and streamlined Kings of War is.
Rather than being slow and confusing it is extremely fast and clean."
- Nerdly
"Kings of War is extremely well balanced for a miniature war game offering multiple ways to win with multiple armies."
- Dash 28
Get Started Now
Prepare for battle with one of our great value Ambush boxes and start playing on a small scale.
When you're ready, upgrade to an army or mega-army box set for your chosen faction.
BROWSE BOXED SETS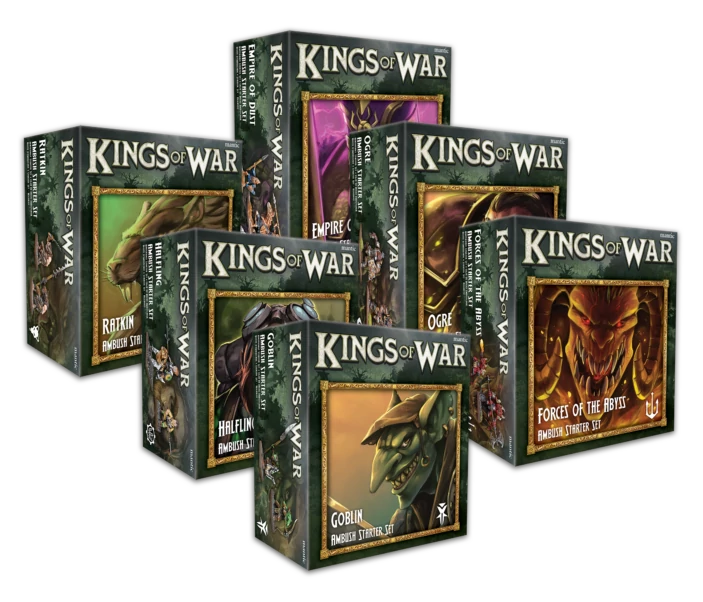 The Mantic Companion
Create your Mantic Companion account today, and start browsing the incredible FREE RULES, fully featured ARMY BUILDER and more. When you're ready, search for events to enter the official Mantic Rankings and gain the chance for exclusive participation prizes!
Create an Account
RICH BACKGROUND AND LORE
Pannithor has a vast and storied history brimming with tales of heroic deeds, devastating battles and evil intent. For those scholars who wish to delve into the mythos of Pannithor, our library of fiction awaits.
BROWSE LIBRARY NOW