A Clash of Kings love letter – by Steve Hildrew
14th Sep 2023
Martin Thirlwell
Hi all!
Steve Hildrew here, and this is my little love letter to the Kings of War Community.
A year ago, at London GT, I'd had a couple of shandies and suggested to Sir Ronald of Renton that perhaps he'd consider letting a group of players run Clash of Kings next year. I was slightly confused when he bit my hand off at the shoulder, but thought, "how hard can it be?," gathered together a group of like-minded souls, and away we went on a feverish planning campaign. How could we make Clash the greatest wargaming event ever run? We thought we'd bring it home to Nottingham, the heart of the lead belt, and if were were lucky, we might get the event up to 80 players, its highest ever number.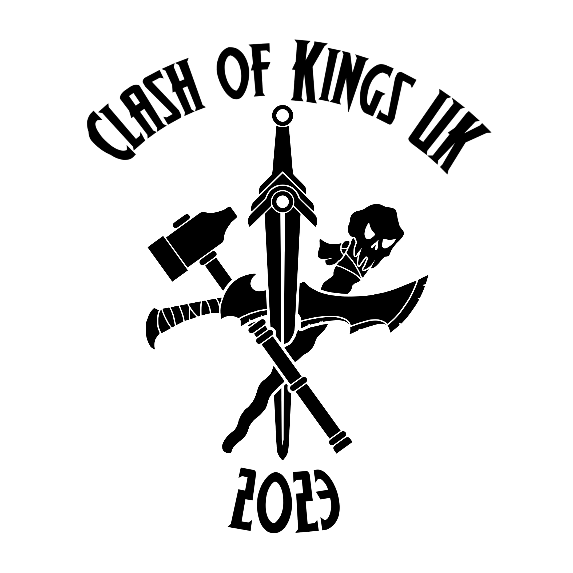 We spent a couple of months planning and scouting venues, settled on one we liked, which was nicely expandable, and put the tickets on sale.
It's fair to say, the reaction blew us away. 80 tickets sold out in a breath, as did 100, and we opened a bigger second hall and started nervously counting mats and terrain. We topped out at 150, and ploughed ever onwards into an unending planning maelstrom. We had a record number of international attendees (around 25% of the total) – players from Australia, Singapore, Austria, Poland, Argentina, Spain, France, Germany…. The list goes on.
Clash arrived, like a long-prophesized leviathan this last weekend, as you'll have been unable to avoid noticing if you've been anywhere near Kings of War social media. It was a crazy maelstrom of a tournament, but what has been incredibly gratifying is just how much people bloody loved it. Let's look at the negatives and positives, and if you'll indulge me, we have a lot of thank you's to say.
THE CHALLENGES
The Weather
After an entirely nondescript summer, Clash weekend turned out to be the hottest weekend of the entire year. Nothing like 150 sweaty gamers hanging out together in 30 degree heat. Even better, the sports hall staff told us their air con was non-existent so we hurriedly hired massive fans for the sports hall, and crossed our fingers. The venue is underground so largely protected, but it got so hot by mid-way through the first day we allegedly set off the fire alarms with body heat. Miraculously, the sports hall air con turned out to be functional after all (you can imagine how high I raised my eyebrows on learning this), and things dramatically improved, but there's only so much you can do in such a massive space. I'm not gonna pretend it was paradise, but it was definitely survivable, and we've a long way to go until we match Matt Croger's iron shed in 40 degrees Canberra! On next year's shopping list is portable air con units.
The Tech
We were blessed to have the incredible Jon Faulkes on hand to compere our live stream. I'd spent a significant amount of time prepping cameras and a rig to make sure we could see the top table from several angles – and then when I came to lay it out I found I hadn't packed my laptop cable. We had backup laptops, but they simply weren't up to the job, and until my wife arrived on Sunday with the errant cable we limped on with crashing cameras and blurry feeds until the after the beginning of game 5 when everything suddenly went buttery smooth.
I'm told the feed was still brilliantly enjoyable, and we certainly had record views (not least because the brilliant Dash 28 commentators got out of bed at god knows when o'clock to lend us their wisdom!), but I'm a perfectionist so that's something we're working on for next year. Not least handing responsibility for managing the stream entirely over to Jon so he can do it properly!
The WIFI in the hall was also a problem (underground = no phone reception). It was there, but it was slow, which meant we had to rely on paper scoring sheets and manual data entry. This is fine, but despite Elliott B warning me, we hadn't really worked out just how long it took to enter 150 results every round. Along with our lovely fire alarm, we ended up 50 minutes late on Day 1. But by the time we got to Day 2, we'd worked out the niggles, and Nick Williams had stepped up to assist with data entry. We finished the tournament bang on time, which with that many players was no mean feat.
THE GOOD
The Venue
Fair to say we got a cracking venue. Big venues are a nightmare in the UK, because they're all priced for weddings, and let me tell you, that's a price we can't afford. The Level at Nottingham Trent University is the Student Union's club. It has a fully kitted out bar, restaurant, sound system, stage, and a nice big sports hall right next door. Heaven. It's even got its own separate bar upstairs which we hired out for the evening so Ronnie could spill a bunch of secrets (and free Rum samples for those who indulge). We practically drank the bar dry (thanks heatwave!) and its fair to say we are very, very welcome back next year.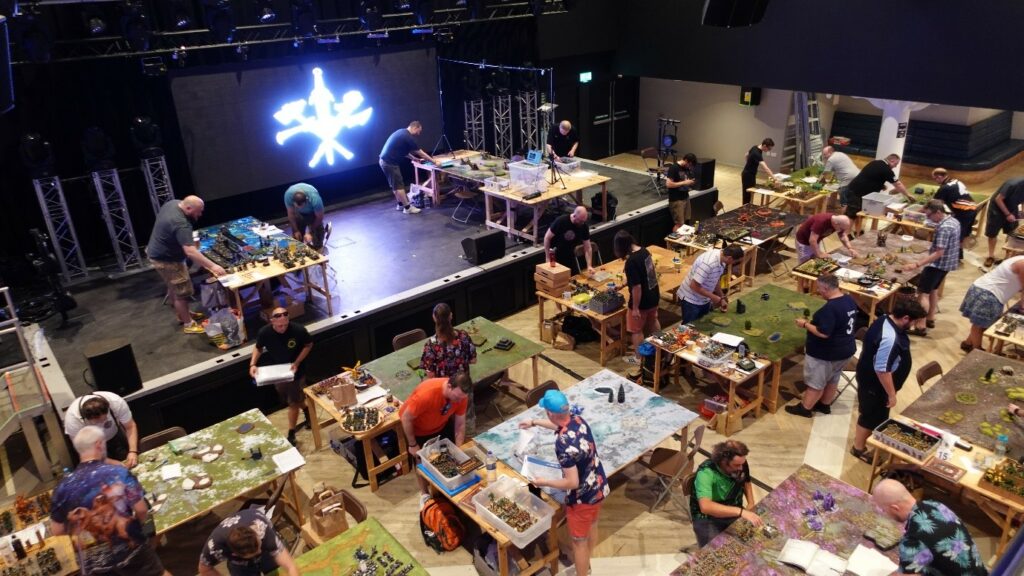 The Team
Without asking, we were flooded with help Friday night, and an incredible crew of gamer volunteers appeared to put up tables, lay out terrain, set out table numbers and make everything look amazing. Special thanks absolutely has to be said to Alice Hildrew, Elliott Morrish, Nick Williams, Jake Salmonsmith, Andy Marshall, Jon Gunns, Jon Faulkes, Russell Harris, Dan Wright, and Bob Aspland who (literally) sweated their way to making it look so amazing in record time. I'm not joking when I say we couldn't have done it without them. Not without an extra 20 hours and several back injuries.
The Tables
Who'd have thought a side table would get so many compliments? People loved our tables – they were spacious and people had plenty of room to manoeuvre. The TOs that make up the Clash committee have got a thing for high-quality terrain, and we worked hard all year to ensure our stuff was up to scratch. I think that even though we laid out the highest number of tables a kings of war tournament has ever seen, our standard was the highest it could be. It seems our players agreed.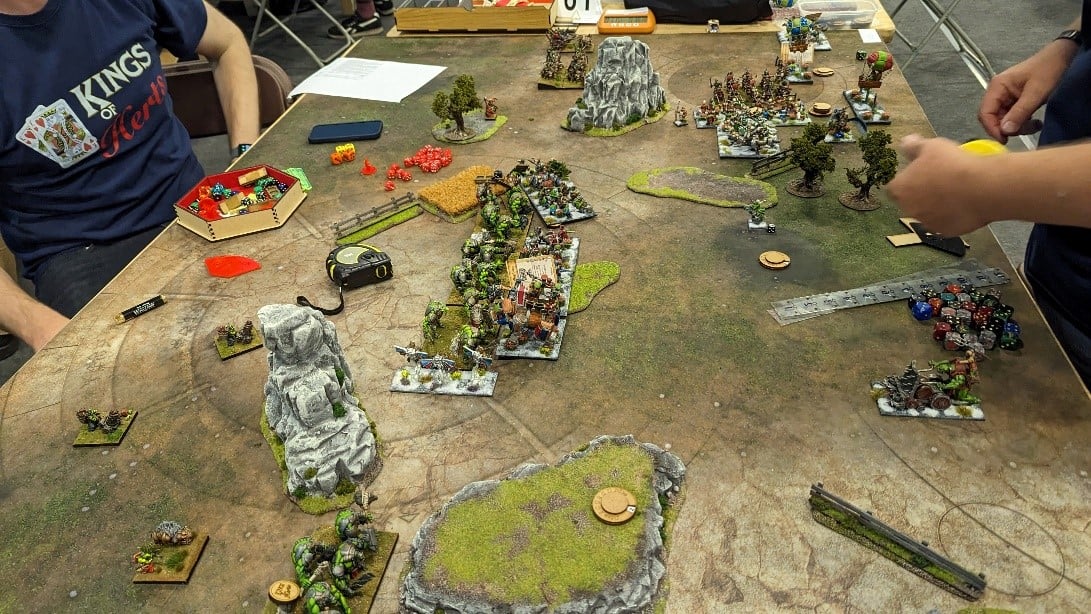 The Games
It's always a worry when you put on an international tournament, and particularly one of this size – language barriers are a thing, and people play the game in a very different style, depending where in the world they are from. I'm not going to pretend we didn't run into problems with language, but with the occasional intervention the extraordinary thing was how amicably everything went. People new to Kings of War without fail always comment on how bloody lovely our events tend to be. I was worried with this many players our crown would start to slip but I'll be damned if we didn't have the most incredibly genial, fantastic atmosphere throughout the whole weekend. Any rules confusions were resolved amicably, language issues were few and far between and tended to evaporate once clarified. The worst drama we had the weekend was a player in round 3 who was upset that he was forced to dice down by the round timer without picking up a token he'd dropped the turn before. (Rules are rules, and a few beers followed by a good (?) night's sleep later and he was right as rain).
The hobby standard
Holy wow in a bag. I have never seen so many beautiful armies in my life. Every army had so much effort put into it that hobby judging nearly put us in psychiatric institution. We had hobbyists of every age and standard and were so blown away by the standard we invented 5 "judges choices" awards on top of our best army, best model, and best unit awards. We took some good quality photos and videos so expect those to go up soon if you haven't been perusing already.
And…. That's it. Everything else just went to plan! What an incredible weekend it was. The goody bags went down like a storm – I've never seen so many gamers laughing, rolling dice, and murdering each others' armies. The final game for the trophy came down to a super-tense Northern Alliance vs Halflings game that was streamed online and led to the lovely Piotr Nowak holding aloft the magnificent sword that we somehow now have to work out how to send to Poland.
I would be remiss if I didn't use this opportunity to profusely thank those that helped, so if you'll indulge me just a few more moments, I want to thank:
The Clash of Kings committee – Matt Gorham, Si Brand, Jan Stother (and Nick Williams)
The incredible Joe McLaren for designing our logo
Mantic Games, especially Ronnie Renton, Martin Thirlwell and Elliott Barratt
Nottingham Trent University Students Union, Especially Hollie, Shad, Jalali and their staff.
The Northern Kings for their terrain, their quiz, and their time and love.
Bob Aspland for the unbelievable amount of work he put into the tournament, not least his incredible wooden spoon! Without Bob it would have been a massively lesser event.
And last but very much not least, you – the Kings of War Community. Clash wouldn't have been the massive success it was without you, your commitment, your gamesmanship, your hobby, and your love.
You better believe we'll be back next year – bigger and better than ever, and I can't wait to see you all there for more craziness. Bring on Clash 2024!
(details coming sooooon)
Steve