WELCOME TO THE BIG LEAGUES, CHAMP! THINK YOU'VE GOT WHAT IT TAKES TO COMPETE WITH THE BEST IN THE GALAXY? WELL, I GUESS WE'RE GOING TO FIND OUT. OVERDRIVE LEAGUES ARE WHERE COACHING LEGENDS ARE MADE… AND CAREERS ENDED. THERE ARE RICHES GALORE, IF YOU CAN GET THE RIGHT SPONSORSHIP DEALS OR JUST DISAPPEAR INTO OBSCURITY. ALONG THE WAY YOU'RE BOUND TO PICK UP A FEW SKILLS TO HELP PUSH YOUR PLAYERS TO NEW HEIGHTS. BUCKLE IN CHAMP… IT'S GONNA BE A BUMPY RIDE!
In OverDrive you take on the role of a Coach travelling around the galaxy before picking your team of giants and battling it out in the arena. You've got the option of playing one-off matches – and choosing one of the six different game modes – or you can play interlinked match-ups as part of a league. In today's blog we're going to explain how to play a league and why it's one of the most exciting ways to play OverDrive.
Before you start to play in a league, you'll need to create your Coach. You can start by creating an exciting back story for your Coach – perhaps they were a former DreadBall MVP that was injured and has entered the OverDrive leagues? Maybe they're a Rebs spy trying to infiltrate the murky world of the GCPS? The choice is yours! Give your Coach a suitable name and then it's time to choose one Sponsorship Deal and one Coach Ability.
In a league you will earn Credits that can be used to purchase new Coach Abilities and extras. However, in a one-off game, you may wish to try out some of the Coach Abilities available. Before the game, decide with your opponent how many additional Coach Abilities and Sponsorship Deals you can choose for your Coach.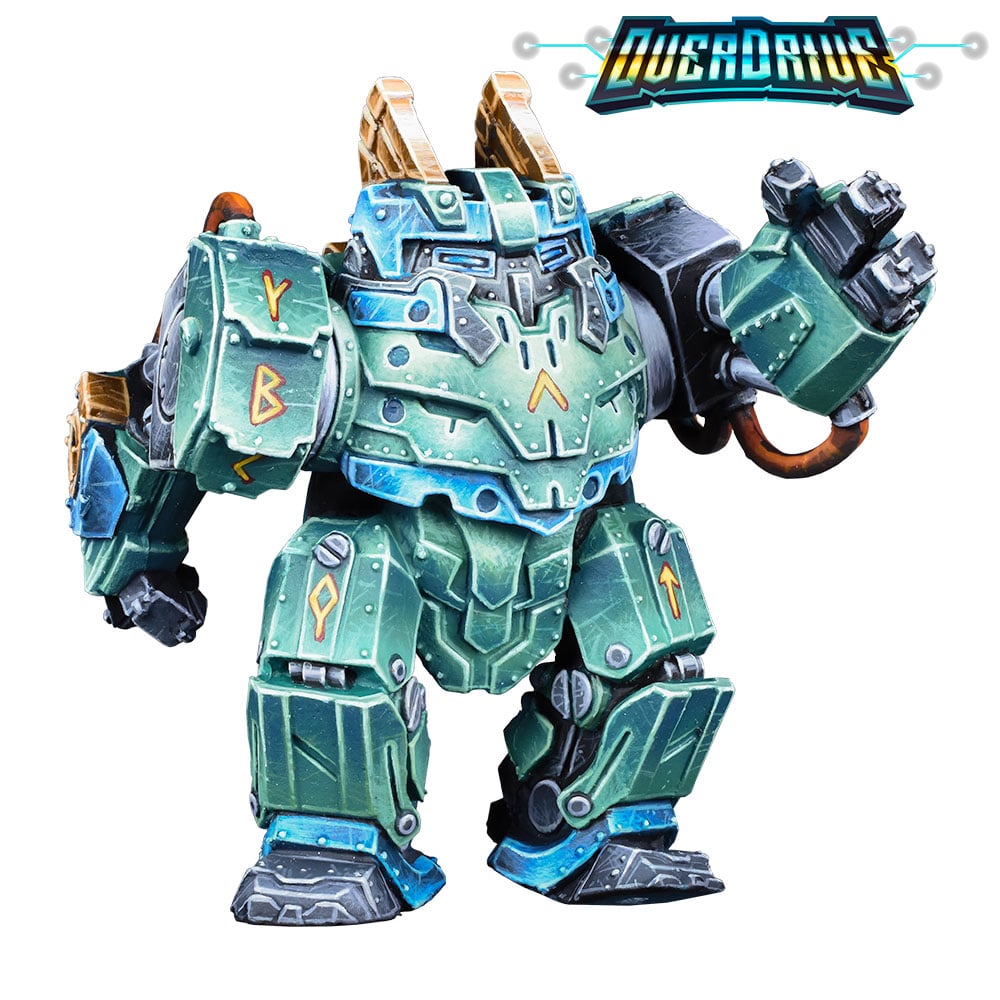 WHAT ARE COACH ABILITIES?
Good question! As you develop your skills during a league, it's likely you'll pick up a few tricks along the way and learn to get the most out of your Players. This is represented by Coach Abilities, which can be used to buff your Players.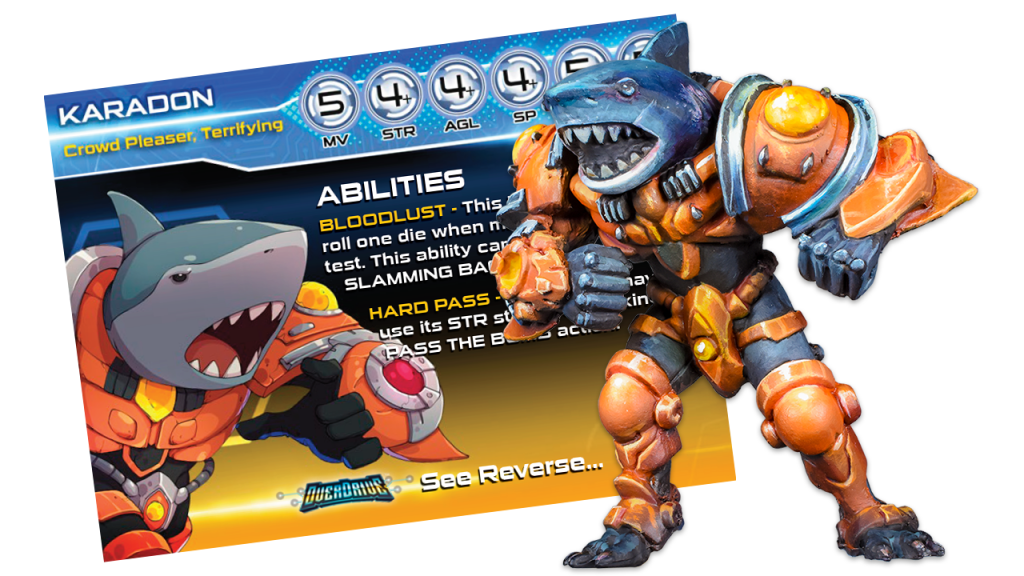 Many of these abilities are tied into the keywords on each of the Player Cards. For example, take a look at Karadon's Player Card and you'll see he has the Crowd Pleaser and Terrifying keywords. That means that some abilities will trigger those keywords in certain situations.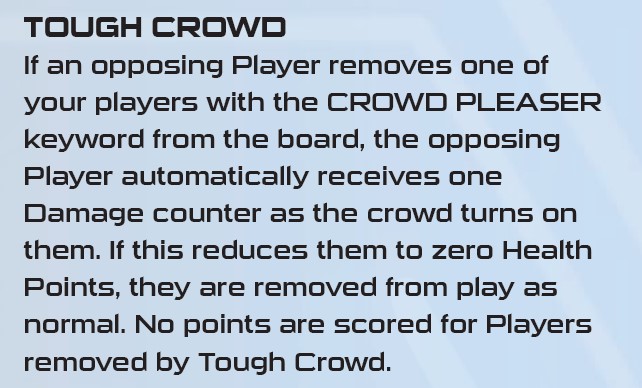 One ability, for example, is the Tough Crowd ability, which only affects characters with the Crowd Pleaser keyword.
Part of the reason for having the abilities tied to keywords is that we want Coaches to think about their preferred playstyle and the type of Players they're likely to have in their roster. Coaches will need to decide if they want to specialize in certain Players… plus it can make things more interesting when it comes to the Advanced Drafting (which we'll come to in a minute). It also stops a Coach becoming uber powerful by unlocking all the abilities that make their Players into killing machines.
SPONSORSHIP DEALS
Well, you didn't get into the OverDrive leagues for charity, did you? Although you will earn credits just for taking part or winning matches, there's also the opportunity to earn additional credits by taking on different sponsorship deals. Imagine the big corporations are keen to show off their latest product by getting the Players to demonstrate them in the arena.
Just like Coach Abilities, the Sponsorship Deals are also triggered by keywords, so you may need to adapt your playstyle to get the most cash out of each match.

As you can see from the Pepzee Kola deal, this will reward you for Slamming an opponent with a Player that has the Tough keyword ** cough ** Dozer ** cough **
CHOOSE YOUR PLAYERS
Next, it's time to select your Players. The best Coaches will travel the galaxy with their favourite Players. They form a close bond with these Players and aim to get the best out of them in the arena.
At the start of a league, you choose six Players that you will use throughout the League. It's best to choose a varied mix because the different scenarios require different skill sets.
Before each match you'll use the Advanced Drafting mechanic to choose your three Players for the match ahead. You can watch the video below to hear how Advanced Drafting works.
So, going back to the Coach Abilities and Sponsorship Deals, you can potentially identify the sort of tactics your opponent is going to use by the Players and Abilities they have. For example, if they have Abilities that tend to favour Tough or Defensive Players, then it's likely they're going to choose them. As a result, when picking your team you can block them from choosing certain Players by choosing them for your team instead.
OTHER LEAGUE ELEMENTS
During the course of the league you'll be able to buy more Coach Abilities using the credits you've earned and you'll earn more Sponsorship Deals as companies flock to sign lucrative deals. That's not all you'll be able to spend your hard-earned credits on though. There's also the opportunity to buy:
Coach Calls – these are re-rolls that can be used during the course of a match, when you really need to make sure a dice roll goes your way
Coaching Dice – need a little extra oomph in your Slam? Coaching Dice are one-off additional dice that be used during a test
Additional Players – although you start with six Players in your line-up of available giants, you can add additional Players during the course of a league. This doesn't come cheap, however!
Another element to note during the campaign is that no one is going to die! Sometimes there's nothing more irritating than seeing your MVP suffer a terrible injury that ruins the rest of their season or potentially even dying and being removed from the roster entirely.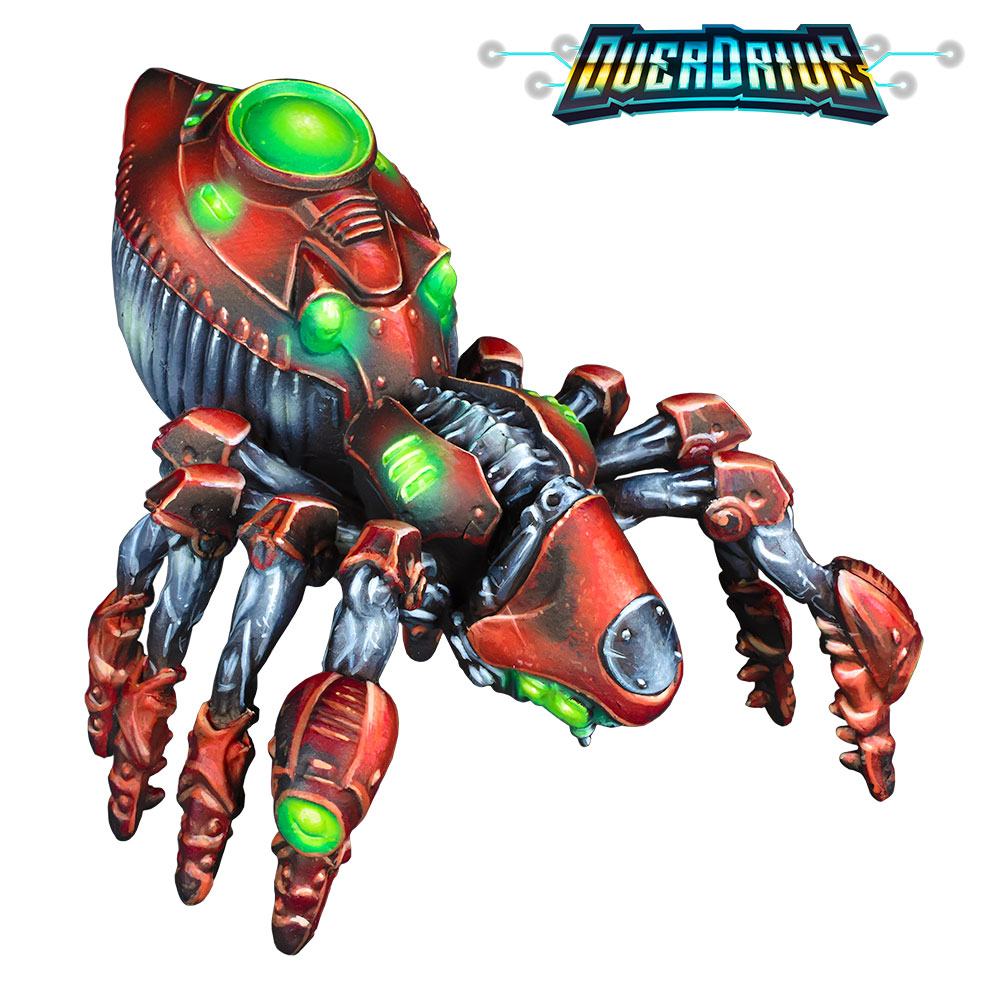 With OverDrive we wanted Coaches to see their abilities grow over the course of the league and not suffer because of one bad roll. This is a game about earning experience and getting better at playing the game – not watching your players slowly grind down over time due to injuries.
A league is a really fun to experience all that OverDrive has to offer. It encourages you to try different Players and all the game modes, plus you can build your coach around your chosen play style.
OVERDRIVE IS HEADING TO STORES THIS SEPTEMBER AND PRE-ORDERS WILL BE GOING LIVE SOON!