Later this month we'll be unleashing a whole new supplement for Armada – the game of fantasy naval battles. Ahead of the release, today we're detailing the top five reasons why every Armada player needs a copy of Seas Aflame. EVERYONE!
1. COME FLY WITH ME
Seas Aflame contains the rules for the new fliers. So, if you want to add a slasher carrying a cage full of angry orcs or a flying dragon made only of bones to your fleet, you're going to need this book. Seas Aflame gives you the lowdown on how fliers move, how they attack, etc. Fliers are a great way to add a different element to your fleet and could help you turn the tide (pun intended) when it comes to certain scenarios.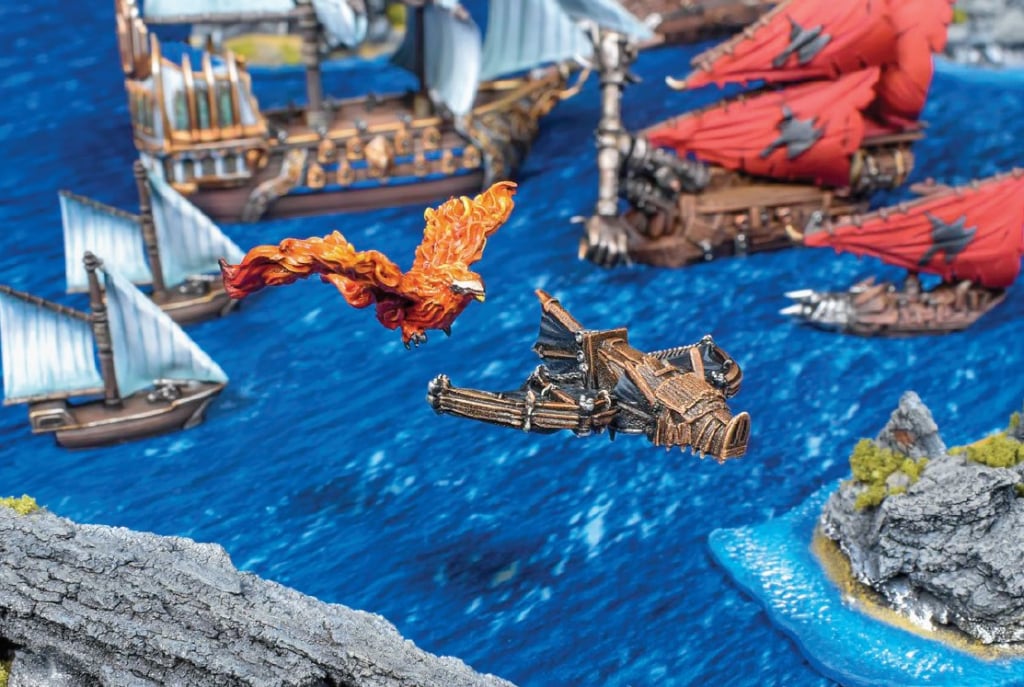 2. THE HUNT FOR DREAD ORCTOBER
This supplement contains the greatest pun ever, thanks to The Hunt for Dread Orctober scenario name. Of course, if for some reason the amazing pun isn't enough to persuade you to pick up the book, then the fact there are 10(!) new scenarios in Seas Aflame is likely to help as well. From a fight to blockade a coastal settlement to a scenario that features terrifying ghost ships, the new missions help to mix up the gameplay and offer something totally different
3. IT'S VERY FORTFUL
As well as rules for adding fliers to your fleet, Seas Aflame contains everything you need to add coastal fortifications to your arsenal. Although fortifications won't suit every style of game, they're great for scenarios where you're expecting one player's fleet to defend a key location. In these missions, you can use a piece of scenery as a fortification and hopefully rain down cannon fire on your opponent. The supplement explains how to place fortifications and special rules, including upgrades specific to forts.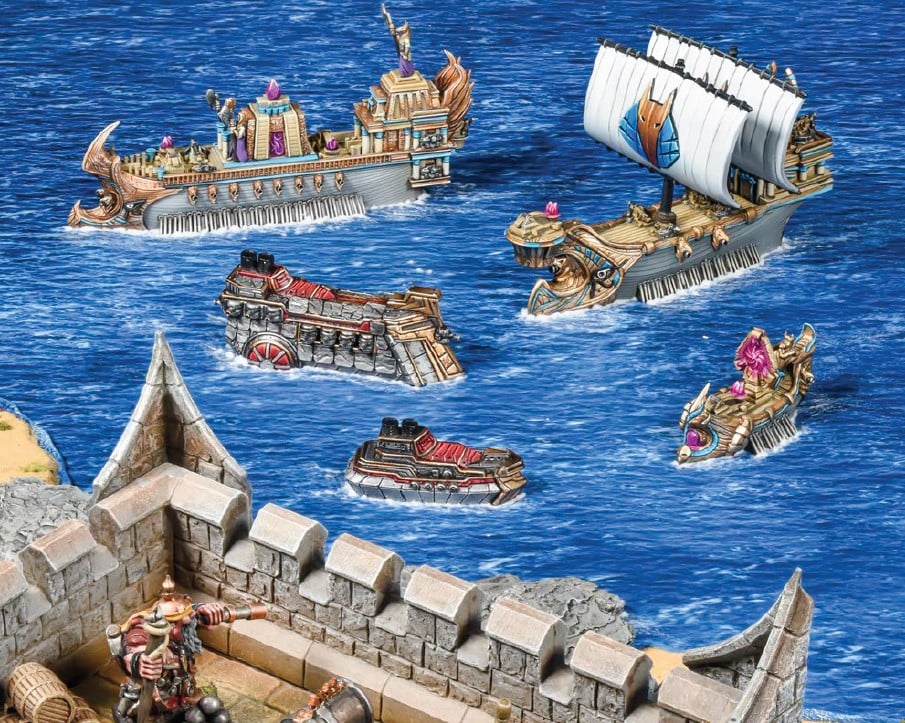 4. NEW UPGRADES
Talking of upgrades, Seas Aflame has 13 new upgrades that you can add to your fleets. Ever fancied adding some ogre mercenaries to your crew? Well now you can for just three points. How about a Crow's Nest to help you target different ships within range. All yours for just 1 point. There are also some brand-new magical upgrades, like the Scrying Gem and Vial of Sacred Water.
5. CAMPAIGN RULES
As if all this wasn't already exciting enough, you'll also find rules for playing a campaign. Here you create a 'Grand Fleet' that will develop and change through the course of inter-linked games. You can then choose ships from your Grand Fleet depending upon the scenario being played. Depending upon how your ships perform during the scenario, you'll then earn gold to spend on new upgrades and your crew will gain more experience too. Of course, there's always the chance that ships will be damaged, so they may become less effective in future battles. Campaigns are a great way to get a group of players together and we can't wait to see clubs or stores creating their own naval adventures on the seas of Pannithor.
SEAS AFLAME IS AVAILABLE TO PRE-ORDER NOW FROM THE MANTIC WEBSITE OR YOUR FRIENDLY LOCAL GAME STORE.