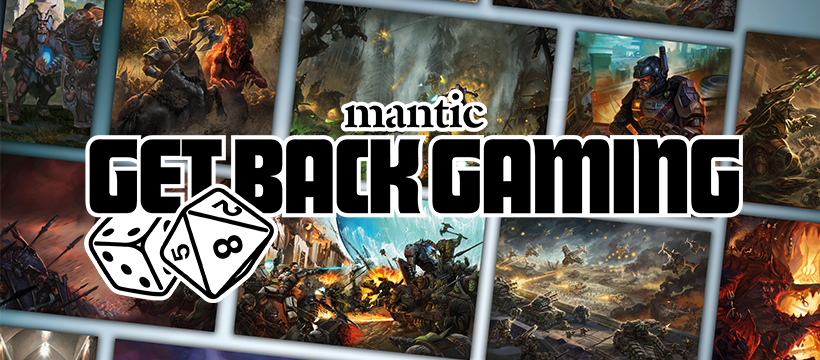 Are you ready to Get Back Gaming? It's been a tough year for tabletop gaming. Without the opportunity for face-to-face gaming or tournaments, many of us have definitely felt something lacking… although it has been great for getting some of those hobby projects done! Ronnie almost finished his dwarf army – you know, the army he has been working on since time began. Think he was in lockdown due to the bubonic plague when he started.
However, there is now finally some light at the end of the tunnel here in the UK and elsewhere around the world, which means we can slowly (and carefully) come out of hibernation and start gaming again. With that in mind, we wanted to arrange a series of events and activities to celebrate that fact that we're able to get back gaming here in the UK, but also give everyone something to get excited about… even if they're unable to game in-person just yet.
That means we're going to be hosting a variety of events under the 'Get Back Gaming' umbrella. Some will be in-person here at Mantic HQ, while others will be virtual events… and some are quite a long way away, when hopefully more of us are able to meet up and roll dice.
So, before we go into more detail, let's give you some highlights that we'll be talking about this week…
Key dates for your diary:
May 17th – Mantic Store Open five days a week
May 19th – An Idiot's Guide to Armada (more on that tomorrow)
June 26th – Grand Re-opening and Mantic Online Preview (see below)
August 27th-30th – Fight for the Rift: Kings of War Online Campaign long weekend (we'll be talking about that on Wednesday)
MANTIC HQ
First up, let's talk about what's happening here at Mantic HQ. Well, we're pleased to say that from today we're open weekdays from 10am to 3pm. You can pop down to pick up your supplies (Vallejo, Army Painter, etc.) and, of course, wonderful Mantic models. We're also looking at expanding the range of hobby items available in store. Social distancing measures are currently in place and we're limiting visitors to six people in the store at once.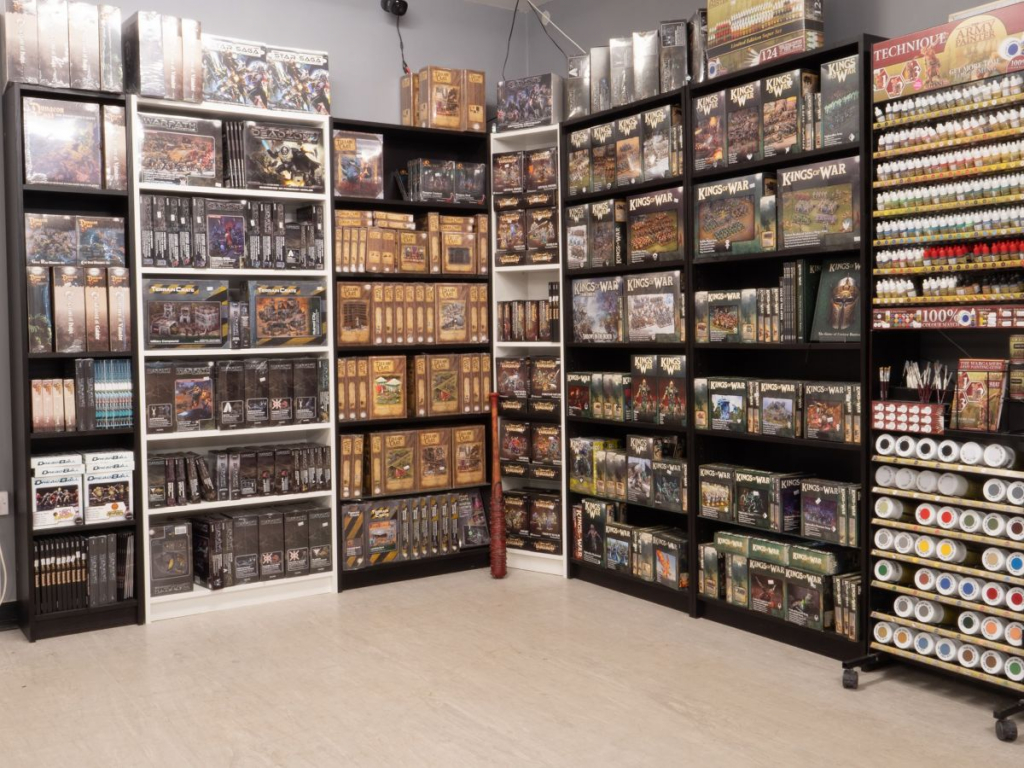 At the moment, we're not open for people to come and play games at HQ but all that will hopefully change in June. However, Elvis will be on-hand to answer any questions you've got about a particular game and generally be his usual helpful self.
We're currently in the process of redecorating too, as we want the gaming hall to become a hobby venue where you can play throughout the week and weekends too.
GRAND RE-OPENING
The key date for the Mantic Store though is June 26th! This is when we'll be holding a GRAND RE-OPENING because (hopefully) social distancing will be eased and we can have more people in the store at once. Hooray!
What does the Grand Re-opening mean? Well, check the out the list below:
More tables – gaming tables set up all the time for you to come in play
The return of the Mantic Tour – see behind the scenes at Mantic. We'll let you know when tour tickets are available again
Mantic Club Night – every Friday we'll be open until 10pm for our weekly Club Night
Weekend Opening – we'll be opening Saturday and Sunday for gaming/shopping/general hanging out. Opening hours to follow in June
Themed Gaming Weekends – every month we'll be hosting themed weekends with demos and special offers. Keep an eye on the newsletter to find out about upcoming themed weekends
Tournaments – we'll have more tournaments here at HQ and you'll be able to host your own tournaments here as well. Contact elvis.fisher@manticgames.com to see when we've got space available and our capacity. Plus, there's no charge if you're hosting a Mantic event!
We realise that not everyone can attend these events so, where possible we'll be hosting live streams of games too. Talking of live streams…
MANTIC ONLINE PREVIEW
As part of the Grand Re-opening we'll also be hosting another of our online previews. These are a great opportunity for you to see what's coming up from Mantic in the months ahead.
Make a note in your calendar for June 26th at 2pm (UK time)… and hopefully Rob will remember to press the big 'go live' button this time.
So, as you can see there's plenty to get excited about over the next few months and, even if you can't make it to HQ, we'll be sharing plenty to the online community too.
SAVE 50% ON DIGITAL BOOKS
Also, as part of our Get Back Gaming initiative, you can currently save 50% on digital rulebooks – perfect if you're tempted to start a new gaming (or two). Until the end of May, use the code GETBACKGAMING at checkout to save 50%.