Get Inspired With Terrain Crate
7th Nov 2023
Dan Mapleston
Hi everyone, it's an exciting time here at Mantic!
With Clash of Kings shipping from today, shiny new Enforcer units in early December, and WARPATH on the horizon, it's very easy to forget about the unsung hero of all our greatest miniature battles – the tabletop itself!

Well, fear not – that's why Terrain Crate was invented – to bring your battlefields to life! These sets cover a huge mix of settings, and are full of all kinds of characterful and immersive terrain pieces.
Planning out a new table is one of the really exciting projects in the hobby – we don't get to do it very often, so you can really savour it as a cool opportunity! Have you got a new army in mind that would look awesome on a themed battlefield? Or do you want to build a battlefield to suit your favourite army when they go into battle? Either way, read on for some cool ideas to get those creative juices flowing!
---
Build It And They Will Come
We love model buildings. From ruined fantasy shacks to sci-fi skycrapers, you can really let your imagination run riot. They are also excellent large pieces of blocking terrain that quickly make any battlefield look awesome!
Put an outpost, village, or ruins on your table and suddenly we have a great opportunity to build the narrative – what happened here, and what was left behind that's worth fighting over? The Terrain Crate range contains all kinds of buildings for you to get stuck into, some of which are fully modular.

---
Mind Over Scatter
With some buildings in place, it's then the scatter terrain that can really bring these scenes to life. Maybe it's piles of ammunition boxes left from a desperate last stand, or the village square, or a hastily-assembled barricade to slow down the enemy…

---
Take A Walk On The Wild Side
Now, not every battle takes place in a nice neat town square, or even among ruins. Sometimes, battle commences out in the splendour of nature!
That might be a hostile alien jungle, a pleasant stroll in the country side, or a zombie-infested campsite. You can let your imagination decide…

---
The Rolling Zones
We love painting/texturing a great big bit of MDF, but wouldn't it be great if you could just turn any table into a battlefield in seconds? Well, these days you can with our range of excellent mats. Made of lovely full-colour neoprene with a grippy rubber reverse, these mats also come complete with a carry bag for storage, and perfect for transporting to clubs or tournament games.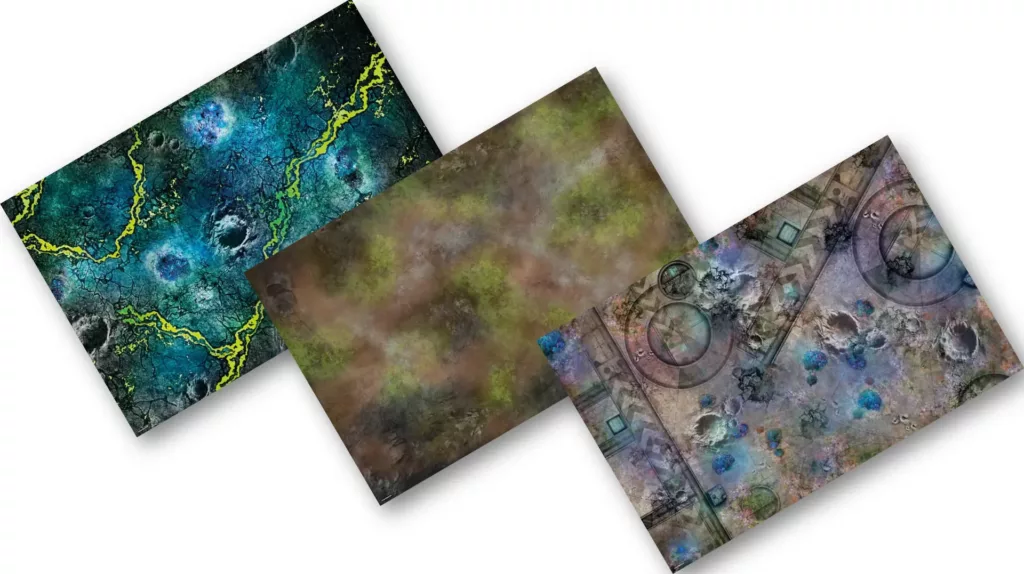 ---
So, what will you build?
Check out the sci-fi range here
Check out the fantasy range here