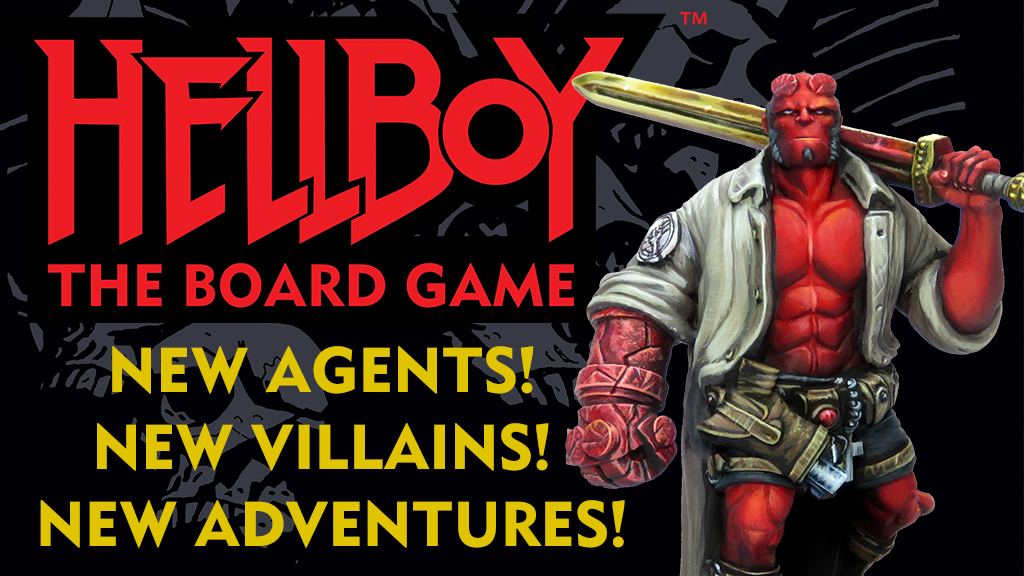 Today we're starting a series of blogs detailing what's coming up in the new Hellboy: The Board Game Kickstarter. Just in case you've been under a rock for the past few weeks, this new Kickstarter is going to fund new cases, new Agents, new minions and new bosses! All of these can be combined with the existing game to create your own new adventures.
We've worked with James and Sophie at Needy Cat Games once again on these new elements and this time they enlisted the assistance of Hellboy: The Board Game Super Agent, Edwin Moriarty. Over the next few days, Edwin will be delving into the new expansions to explain what makes them so exciting! Today, he's starting with End of Days, which adds new Agents. Over to you Edwin…
One of the things I love most about the Mignolaverse is how varied it is. Not only is there a horrific array of villains great and small, but the protagonists vary just as much. Hellboy is just one of a fantastic cast, and, I was massively excited to get to work on an expansion for the Board Game that focused on some of the other heroes in the comics.
End of Days puts the spotlight on the BPRD and the agents that work for it. I got the chance to not only create versions of fan favourites from later story arcs, but also to introduce some of my favourite characters to the game. Part of the goal with these expansions was to dial up the power level a bit. That meant providing tougher challenges, and agents who could meet them face on. I want to pick just two of the new agents to focus on here, and give you a preview of how much fun these characters will be to run.
ABE SAPIEN EVOLVED
One of the great things about the expansions is that we can focus on how the characters have evolved since the early graphic novels… and in this case evolution is definitely the right word! Whereas the original Abe was handy with a gun, here you can see that once Abe evolved he's become more adept with his fists, rather than guns. As a result, his shoot stat has changed from red to yellow, while his fighting stat has gone up from orange to red.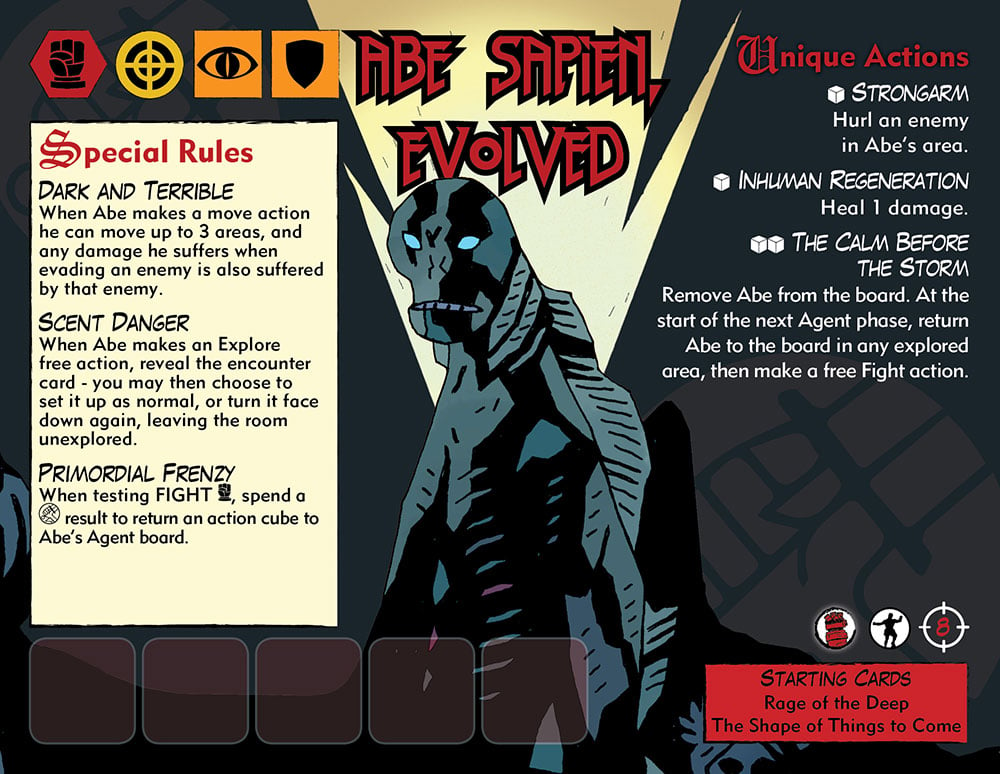 You can see Abe's metamorphosis into a more combat-heavy agent with the Dark and Terrible Special Rule. Standard Abe was able to move three areas and suffer no damage when evading Enemies. However, now he can still move three areas but when evading he will take damage along with the enemy he's evading from. This means there's a risk versus reward element to evading, as it can be used to damage enemies.
This means Abe is more likely to get up and close personal with some of the new monsters you'll be encountering in the expansions. So, thank goodness for the new Inhuman Regeneration ability, which allows you to spend an action cube to heal a wound. Abe Evolved is going to be an interesting character to balance to make sure you use his abilities wisely!
SLEDGEHAMMER
But what if you don't want subtlety? What if you just wanna hit stuff as hard as possible? Don't worry, that's why you bring Sledgehammer. The ghost of a soldier possessing a giant suit of armour, Sledgehammer is for everyone who loved Hellboy but thought "why not make him punch harder?"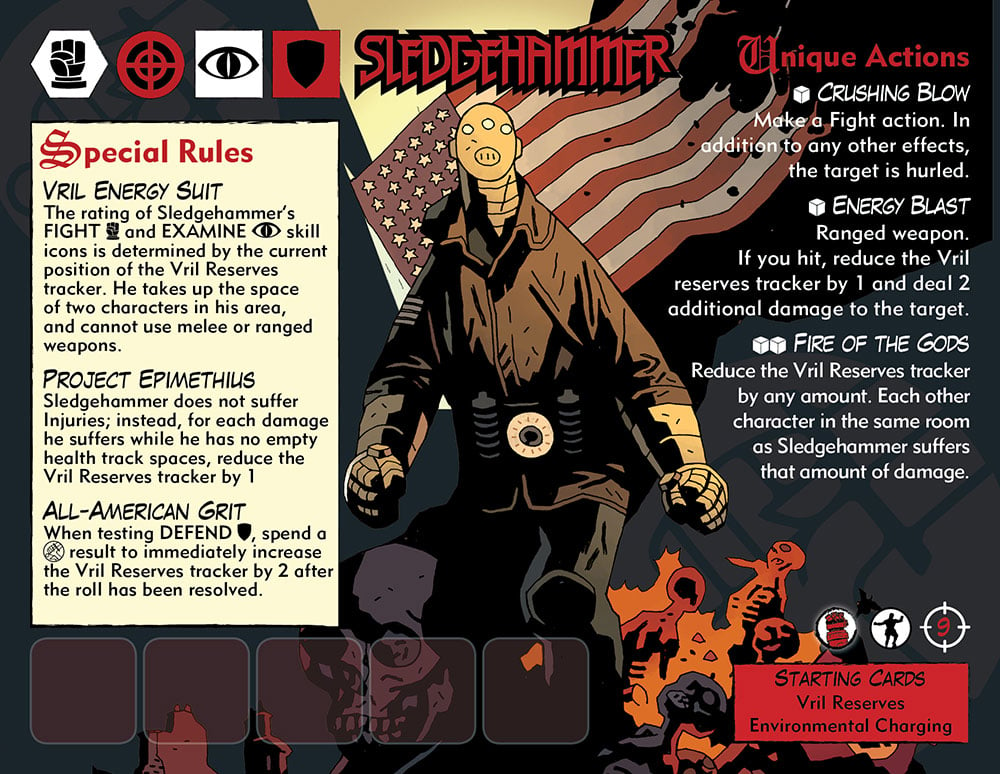 Sledgehammer is so big he takes up the space of several normal agents, and he's just as tough. For him though, everything is tied to the Vril reserves that power his suit – you'll find if you expend too much energy too fast you'll leave yourself exposed. At full strength no other agent can match him for raw power, but that strength fades fast. Balancing the urge to just rampage with the need to keep something left in the tank is what makes this one interesting.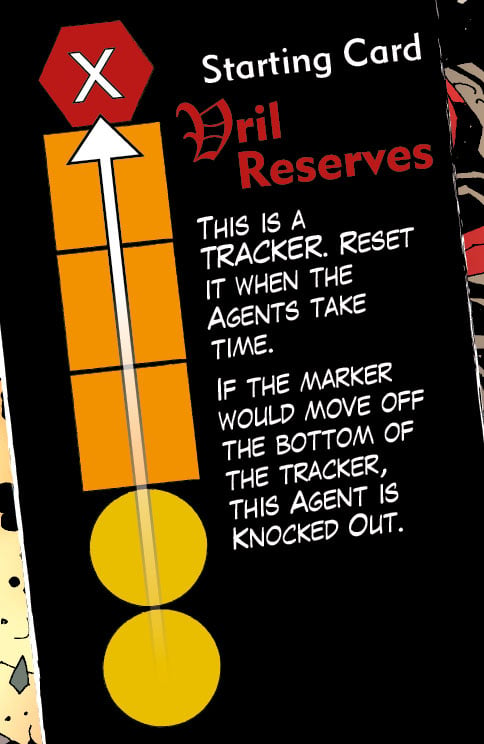 These are just two of the agents in End of Days, and there's a brand-new case file ready to give them the serious challenge they deserve as well. We really wanted to give players more options and more decisions when it came to playing as these new Agents… and these are just the tip of iceberg!
HELLBOY: THE BOARD GAME RETURNS TO KICKSTARTER SOON! MAKE SURE YOU SIGN UP TO THE KICKSTARTER PAGE HERE TO BE NOTIFIED WHEN WE GO LIVE.