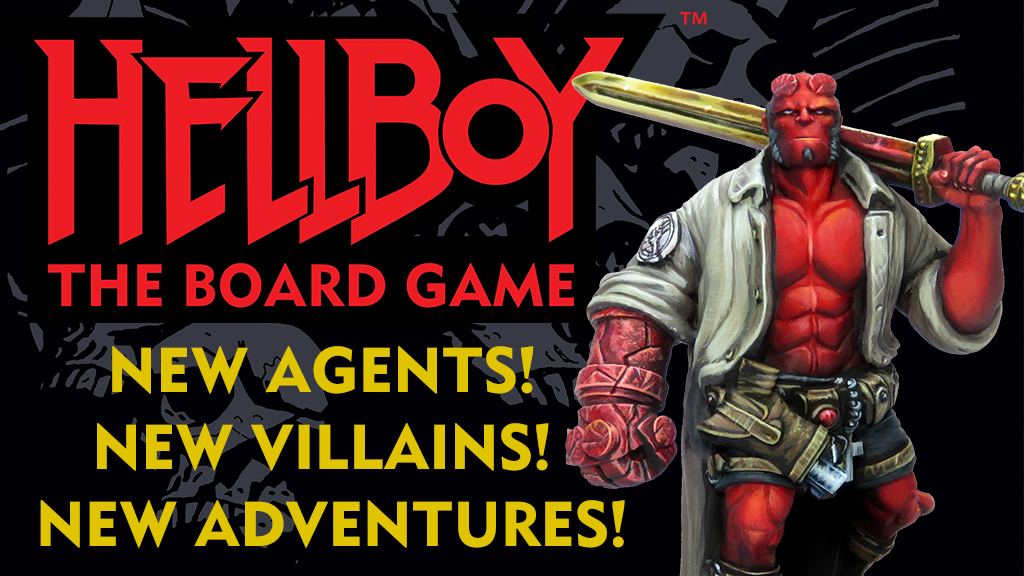 This week we're running a series of blogs detailing what's coming up in the new Hellboy: The Board Game Kickstarter. Just in case you've been under a rock for the past few weeks, this new Kickstarter is going to fund new cases, new Agents, new minions and new bosses! All of these can be combined with the existing game to create your own new adventures.
We've worked with James and Sophie at Needy Cat Games once again on these new elements and this time they enlisted the assistance of Hellboy: The Board Game Super Agent, Edwin Moriarty. Over the next few days, Edwin will be delving into the new expansions to explain what makes them so exciting! Yesterday, he covered End of Days, which adds new Agents, and today he's talking about Pandemonium!
There's some seriously big bads coming in the Pandemonium expansion – seriously big.
When we discussed making rules for a Hammerhead, the enormous monstrous creatures that toss cars aside and smash down buildings, I'll admit I got unduly excited. Because who doesn't want a destructive monster the size of a boat to beat up whole investigating the most terrible of occult mysteries?
These enormous creatures are as devastating as you'd hope. They're not smart, and they're not subtle, but they will absolutely wreck your day. Whenever you take damage from one of these beasts, you'll roll a black die and take that much extra. They will destroy you if you don't keep your distance and play it smart.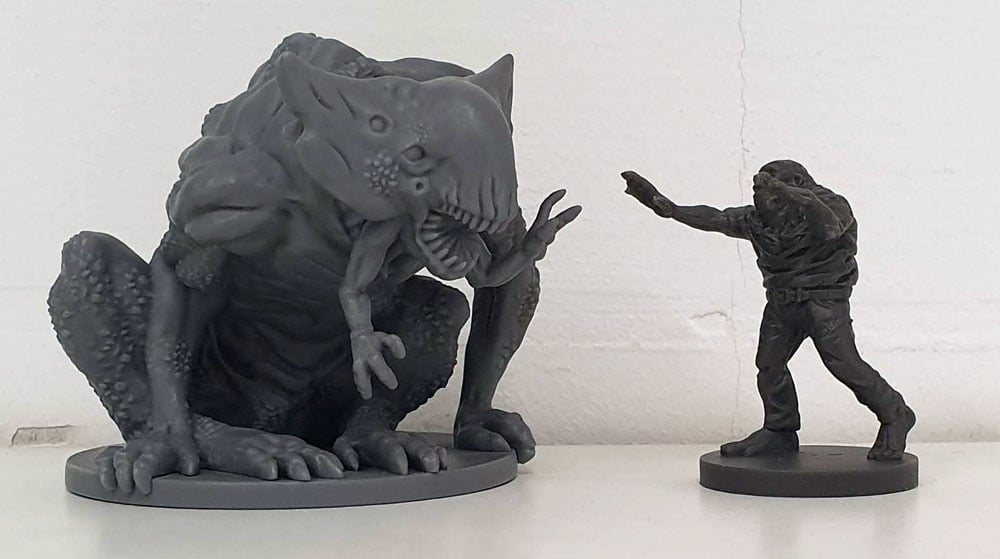 Monstrous strength needs a counterpart, and I was delighted to make that Varvara. A demonic little girl, Varvara has been alternately an ally and enemy of the BPRD. But as an enemy she presents a unique threat, and that's reflected by her having a completely unique boss behaviour deck. She has no ability to attack agents herself, but instead puppets them to attack each other, controls minions to do her dirty work, and even turns agents against themselves.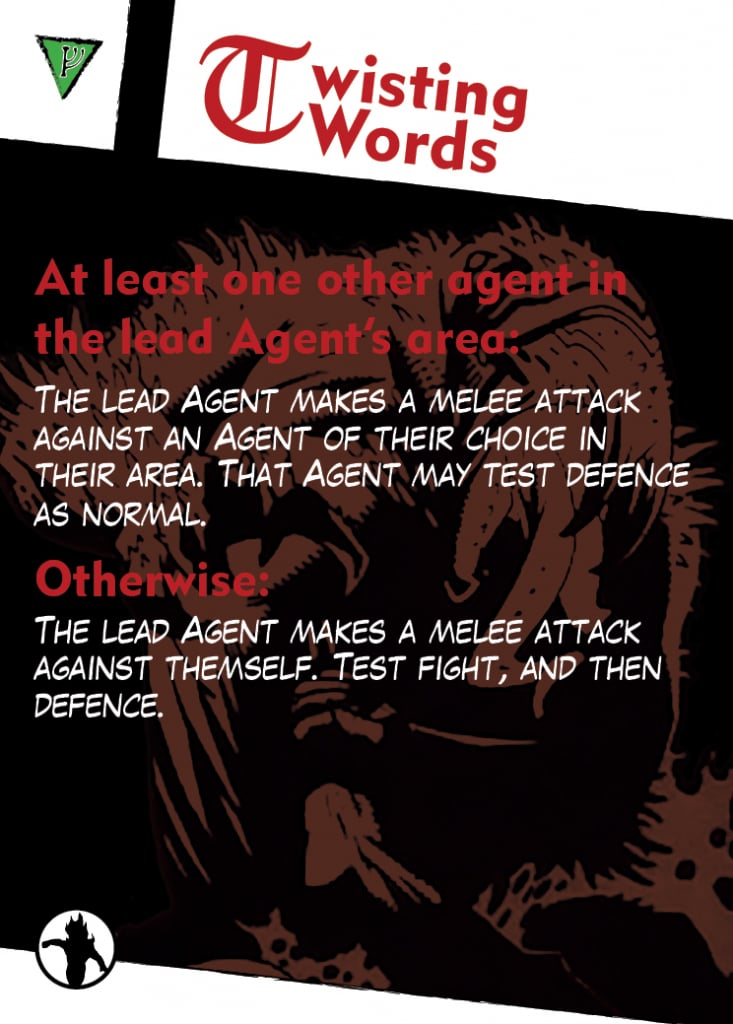 Worse, agents will struggle to fight her directly. Something in them keeps screaming that it's just a little girl, and it's tough to really let loose when that's going on. That's a problem, because she's really not a little girl, and she can prey on that hesitation by viciously draining agents who attack her but fail of their life force. Defeating her is not a challenge to be taken lightly.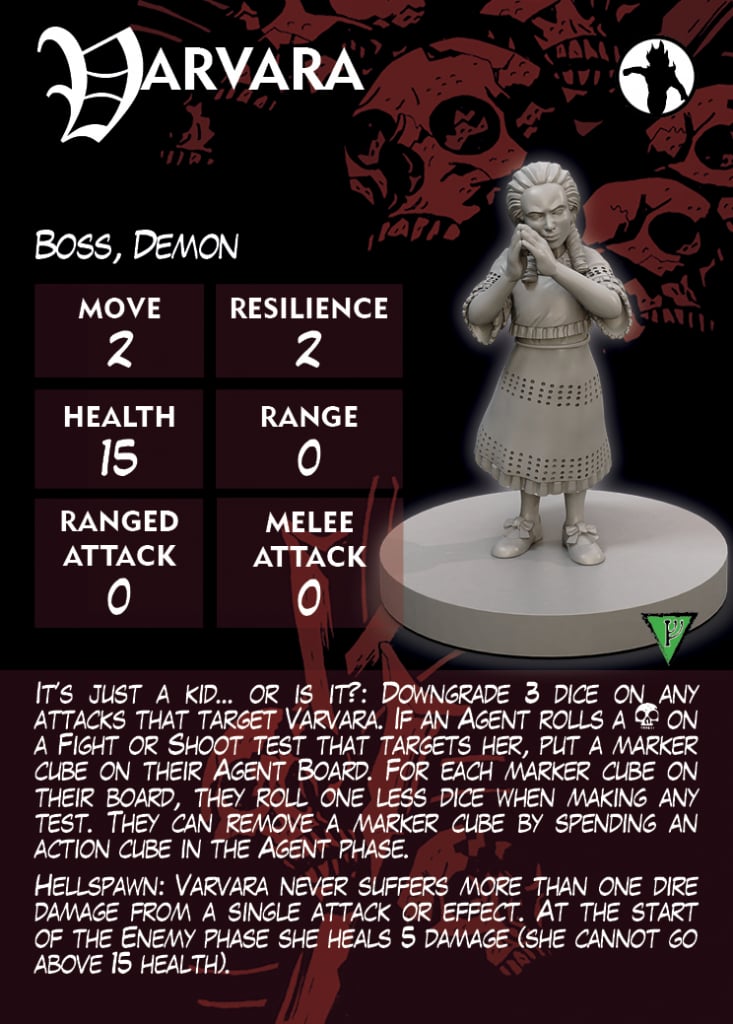 There are other powerful horrors to join these in the Pandemonium expansion, and a case file to show off what they're really capable of. Like the cases in the other expansions, this one is designed to really challenge the agents, and push them to their limits.
HELLBOY: THE BOARD GAME RETURNS TO KICKSTARTER SOON! MAKE SURE YOU SIGN UP TO THE KICKSTARTER PAGE HERE TO BE NOTIFIED WHEN WE GO LIVE.