How to play Firefight: Second Edition – What are Command Points?
21st Mar 2022
Rob Burman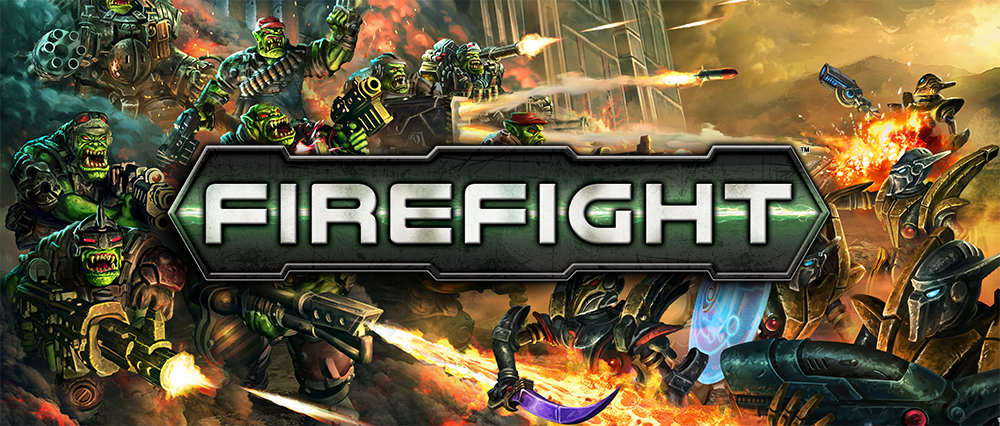 Today we're kicking off a new series of blogs that will delve deeper into the rules for Firefight: Second Edition. We'll be exploring elements like movement, shooting, assaulting and lots more, so you'll be ready to hit the battlefield from April 19th when the game starts shipping. In this blog we're starting with one of the most important elements of Firefight: Second Edition… Command Points.
But before we tell you what Command Points are, let's quickly talk about one of the big design elements of Firefight: Second Edition. You see, we really wanted Firefight to play quickly and have lots of dynamism, not only in terms of how units move and shoot, but also in terms of tactical gameplay. One immediate way to add some dynamic play is the use of alternating activations, so you can immediately respond to the actions of your opponent. The other big element for dynamic play is the introduction of Command Points.
WHAT ARE COMMAND POINTS?
A good commander is able to bring the best out in their soldiers with expert leadership and tactical acumen. To simulate this we use Command Points to represent your ability to get the most from your Strike Force.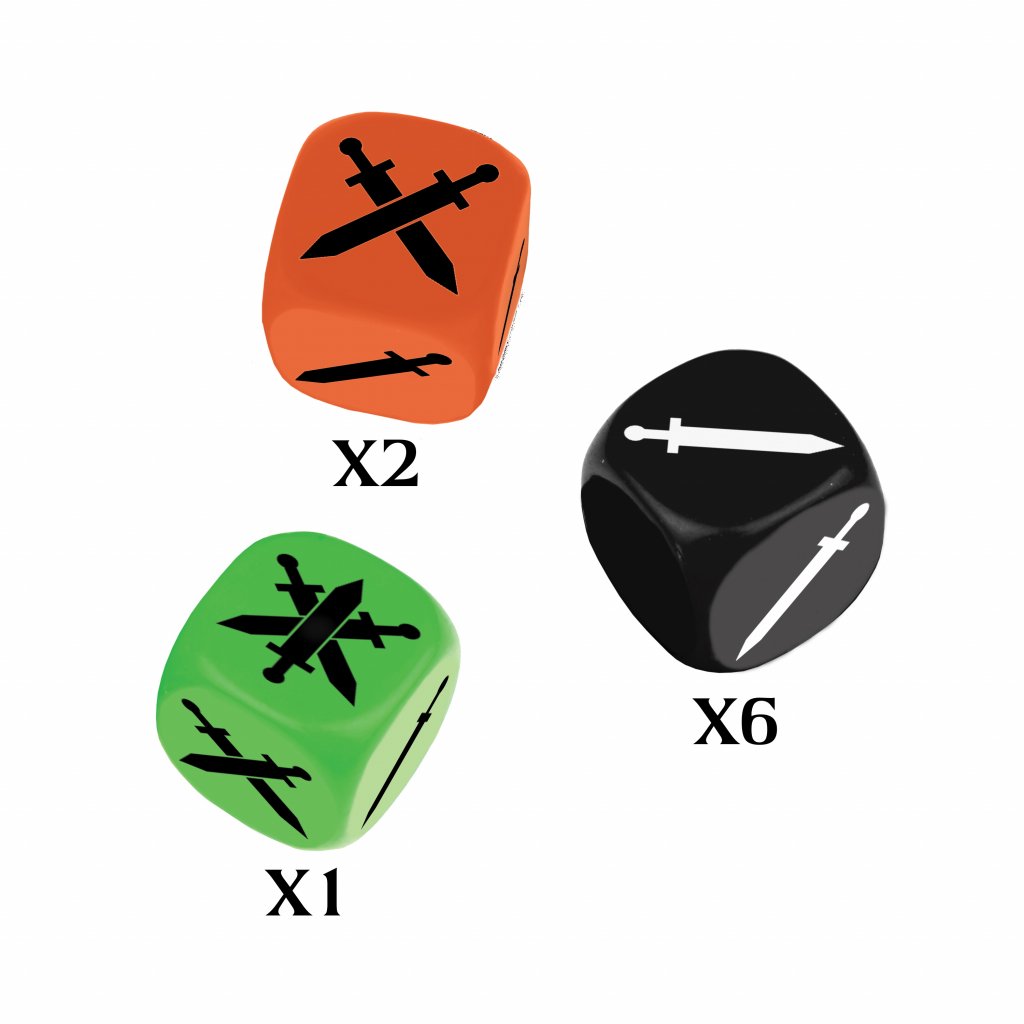 At the start of each Round both players create their Command Dice Pool by taking three BLACK Command Dice. Additional dice of the appropriate colour (BLACK, ORANGE or GREEN as shown on a unit's profile) are added to the roll for any of their units In Play with the Tactician Keyword.
Each player rolls all of their Command Dice and adds up the Command Points. This is the total number of Command Points you have available for the Round about to be played. You may re-roll one Command Die for each Command unit you have In Play.
HOW TO SPEND COMMAND POINTS – STANDARD USES
Now let's get onto the juicy stuff – how to spend those delicious points! First up there are two 'standard' uses.

The Extra Activation will be familiar for those that have played Deadzone. This additional unit activation can really help to get the jump on your opponent or team up particularly powerful combos, which brings us to Orders.
Meanwhile, we'll come to pinning in a later blog.
HOW TO SPEND COMMAND POINTS – FACTION ORDERS
The really exciting element for Command Points are Faction and Command Orders. These work slightly differently, but can be used to unleash some truly devastating special abilities. First up, let's talk Faction Orders.
Faction Orders are available to the Strike Force as a whole and represent the capabilities of that faction or species, rather than those of an individual commander or officer. They're a great way to give each faction a certain flavour that fits into their background and lore, however you've got to be within 12" of a Command Unit in order to use them.
Here you can see the Asterian Faction Orders. Energy Shields are a big part of the Asterian list, so being able to bolster them is extremely important for keeping your troops alive. Meanwhile, something like Noh Charger can boost Marionettes or Cyphers to make them more deadly in combat.
HOW TO SPEND COMMAND POINTS – COMMAND ORDERS
Finally you've got Command Orders. While Faction Orders are unique to each Faction, Command Orders are unique to a specific Commander to represent their abilities to control their combatants in the field.
Command Orders will have either Aura or Instant effects.
Auras last until the end of the Round. Aura effects will provide the stated benefit to all friendly units with at least one model within X inches of the Command unit's Leader.
Instant effects are resolved immediately when the Command Points are spent and have no ongoing effect.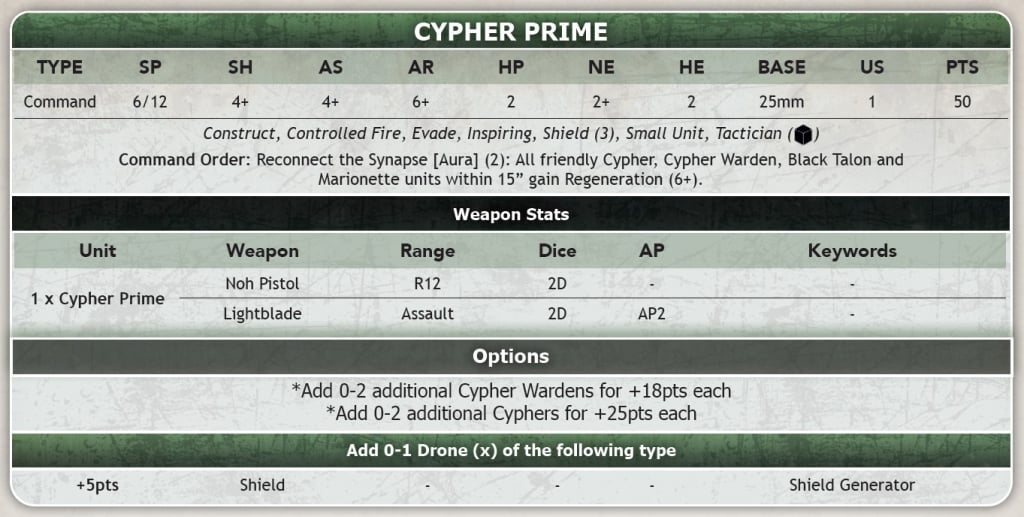 For example, in the Cypher Prime profile, you can pay two points to trigger an Aura, which boosts Cyphers, Cypher Wardens, Black Talons and Marionettes within 15" of the Cypher Prime. The Aura lasts until the end of the Round, so you can concentrate your following activations around making the most of the Command Order. Also, don't forget that you can trigger a Command Order, e.g. an Aura, and then pay to activate a second unit to immediately make the most of that Aura.
As you can see, Command Points are a fantastic way to respond on the battlefield to the actions of your opponent. We always wanted games of Firefight to be won by tactical brilliance, rather than won at the list building stage, and Command Points really help to bring the game to life.
IN OUR NEXT BLOG WE'LL BE GIVING YOU THE RUN DOWN ABOUT HOW MOVEMENT WORKS.