Introducing wishlists on the Mantic website!
9th Dec 2021
Rob Burman
We've just launched an exciting new tool on the Mantic website: wishlists! Fed up of getting the wrong gifts from loved ones? Wishlists are here for you to tell them you only want goblins and nothing else. Need to know when something is back in stock? Guess what… wishlists are your friend. Not literally, that would be odd. Furious about missing out on awesome sales? Wishlists will whisper kindly into your ear when something is on sale. In today's blog we're going to explain how to use wishlists and immediately make your life 100% better*
ADDING THINGS TO YOUR WISH LIST
First up, if the Mantic website looks a little odd, you'll need to clear your cache. The front page should look like this: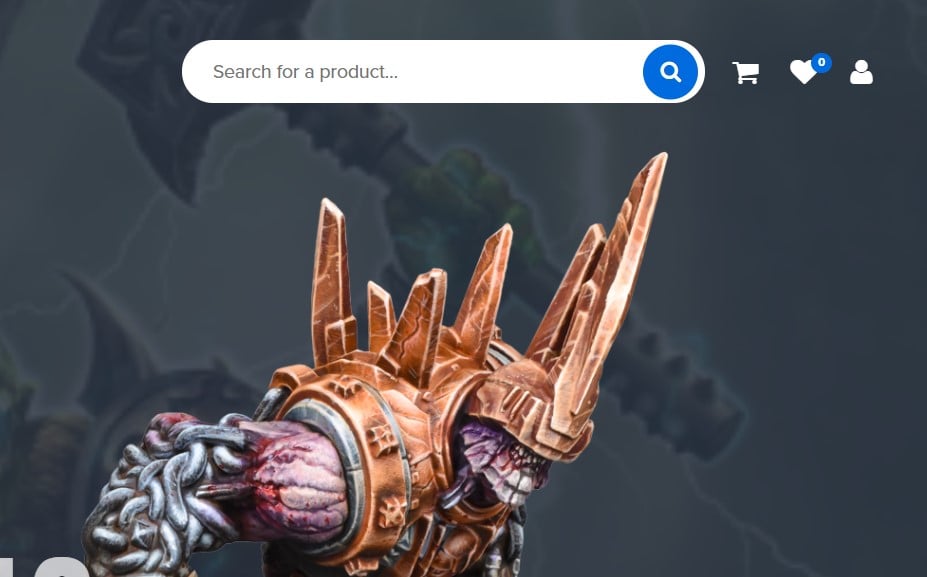 Ok, next it's time to start looking for some items to add to your wishlist. You can click the little heart icon on the category page.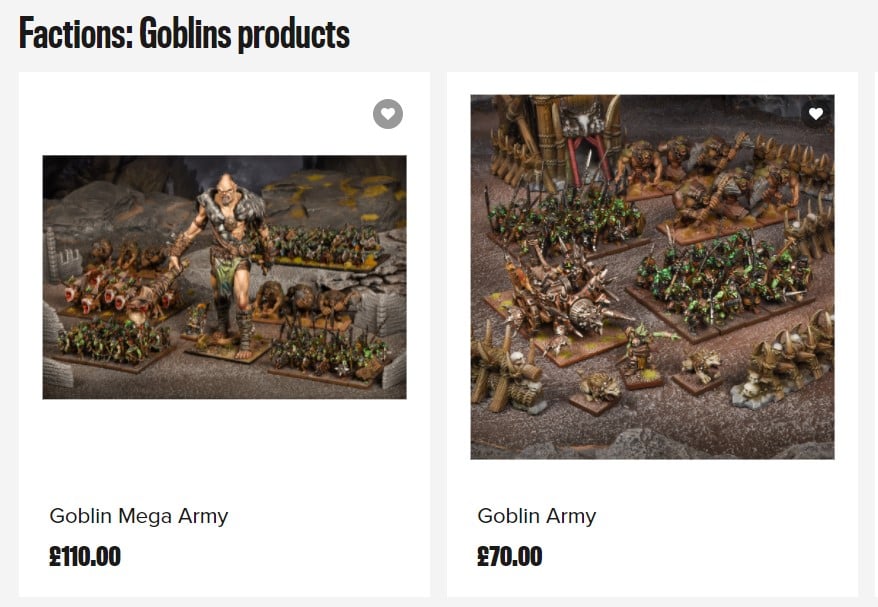 Or can click 'add to wishlist' on the product page.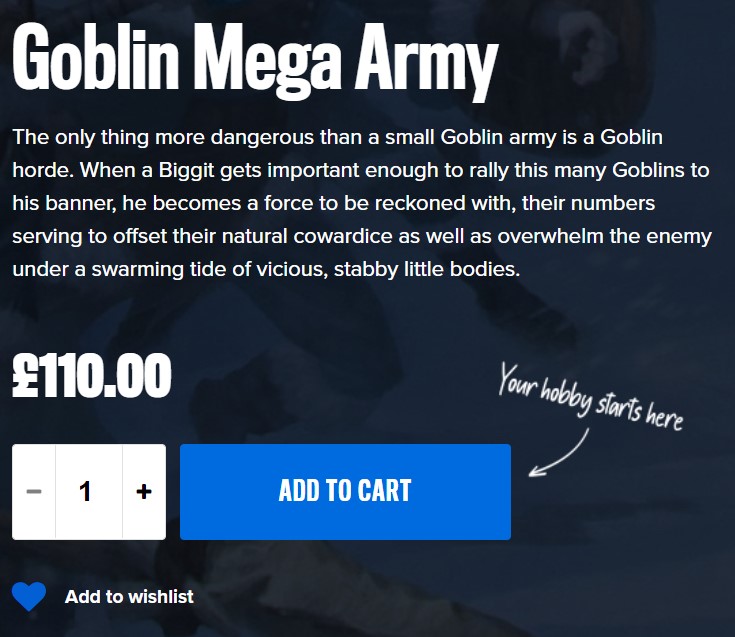 Once you add an item to your wishlist, you'll have the option of adding it to an existing wishlist, or creating a new one.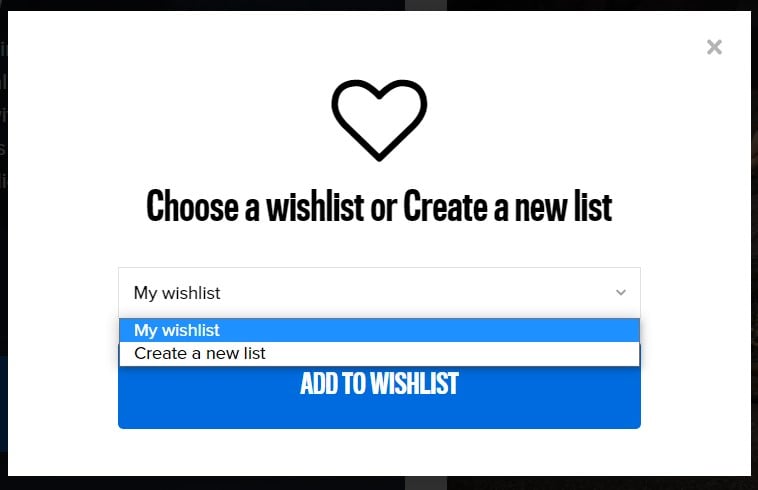 When creating a wishlist, you'll have the choice of public, shared or private. Public is great if you want to have the world see your list and perhaps share it on social media to receive surprise gifts from complete strangers. Absolutely nothing weird about that.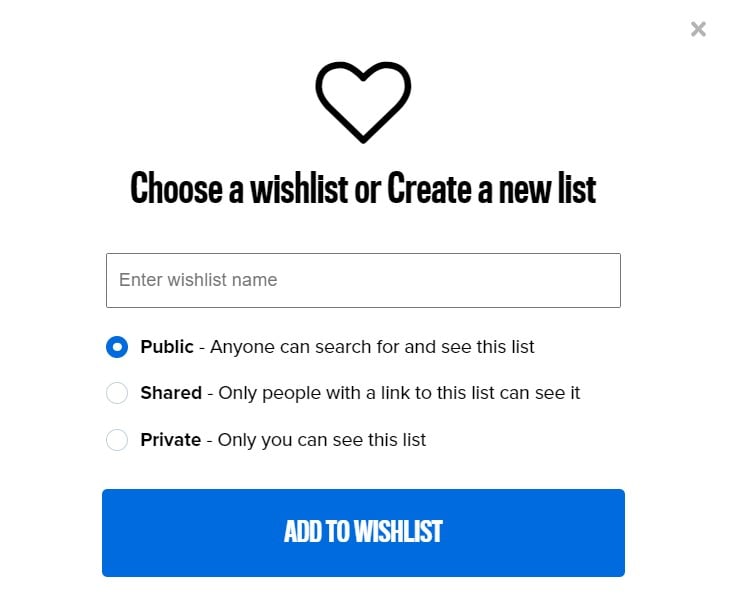 Shared is for if you want to send it to specific people – handy for present lists. Finally, Private is for those that want to keep it secret, keep it safe. This is useful as your own reference about things you might want to add to an army, for example, and you don't want your opponents to see you're bringing three Winggits to a tournament.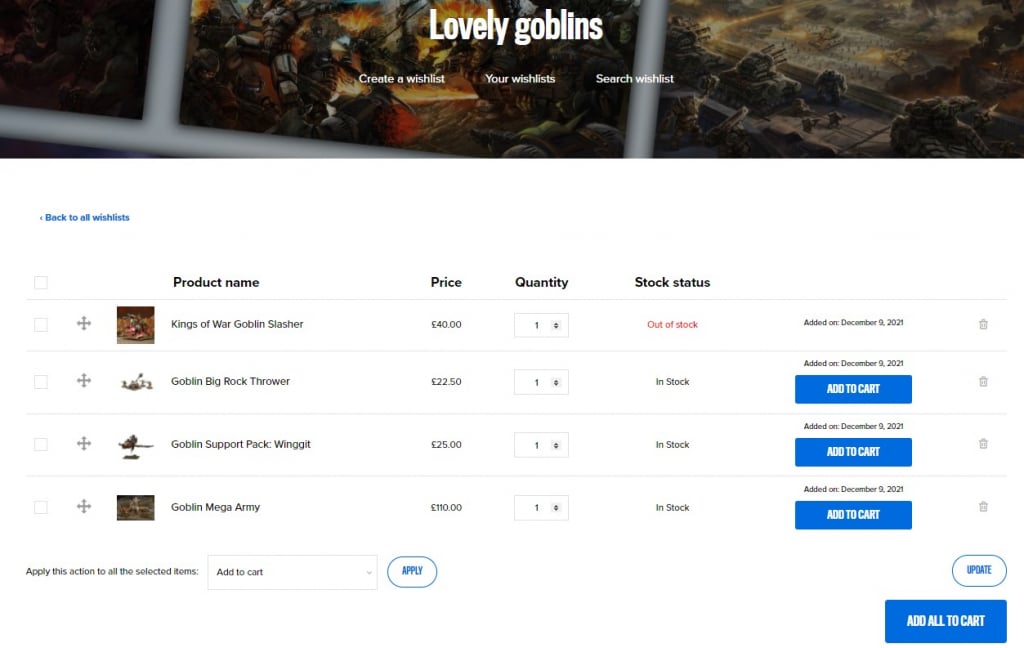 Once you've created a wishlist, you can then view your selections. Here you can move things around to show their priority, delete items from your list and add specific items to your cart… or add everything at once. If you've created a shared wishlist, you'll have the option of sharing on social media too.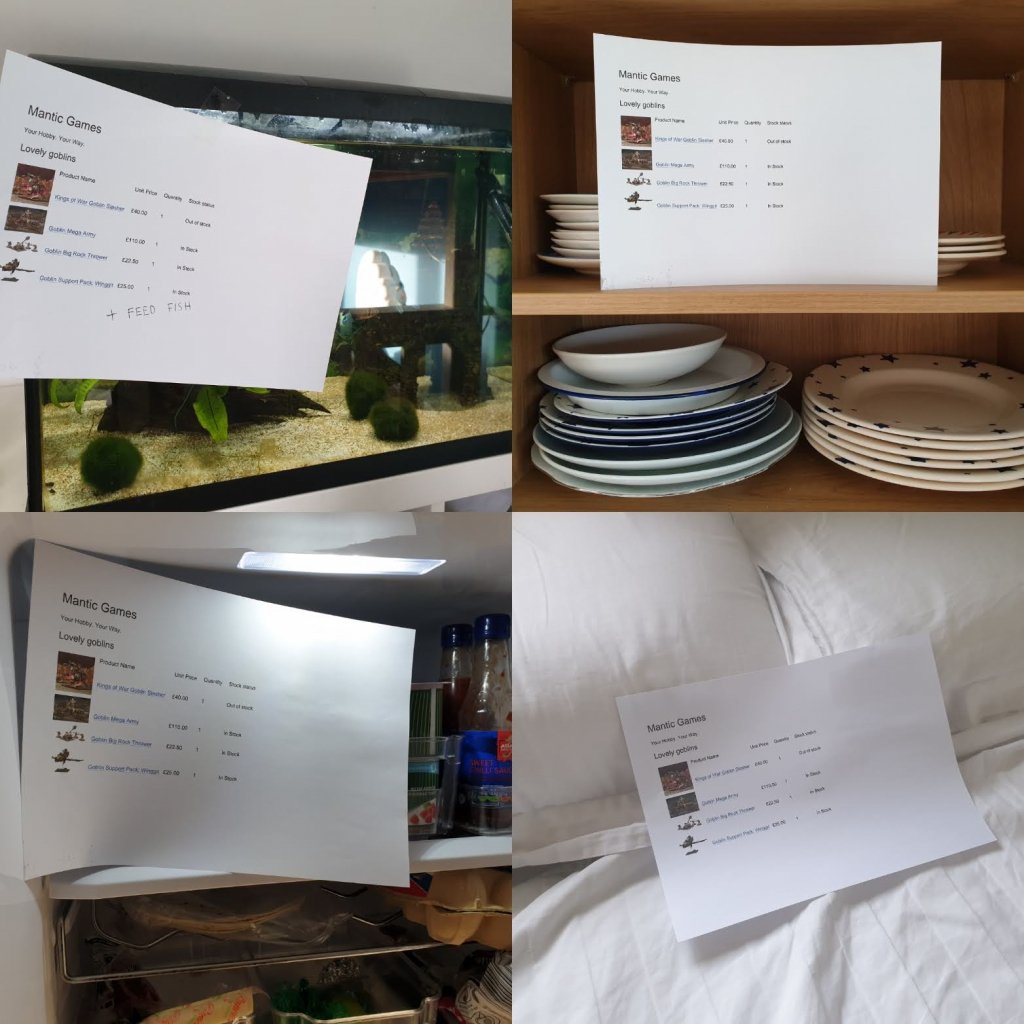 You can also export your wishlists as a PDF – great for when you want to print them out and leave them laying around the house to subtly alert loved ones.
OUT OF STOCK ALERTS
You may notice on the example wishlist that the Goblin Slasher is out of stock T_T

However, don't worry because one of the great things about a wishlist is that it will send you an email when an item on your wishlist is back in stock. This is really handy for keeping track of some of our more popular resin items, which tend to come back in and out of stock pretty quickly.
SALE ALERTS
Finally, there's nothing more frustrating than missing out on one of Crazy Bobby's super deals. Well thanks to wishlists you'll never miss out on a sale ever again! Whenever an item in your wishlist is reduced in price, you'll get an email alerting you about the price drop. Then you can swoop to the website and pick up a bargain, while feeling like an ABSOLUTE CHAMPION.
So, there you have it, wishlists are a really useful tool on the Mantic website. Of course, they've just launched, so there could be a few kinks here and there. If you notice something odd, please email [email protected] and we'll look into it.
*we cannot guarantee instantaneous feelings of joy