Last weekend we held our first ever Mantic-Fest Online event. Rather than the usual Open Day, Mantic-Fest is a new venture in which we showcase all the cool stuff that's coming up from Mantic in the months ahead. The plan is to hold a Mantic-Fest Online event every quarter, so March (we were a little late with this one), June, September and December (like a festive treat).
However, just in case you missed the live stream or just absolutely hate the sound of our voices and our lockdown haircuts (we get it), then all this week we'll be recapping the highlights on the Mantic blog… and giving you a few extras too. Here's the plan for this week:
Firefight Second Edition
Brush With Death Blog
Armada
Kings of War
Hellboy: The Board Game
BRUSH WITH DEATH
We're handing this blog over to Paul Welsh, the independent judge for Brush with Death who works alongside our own Martin to pick the winners.
Army – Henrik Hammaren
At least a 1,000 point army from either the Panithor or Warpath universes. Must be 100% Mantic Miniatures and must be a usable army.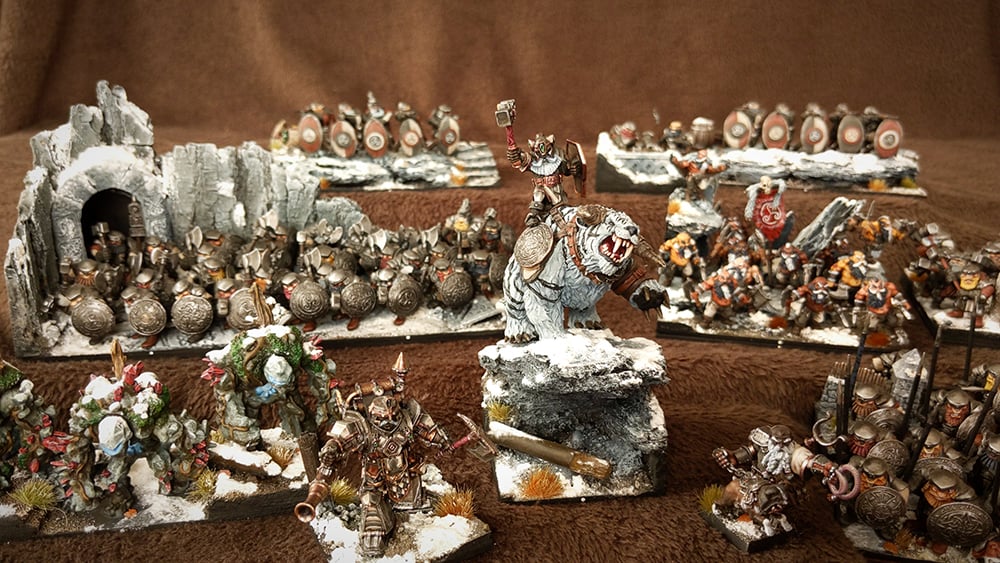 A lot of time and dedication is required to build a wargaming army. Building thematic units that are both individual and cohesive is quite the skill.
Henrik has done just that though. A subdued colour scheme built around browns, reds and beaten metal contrast really well with the snowy mountain bases.
This is an example of multi-basing at its best. The Dwarves appearing from their under-mountain realm is a personal favourite.
The army really works as a whole, but centrepieces such as the King on Frost Fang make this force stand out.
Diorama – Matthew Gorham
At least two figures from the Mantic range, of any genre, mounted on a base no larger than 300mm in diameter. There is no height restriction.
Matthew has hit it out the park with this one. He has built his diorama into a frame giving us almost a 'sliced' shot of a night time skirmish between denizens of the Abyss and a contingent of Neriticans.
The tone of the paint work really reflects moonlit setting and fun details like the underground skeletons really add to the piece.
Unit, Squad, Team or Warband – Daniel Read
A minimum of five miniatures from the Mantic range, displayed on the appropriate base sizes for the game the miniatures are used in. Figures may be mounted on a single display base, be multi-based or individually based. The unit must be able to function within the game it is from.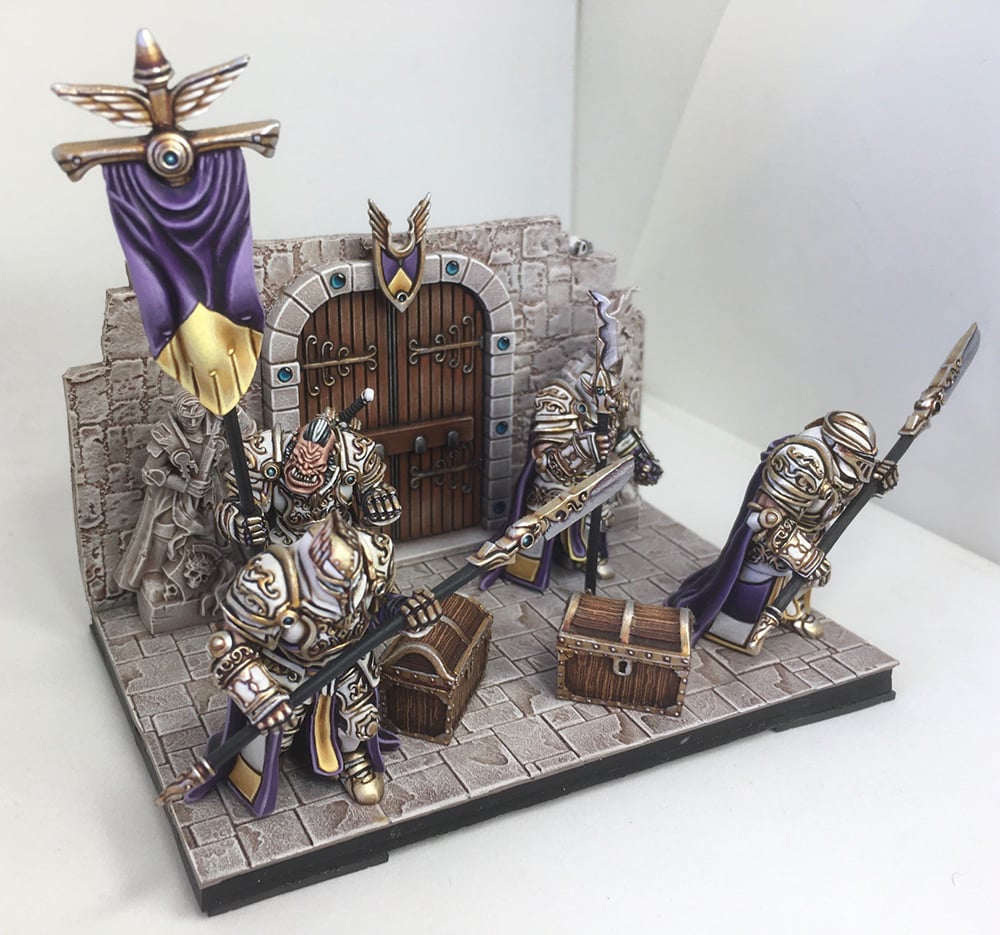 Daniel is a previous winner of a Brush with Death award. This time around his Ogre Palace Guard have come out on top of what was a very competitive category.
Daniel demonstrates a great set of painting and modelling skills with this unit, utilising heavy black-lining and a contrasting colour palette that looks as great up-close as it does on the battlefield.
New Recruits (16-years-old and under) – Torsten Wilkinson
Choose one from any of the main categories. Entrants must be 16 or under on the entry deadline date.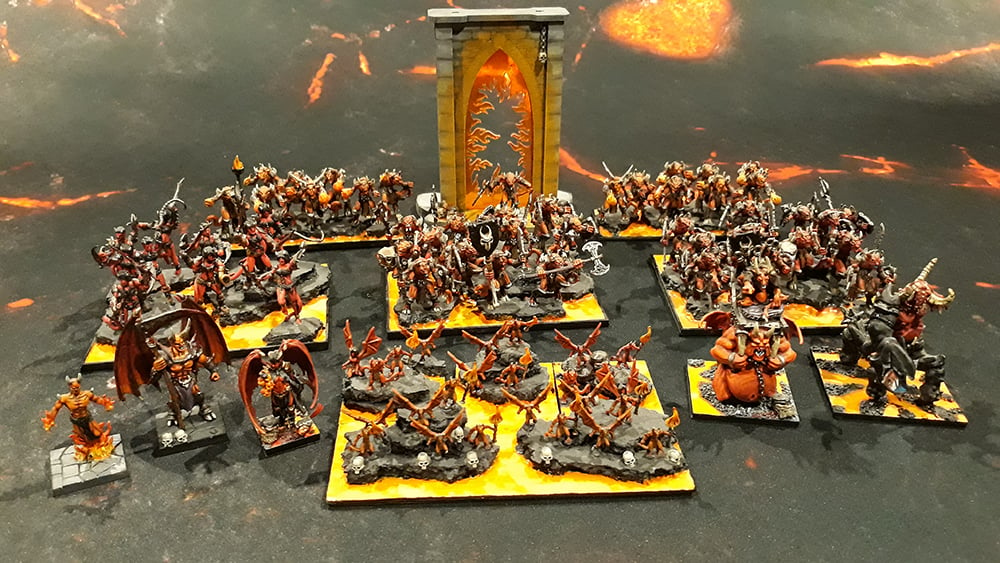 The new recruits category is one of my personal favourites. Seeing what up-and-coming Mantic fans are putting together is absolutely fantastic.
Torsten is one of those painters. Like Daniel, this isn't Torsten's first Brush with Death award and with his Abyssal army he could have been challenging the adult categories too!
The Army as a whole is awesome but stand-out pieces such as the Phoenix, with its incredibly well executed fire effect, really set it apart.
Single Miniature – Matthew Gorham
Single figure from the Mantic range. There is no size restriction on the figure or the base size, so it can be on a plinth or display base. It can be anything from an Enforcer Interceptor to an Orc Smasher ship to a neon Nightstalker Shadowhulk… but remember that bigger is not always strictly better!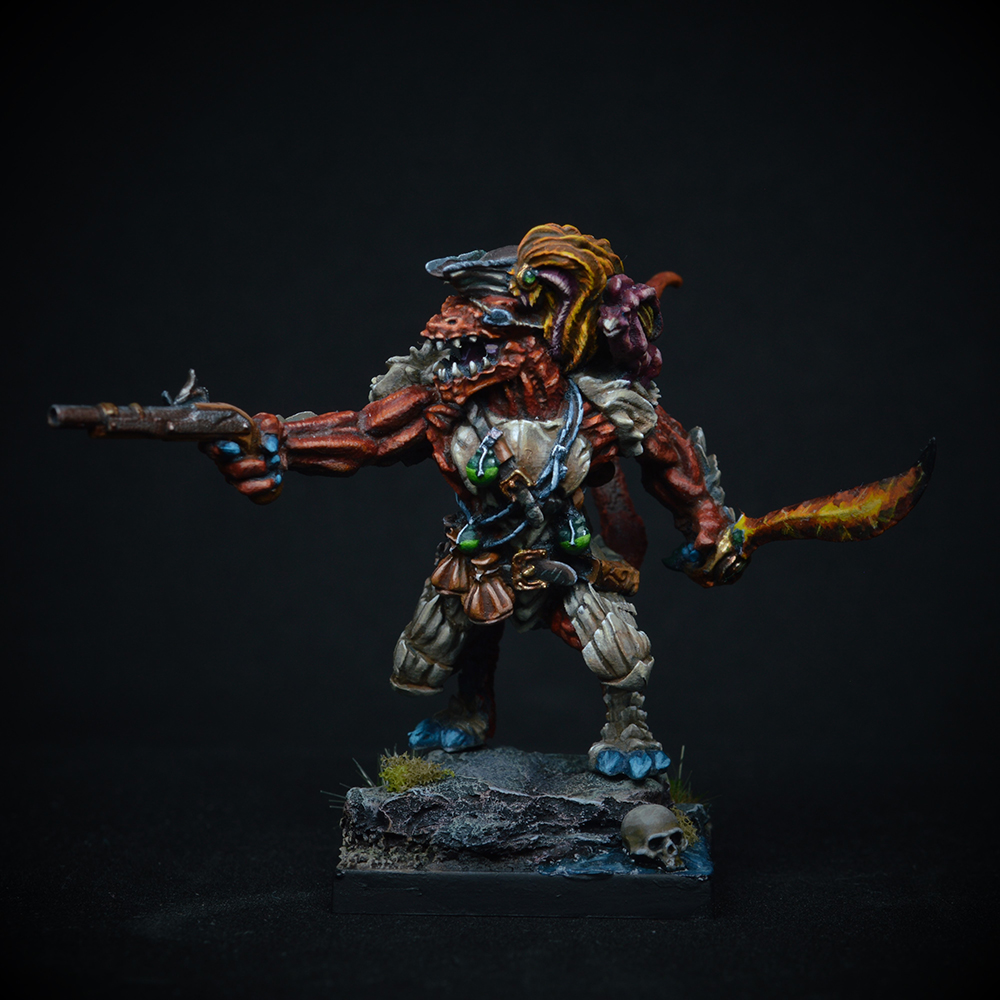 The Single Miniature category is always the most contested. This time around was no different. With so many great entries it really was tough picking one winner.
But after much deliberation, we found Matthew's Firebrand Mercenary to be our top choice. The colour choices are excellent. Looking closely at miniature, you're able to spot very intricate techniques such as the textured highlighting on the skin and realism of the carapace through multiple layers of shading and glazing. Overall it is a very worthy winner of this prestigious category.
Conclusion
I say it each time I help judge a Brush with Death but what another fantastic event this has been. A massive congratulations to all the entrants as well as the winners!

If you like what you're seeing and are on the fence about entering, don't worry about winning, showcasing your art is so rewarding and the community would love to see it.
Until next time; Happy painting!
Thanks Paul and thanks to Redgrass Games for sponsoring the prizes! Our next Brush with Death painting contest will be held in November… so start planning your project now! You can see ALL the entries over on Facebook.