New 'The Walking Dead' and 'Invincible' games announced
28th Jun 2023
Dan Mapleston
Hey everyone. Well – isn't this amazing news?
We're super-excited to announce today that Mantic have renewed our partnership with Skybound Entertainment!

We previously collaborated with Skybound over five very enjoyable years to bring Robert Kirkman's legendary comic book series The Walking Dead to life on your tabletop in The Walking Dead: All Out War and The Walking Dead: Here's Negan.
Now we're thrilled to be back together and working on new games!
And this time, we will also be dipping our toes into the very popular world of 'Invincible' (from Robert Kirkman, Cory Walker and Ryan Ottley), which has exploded in popularity since debuting on Amazon Prime, and has a second season already on the horizon.
So enough delay, let's talk dice. Dice? Yes, dice.
Dice Games
Following on from the success of Hellboy: The Dice Game, we knew that we had some great mechanics and ideas for small, fast, competitive games! Reviewed recently in Tabletop Gaming Magazine (April 2023), the gameplay was described as 'extremely satisfying', 'fabulous' and 'practically mandatory' for lovers of Hellboy.
We couldn't agree more, and now we're bringing awesome card-and-dice gameplay to fans of other universes! We really love these games: they're great value, brilliant fun, and perfect for taking your favourite worlds and adventures on the go. Let's take a look…
The Walking Dead: The Dice Game
Rick Grimes is recruiting for an open spot in his group of hardy survivors and you are determined to prove your worth. Players take the role of the hopefuls who are required to undertake a live supply run by exploring a known hot zone infested with Walkers and other survivor groups! Who can recover the biggest stash of resources as they explore the rooms and vehicles of the abandoned town?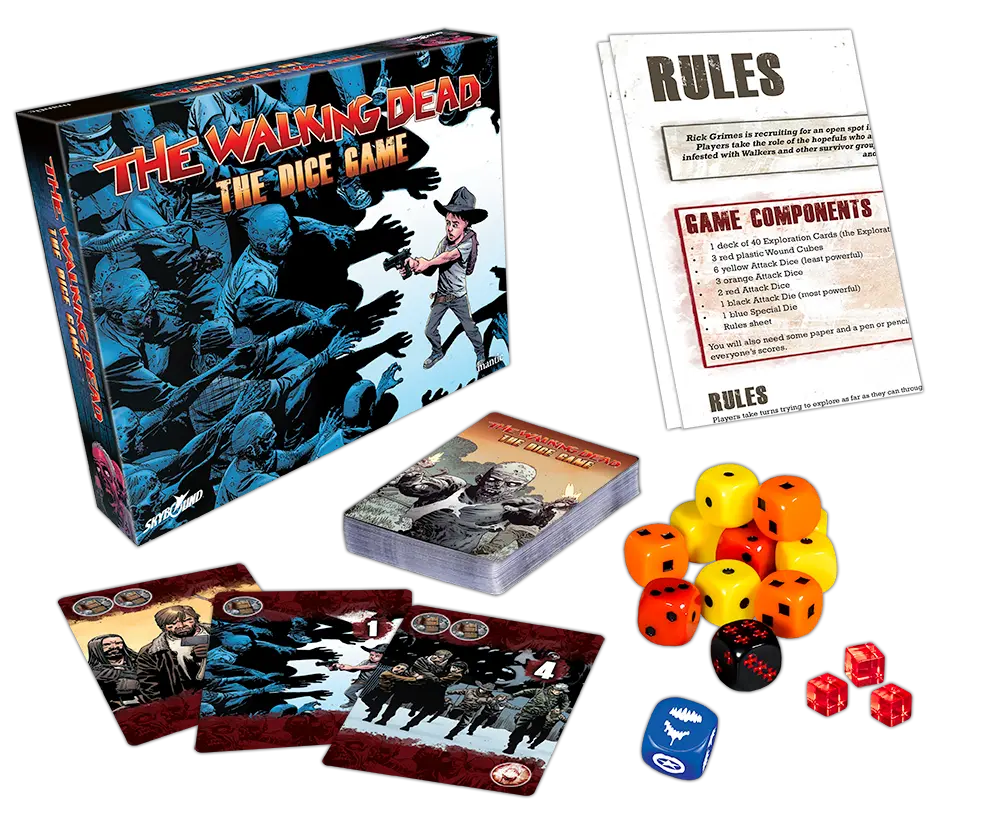 Invincible: The Dice Game
The Guardians of the Globe are recruiting for an open spot in their group of super heroes and you are determined to prove your worth. Players take the role of the hopefuls who are required to undertake a live trial by battling villains and besting other heroes! Who can earn the most reputation and join the Guardians, without losing the respect of their peers?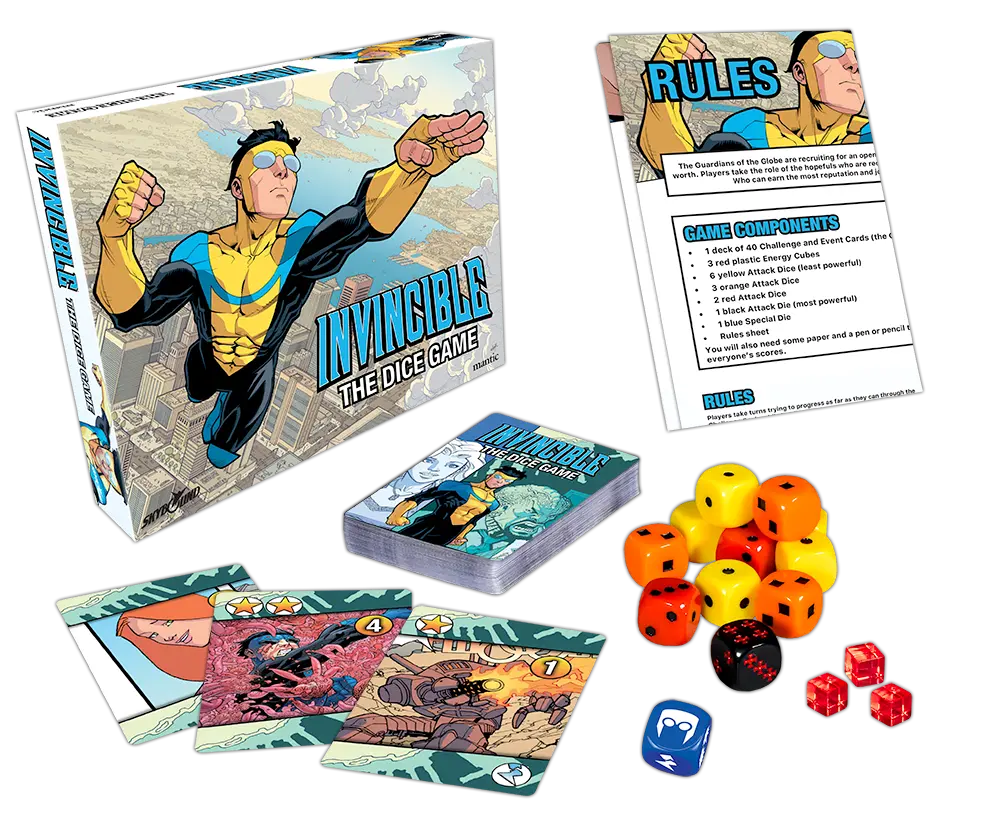 Awesome! When and where can I get them?
Dedicated fans will be able to get special pre-launch editions, including bonus cards, ahead of general retail release at this year's San Diego Comic-Con (July 20 – 23, 2023, Skybound booth), and at Gen Con (August 3 – 6, 2023, Mantic Games booth).
Now we know not everyone can get to these shows, and you all deserve a fair shot at these special limited editions! So, both games will be available for purchase online from July 20th at store.skybound.com and manticgames.com. Mark the date, we expect these to sell out fast!
So…what does this mean for All Out War?
Great question! These new games are obviously our current focus, but as always we're bursting with plenty of awesome ideas. We know there's a really passionate and active fan community for The Walking Dead: All Out War and it remains an awesome tabletop experience that we're very proud of.
You know we love to hear from our community: what would you like to see in the future? Let us know in the Facebook comments.
---
Check back next week on the blog, where we'll dive into just how these games work – and some of the crafty tips and tactics you're going to want to know about!