Last Chance To Buy products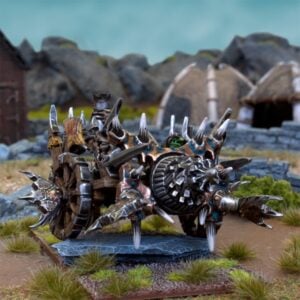 The Mincer is essentially a carriage powered by the frantic labour of Goblins or a small steam engine. The rear sports a large counterweight, necessary to offset the huge weight of the Mincer itself, a large, cone of counter-rotating segments. An adaptation of a digging machine, the Mincer's grinding cone is fitted with blades, designed to be sent hurtling at high speed down a tunnel packed with Dwarfs.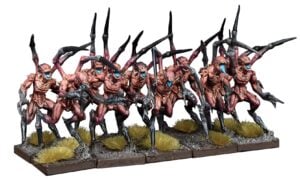 Reapers are vicious, violent creatures, armed with a wicked array of blades, claws, and teeth. They stalk those who fear violence and bloodshed, bringing their worst nightmares to life with lethal and visceral precision.
Shadowhounds are huge, black, twin-headed canines, with gnashing jaws and fur matted with vile ectoplasm. Hunting in packs, those lucky enough to escape these beasts can still hear the howling in their heads long after they have awoken. The unfortunate victims who weren't fast enough are devoured, their screaming skulls forever leering from the shadow hounds' foul hides.
Special deals on last-chance-to-buy games and miniatures! These may be previous bundle deals, or earlier versions of miniatures that have since had a newer sculpt released.