10 Years at Gen KKKhhhaannn!: Mantic Open Night
18th Jun 2019
Pat "Chopper" Lewis
Allright, allright, allright! So here we are, 10 years since we first showed up at Gen Con with some elves on a sprue and a couple of boxes to a full on 20×20 ft booth with all new hotness like Hellboy: The Board Game, Deadzone, The Walking dead: All Out War, Kings of War and Vanguard.
Today I'd like to chat about Mantic Open Night. So a quick little history. Open Night was born from a want to have an Open Day but not having a HQ in the states, so we decided to have them at our two biggest conventions, Gen Con and AdeptiCon. Now here we are on year seven at Gen Con and to commemorate our 10 years at Gen Con we will be offering a limited edition pint glass at Mantic Open Night at Gen Con.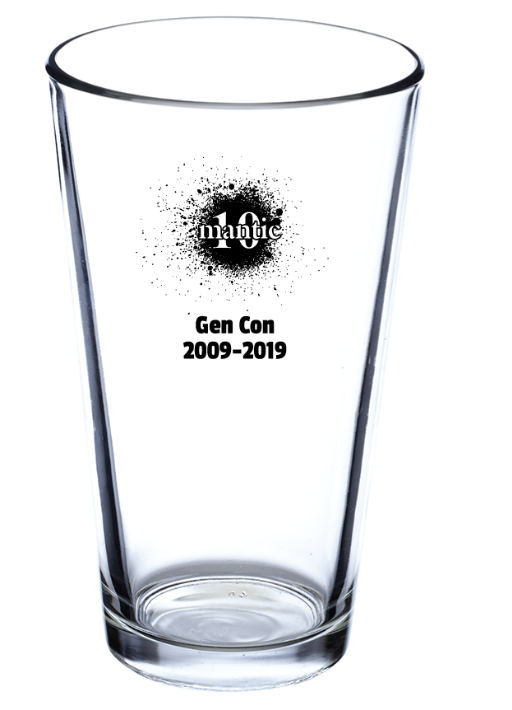 Over the last couple of years we had a few snags with businesses closing in the downtown area. With the closing of the Hard Rock Cafe we've been forced to relocate to Kingsmakers,a board game parlor with a bar.
So here are the deets! Saturday night August 3rd starting at 8pm going till close. Tickets can be bought on the webstore and are $30. For your ticket price, you'll get a drink ticket, good for any beverage at the bar, the limited edition pint glass, $20 voucher good for anything at the booth, and other little goodies.
The evening will start with a nice Q&A with Ronnie and the Mantic boys. From there we will break for open gaming. Some of the games to be played will be Dungeon Saga: Bar Room Brawl. There will be a quick play test of the new Kings of War RPG. Doom Ball, the favorite Veer-myn sports pastime will rear it's head again. Hellboy will also be available to be played as well as Here's Negan. It is also a good time just to hang out and catch up with the Mantic Staff and just shoot the breeze.
Tickets are limited so grab your soon and don't miss out on the 10th anniversary for Mantic.
Get your tickets here!