Christmas Blogs: Announcing Brush with Death 2022!
29th Dec 2021
Rob Burman
Brush with Death took a little break in 2021 but is coming back with a vengeance in 2022! Plus, we're mixing up the format slightly to make it more exciting and, hopefully, encourage some of you to paint some big, sexy armies.
But, hang on, you might be wondering what Brush with Death actually is. Brush with Death is our annual celebration of the best painters in the Mantic community. This a great opportunity for people to show off their incredible skills, while also inspiring others to take up a brush and push their skills to the limit. Traditionally we've held two Brush with Death competitions a year and they're normally tied into our Mantic Open Days.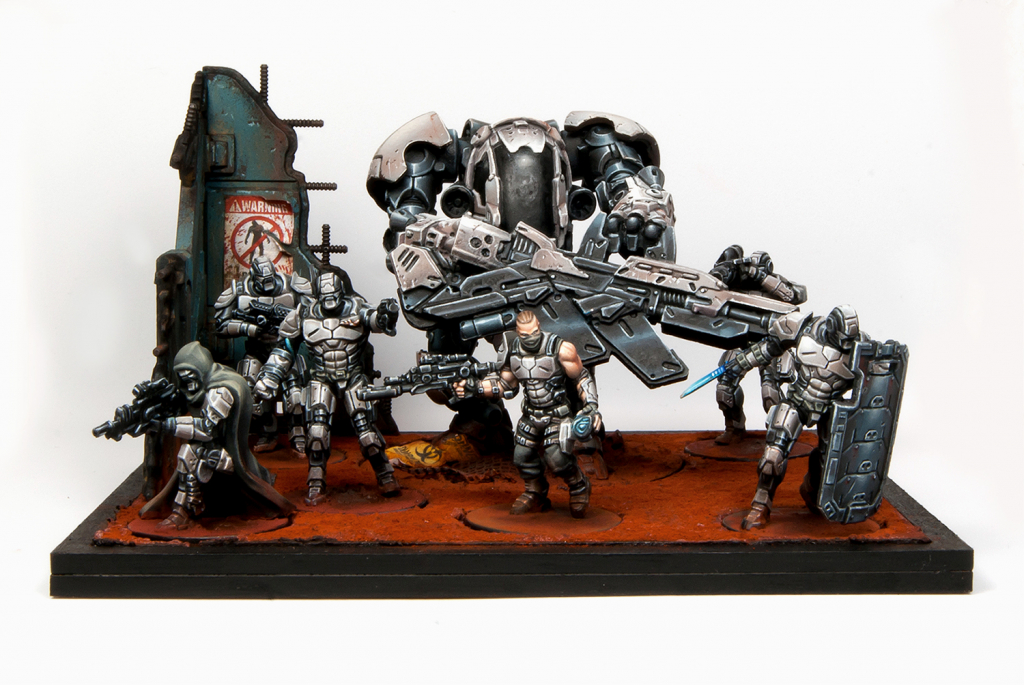 You can see some of the previous winners spread throughout this blog.
For 2022 we wanted to split Brush with Death into two themes: individual miniatures and larger armies. The reason for this was twofold: some people are daunted by painting large armies and expecting people to paint up two armies to try and enter Brush with Death in May and November was perhaps a little unrealistic.
We're also delighted to announce that Colour Forge will be a sponsor of both competitions. We started stocking Colour Forge products in the Mantic shop this year and we've been really impressed by the quality of their products, so we're delighted to have them as a sponsor.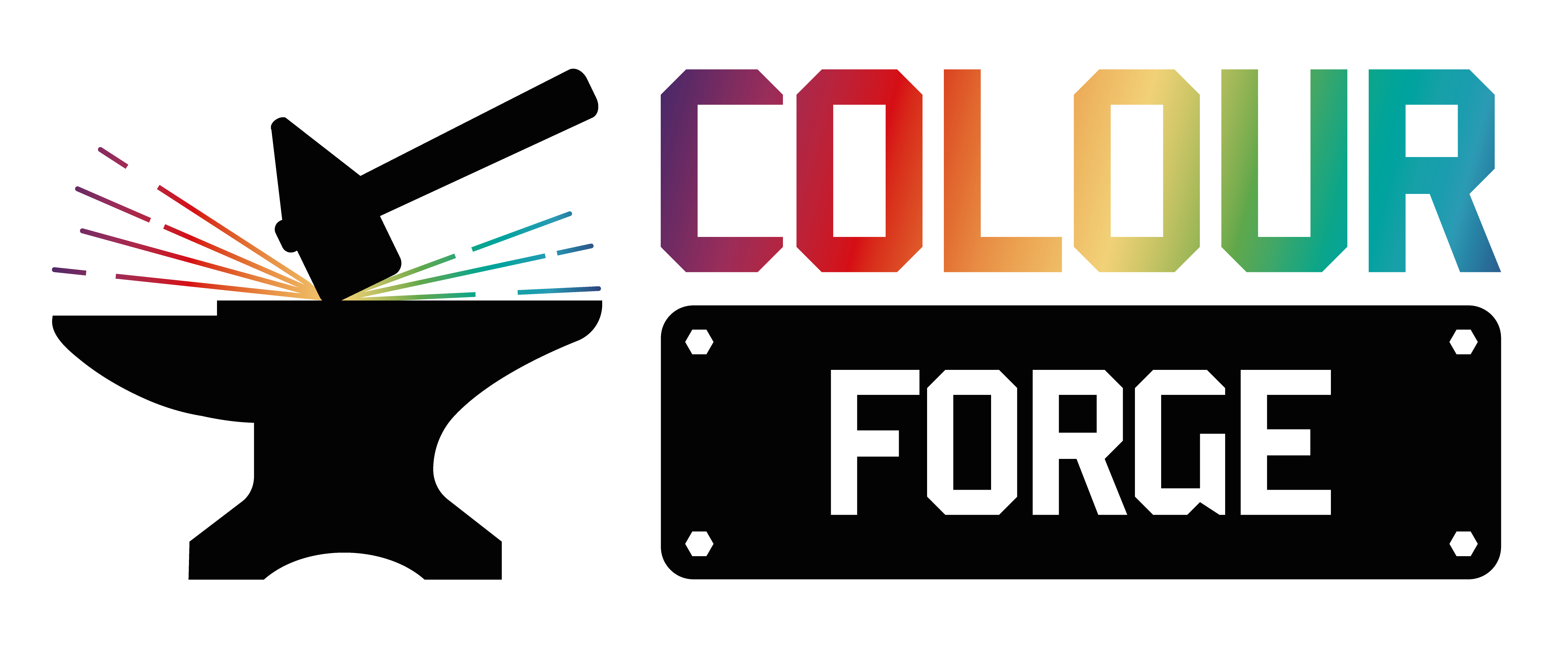 BRUSH WITH DEATH MAY – SINGLE MINIS
The May Brush with Death will be focused purely on individual miniatures. This could be a hero from Kings of War, a ship from Armada or one of the giants from OverDrive. The choice is yours… but just remember that bigger, isn't always better.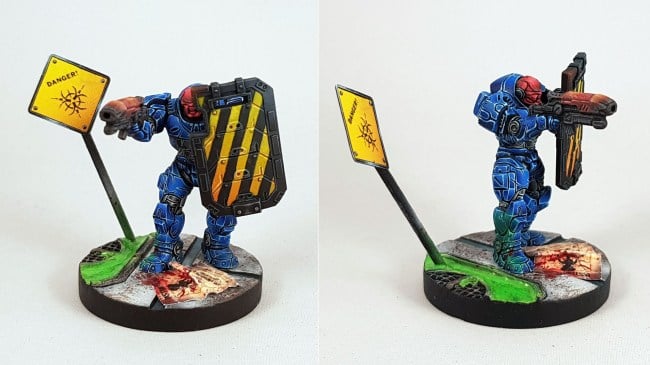 Enforcer Peacekeeper – Kenn Mejer
This is a great opportunity to really go to town on a single mini. Perhaps you could do some freehand on a shield? Maybe you could have an Armada ship crashing through the waves? Just make sure your entry stands out!
For May there is only one category to enter: Single Mini. Nice and easy! It doesn't even matter if it's sci-fi or fantasy.
BRUSH WITH DEATH NOVEMBER – SQUADS AND ARMIES
If you fancy a bigger challenge, then November will be focused on squads and armies… so you've got plenty of time to get building and painting. For this Brush with Death we'll be splitting it into the following categories:
Best Squad: A minimum of six miniatures from the Mantic range, displayed on the appropriate base sizes for the game the miniatures are used in. Figures may be mounted on a single display base or individually based. The squad must be able to function within the game it is from.
For example, the Best Squad category could be a Strike Team from Deadzone, six players from OverDrive, an Armada fleet, etc.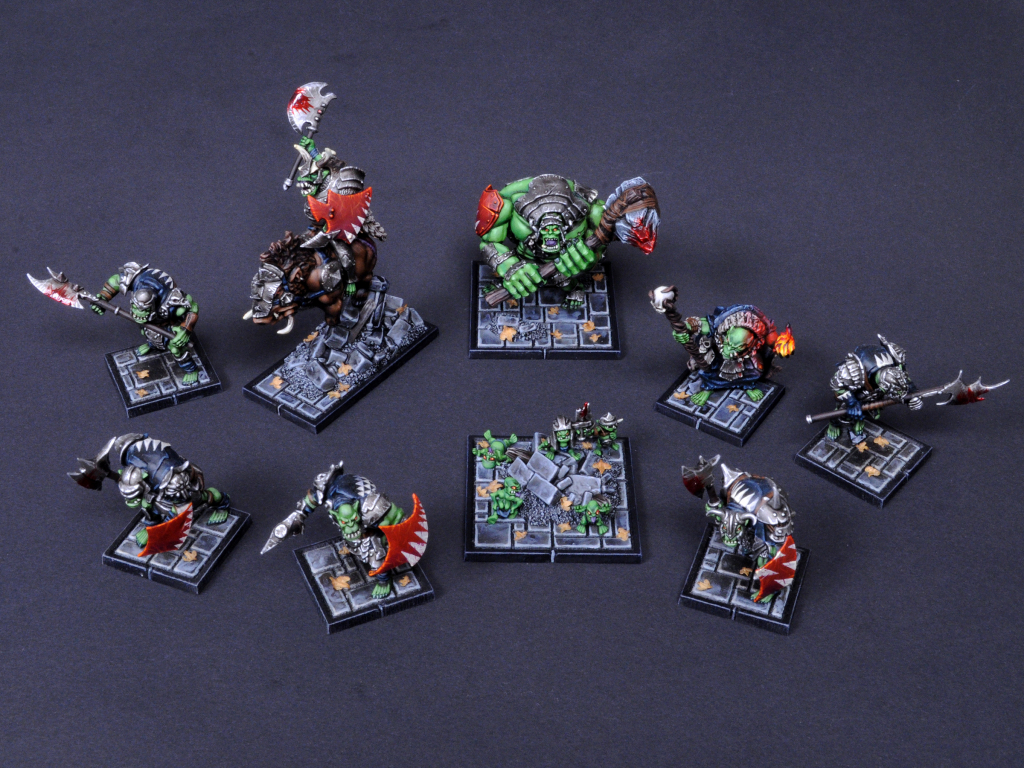 Orc warband – Rafal Maj
Best Army: Depending upon whether you prefer sci-fi or fantasy, you've got two options for this category. At least a 1,000 point army for Kings of War (excluding artefacts – don't try to cheat) or at least a 1,000 point army for Firefight: Second Edition (excluding upgrades). We realise that Firefight isn't available yet but you can get a rough idea of the points from the playtest rules. For either of these your army must be 100% Mantic Miniatures and must be a usable army.
NEW RECRUITS
As part of the May and November competitions, we'll also have a special prize for under 16s. If you're under 16 you can enter a single mini for May and a best squad or army for November. Just make sure when you enter you make it clear you're entering the New Recruit category. In the past we've been amazed by the passion and talent of the under 16s, so we can't wait to see your entries next year.
So, to recap, here are the categories you can enter…
BRUSH WITH DEATH MAY – Single Mini
BRUSH WITH DEATH MAY – Single Mini New Recruit
BRUSH WITH DEATH NOVEMBER – Squad
BRUSH WITH DEATH NOVEMBER – Army
BRUSH WITH DEATH NOVEMBER – Squad or Army New Recruit
HOW TO ENTER
All submissions should be photographed at least three times from different angles and emailed to [email protected]. Make sure your pictures are well lit and sharp – so we can see your amazing paintjobs. In fact, we've prepared a handy guide to tabletop miniature photography at home, which you can read here.
The closing dates are:
BRUSH WITH DEATH MAY  – May 15th
BRUSH WITH DEATH NOVEMBER –  October 14th
Good luck!
BRUSH WITH DEATH COMPETITION RULES
All miniatures must be produced by Mantic Games.
Conversions are allowed, but it must be obvious it is a Mantic produced miniature.
Scratch built miniatures are not allowed.
You may mount single miniatures on a suitable gaming or display base.
Armies can feature a display board.
The person entering the miniatures into the competition must be the person that painted them.
You can only enter each Brush with Death category once
If you enter Brush with Death in May, the same miniature can be included in your Brush with Death entry for November
By entering the competition, you agree to your entry/entries being photographed/videoed, and that all recordings shall be the property of Mantic Games to be used on the Mantic website