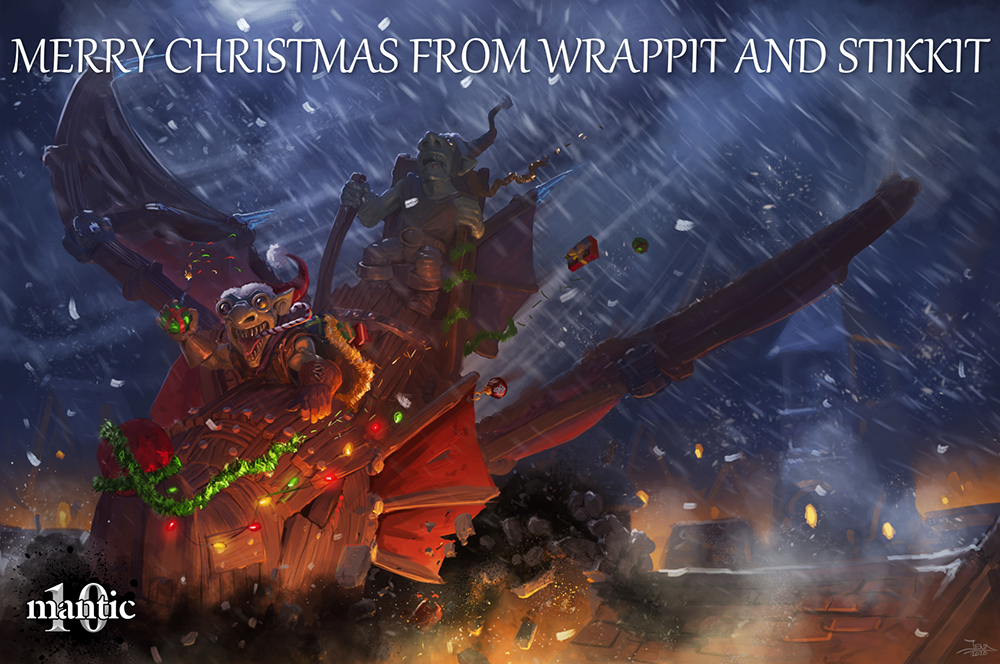 Welcome to our Christmas Blogs! Over the next few days, we're going to be keeping you updated about what's coming up for all your favourite Mantic products. Just in case you missed Ronnie's opener, here are the dates to mark in your calendar.
December 26th – review of the year by Ronnie
December 27th – Vanguard in 2021
December 28th – what's coming up from Winged Hussar
December 29th – Brush with Death
December 30th – Kings of War in 2021
December 31st – The Walking Dead in 2021
January 1st – Armada in 2021
January 2nd – DreadBall in 2021
January 3rd – sci-fi in 2021
January 4th – Hellboy in 2021
As you can see it's a packed schedule, so make sure you tune in every day for sneak peeks, hot off the press information and more! Today we're handing over to Brandon from Winged Hussar…

On behalf of Winged Hussar Publishing, we'd like to wish everyone a happy holiday, and hopefully a much better and welcome 2021.
For those that don't know who we are, we are a publishing company that focuses on science-fiction, fantasy, history, and everything in between. At this point, it's safe to say we publish a wide range of reading material. In particular, how we tie in with all of this is because we publish the novels for Mantic's franchises – and some of our authors have even gone on to write the lore and background information for both Kings of War and Red Scar's KoW RPG.
DROWNED SECRETS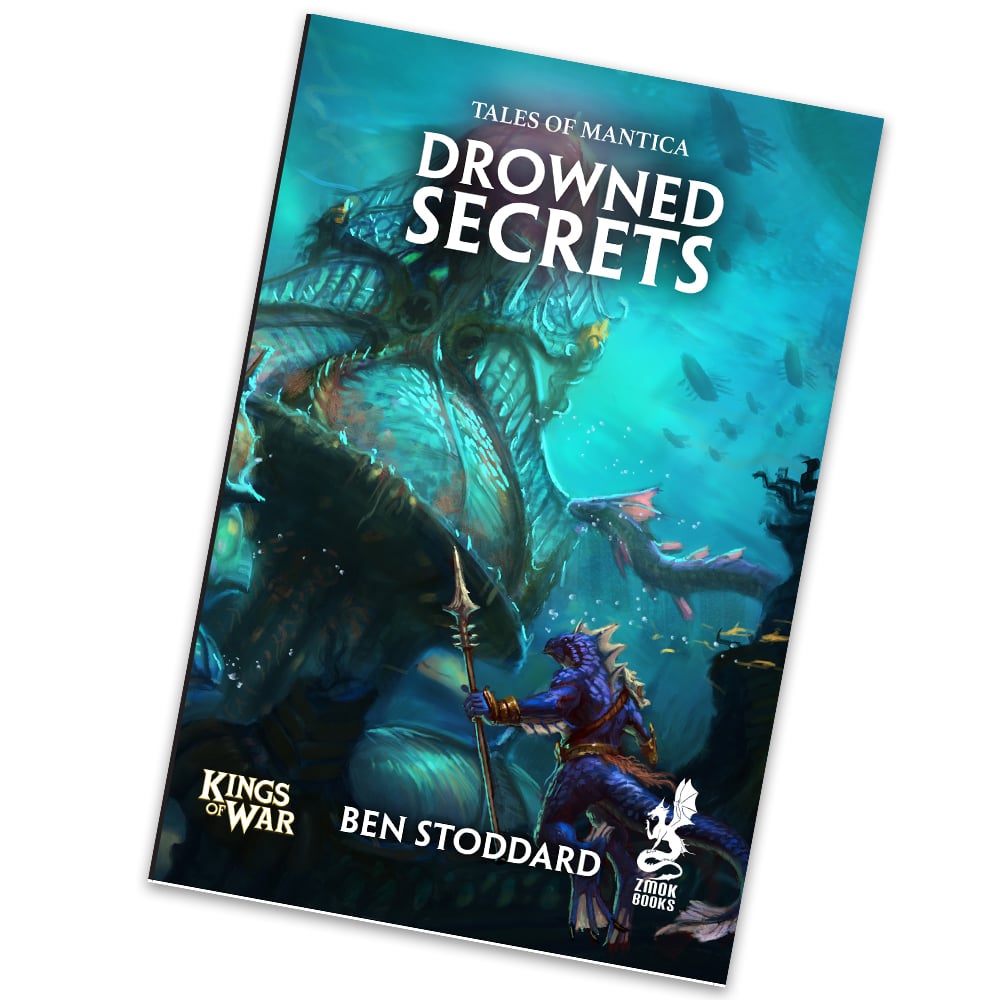 Despite the COVID-19 pandemic, we've had a very successful and exciting year working with Mantic. In August, we released Drowned Secrets by Ben Stoddard. The novel deals with the "gray" aspects and focuses on the "neutral" alignment, especially with how it relates to the Trident Realm. Fighting both good and evil forces, the duo of Ashal the naiad and Magdolon the placoderm don't let anyone stop them from their quest for vengeance.
Ben is a known writer in the Kings of War community, so we were very happy to welcome his writing talent, and he has already begun work on a few other projects for us – including a sequel to Drowned Secrets and a very heavy lore-based novel for the dwarfs! We also released our first audio book using Mr. Barber's novel, Steps to Deliverance – available where you buy audio books.
PIOUS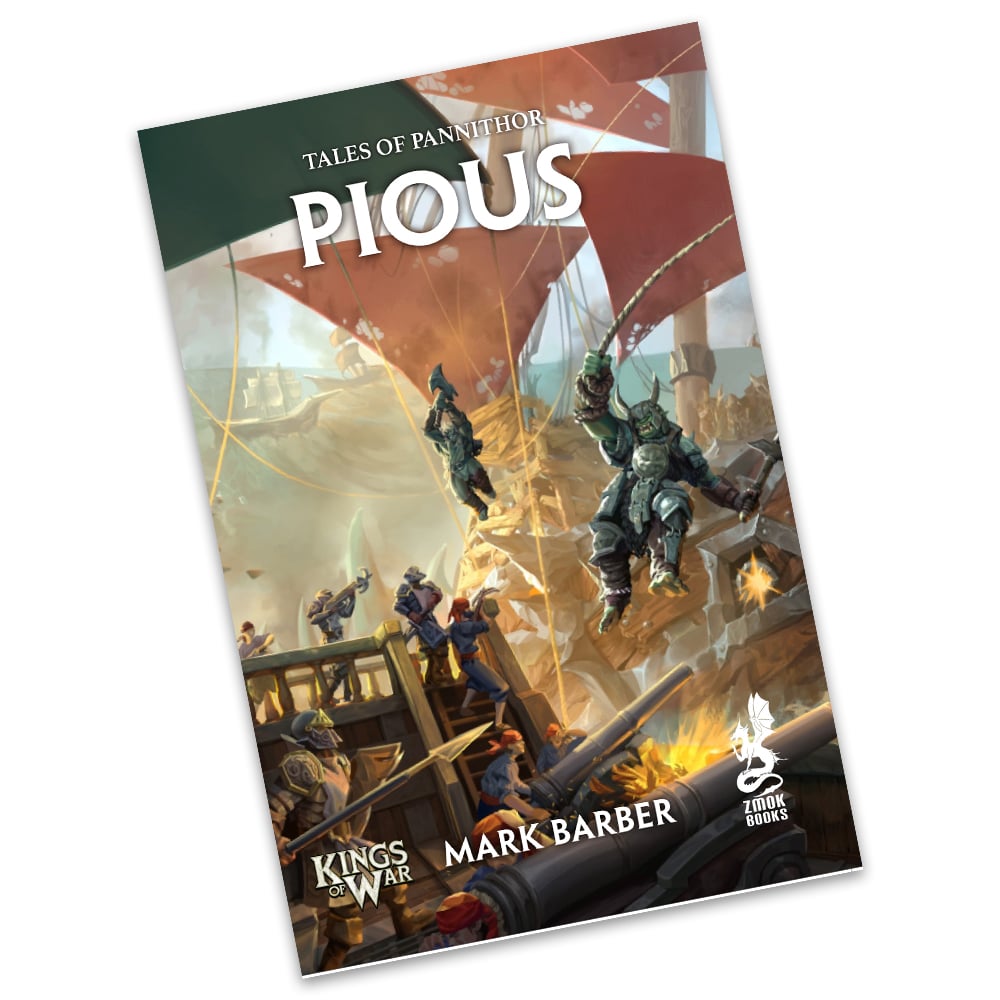 The launch of Mantic's new game, Armada, also came with a book by our very own Mark Barber. Pious centers around the crew of the Basilean warship by the same name. The main character is a lieutenant who has become disenchanted with life as a naval officer, and he ends up working with a newly appointed privateer captain and a marine captain veteran. All the meanwhile, the Basilean forces are trying to stop orc ships that are attacking shipping lanes. It's an action-packed novel that showcases how Armada folds into the Kings of War universe, and readers can expect to see some more naval novels. Check out Matthew Green's review on dash28 for more information: https://dash28.org/2020/12/07/book-review-tales-of-pannithor-pious/
LAST HURRAH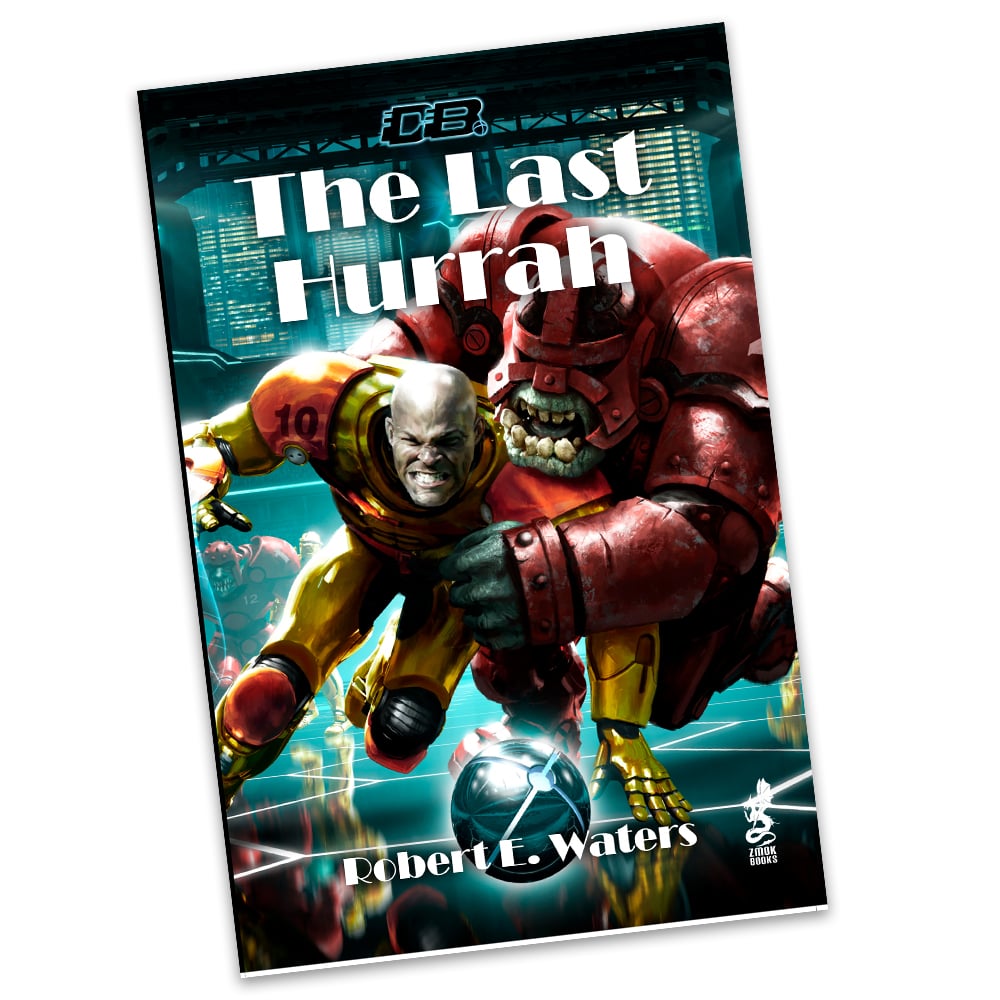 We also released our first book in the DreadBall universe entitled, The Last Hurrah! The novel is about an ex-striker, Leeland Roth, who has to put together a rag-tag team of players to compete in the Third Sphere tournament. While there have been other novels published in Mantic's IP before us, this is the first DreadBall novel, and it has been very well-received by the fans – make sure to check out the podcasts we were on to hear more: WarpathUniverse, Deadzone the Podcast, and FamilyofGamers777.
WINGED HUSSAR IN 2021
With the new year fast approaching, we have a slew of content coming out – in 2021 and beyond!
The long-awaited Nature's Knight is still in the editing stages, but we hope to have it out before Spring of 2021. We appreciate those that backordered the book, and your patience with everything that's been going on – between the rework and COVID holding up the process. We think that the readers will enjoy the twist that we've put on the main character's story, and how he left the ranks of the Basileans to join the Forces of Nature. This will also be the first novel to feature both the Nightstalkers and the Brotherhood/Brothermark forces. There are some really dark and creepy moments with the first, and we showcase the separation of the two latter forces.
FIRST STRIKE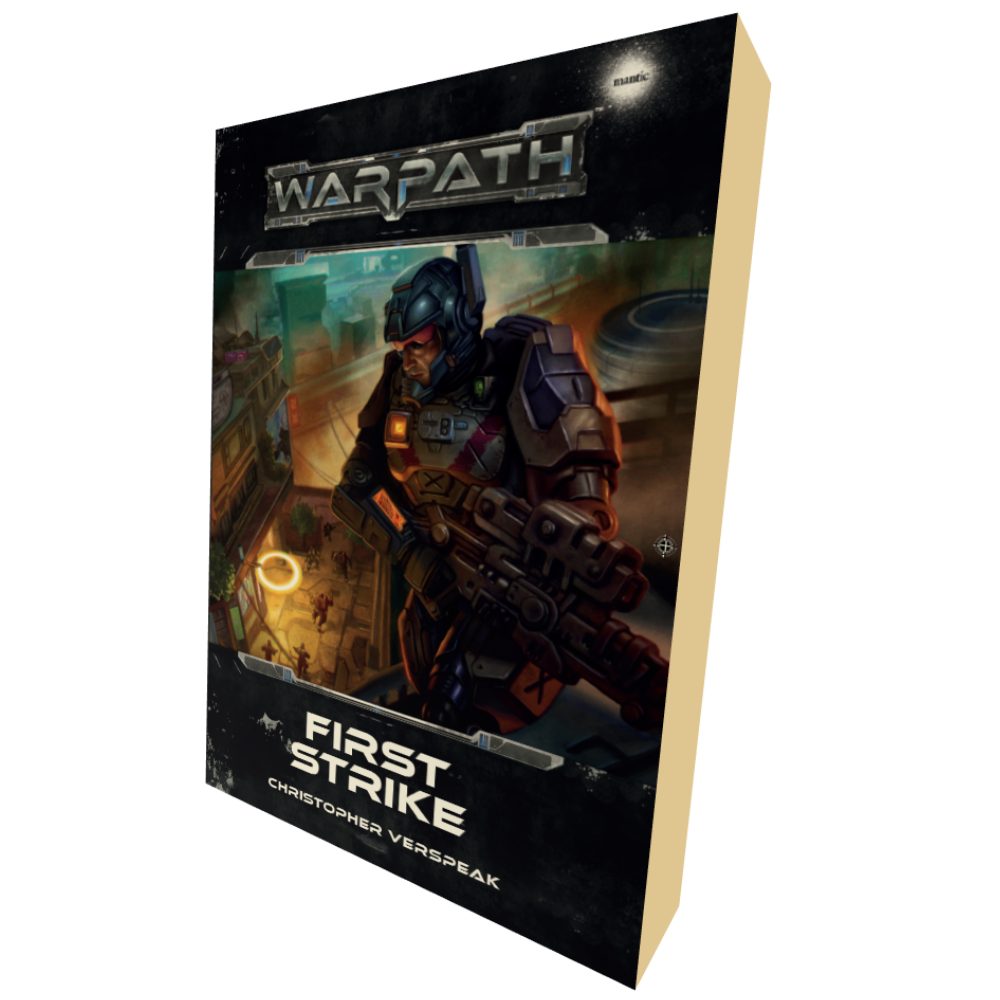 Look forward to a republished First Strike, by Christopher Verspeak, in early 2021. He's added in some new material, so fans of the novel will have some new goodies to read.
CLAWS ON THE PLAIN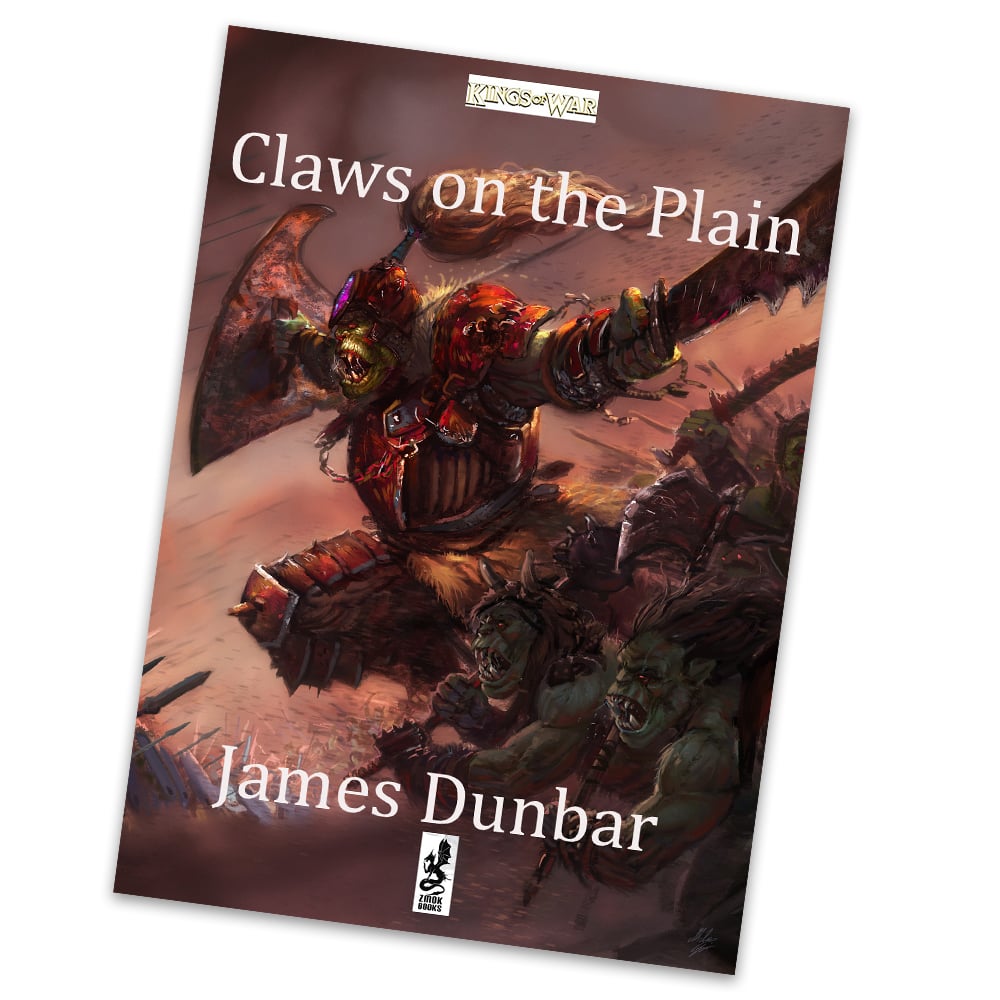 The next Kings of War novel that is in the works is James Dunbar's Claws on the Plain. James's novel is the second to feature orcs in all of their brutal capacity, working against the mercenary company, Dargent's Claws, who is protecting the Ardovikian Plains from the massive orc army. James has worked closely with Marc Langworthy since some of the areas cross over into the RPG – and beyond that, James has extensively searched through the source material. Look forward to a Summer release date.
THE BATTLE OF DAWN KEEP
Tom Holtby's The Battle of Dawn Keep, which will be the first of our Mantic novels to feature an elf as the main character, is scheduled for Summer 2021. The protagonist, Emylde, an Eastern Kindred elf, is joined by an ogre named Kalgamak and his red goblin servant named Nibbler, as they cross the Ardovikian Plain and the Mammoth Steppe, to the castle known as Dawn Keep. The mercenaries tell Emylde about the elf prince that resides there, and she is determined to pledge herself to his cause.
RISE OF THE CELESTIANS
Rise of the Celestians, the first novel in our God War series, is finished its first draft and will be out next spring. C. L. Werner worked very closely with Mantic to ensure the lore of the novel is as accurate as possible, and up to canon standards. C. L. Werner, as he always does, is bringing to the table a very polished and engaging novel! The way that Clint describes the gods in the novel will be their canonical appearance, and we're excitedly working on a cover that will showcase that.
FAITH ALIGNED
Mark Barber, who wrote our first Kings of War novel, Steps to Deliverance, has finished the first draft of his second novel, Faith Aligned, and he has begun work with Mantic on plotting on the next two in the series. Fans of the first book will be delighted to know that we will continue to follow Orion's journey, now working alongside Brothermark forces – but we don't want to give too much away just yet! We posted the art online, but we have commissioned original artwork by Michele Giorgi, who did the covers for Edge of the Abyss and Drowned Secrets. That's currently scheduled for the Q4 of 2021.
Thank you, as always, for all of your support over the years. We hope readers and gamers alike are excited about all of the books we have in the works – plus some more we can't talk about right yet. If any of these tickle your fancy, or you'd like to buy any of the other products we have on our website, we're running a special offer until January 2nd. If you use the code STAYHOME2020 at checkout on our website whpsupplyroom.com, you'll get 25% off your order. We don't just have books, but also rules and miniatures!
Stay safe, and we look forward to seeing many of you at conventions sometime in the new year!