Have you recovered from the excitement of yesterday's rulebook tease? We've had a fantastic response so far from the Kings of War community and we've still got plenty more to reveal. Oh, and just in case you want more rulebook peeks, head over to OnTabletop for some additional pages. Anyway, on to today's blog, which is covering the brand-new two-player starter set: Shadows in the North.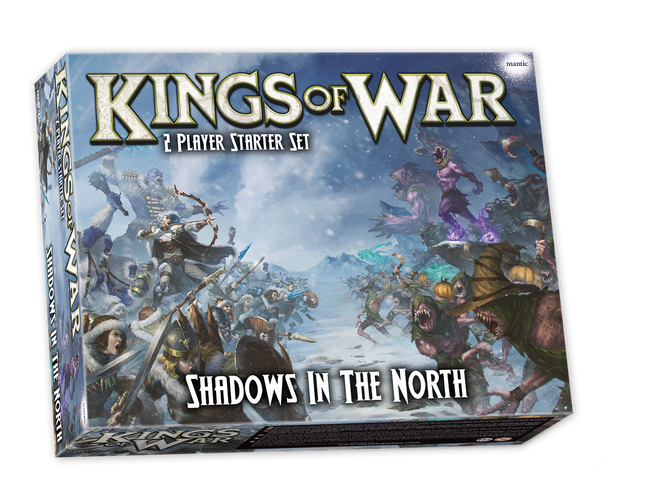 Two-player starter sets are always a great introduction to a game, and we've had fantastic success with previous sets, such as Battle for the Glades and Battle for Iron Hold. With a two-player set, you can share the cost with a friend and get two great starter armies, ready to learn the game. Or, of course, you can keep all the wonderful minis for yourself!
With Third Edition, we want as many people as possible to get into Kings of War, so we've put together a very exciting set that's packed with the new hotness: Nightstalkers and Northern Alliance! Shadows in the North tells the story of a Nightstalker incursion into the Winterlands. Inside the set, you'll get a booklet that gives some background on the story, details about each faction and a mini campaign to help you learn the ropes.
TO ARMS!
Of course, the most exciting element of Shadows in the North is all the sweet, sweet miniatures – and we've picked out a fantastic selection to get you started with two armies. Inside the box, you'll find:
NORTHERN ALLIANCE
20 Hard Plastic Clansmen*
20 Hard Plastic Pack Hunters*
3 PVC Plastic Snow Trolls
PVC Plastic Ice Kin Master Hunter
NIGHTSTALKERS
20 Hard Plastic Scarecrows**
20 Hard Plastic Spectres**
3 PVC Plastic Butchers
PVC Plastic Horror
That's right, for the Northern Alliance we've got a brand-new hard plastic kit that can be used to build either Clansmen or Pack Hunters, plus we'll have upgrade kits to give them two-handed weapons and bows. Of course, this is just the tip of the iceberg for the new Northern Alliance releases, and we'll have a full run down on Friday.
RULEBOOK
The two-player starter set is packed full of lovely plastic miniatures, which we would hate to crush with a massive 400-page hardback tome. So, with that in mind, Shadows in the North will come with a 200-page softback rulebook, rather than the limited-edition hardback rulebook we spoke about yesterday.
Well, hope you enjoyed today's chat about the two-player starter set. Will you be picking it up? And what army will you be playing?
* these can be built as Clansmen or Pack Hunters
** these can be built as Scarecrows or Spectres