Welcome Coaches to the OverDrive Locker Room! This is the place to come for exclusive sneak peeks at the players you'll be battling it out with in the arena when OverDrive launches this September. In each blog we'll be taking a closer look at the background, stats and tactics for each player. Today we're having a sneak peek at the newest Rivals Pack – Gnaw versus Alpha Simian, which will take the available roster up to 10 players!
Check out the tips and tactics for the other Players in the core game: Brank Reborn, Skarathron, Karadon, The Spawn and Dozer. Plus, don't forget our first Rivals Pack Tigrax versus Shadow.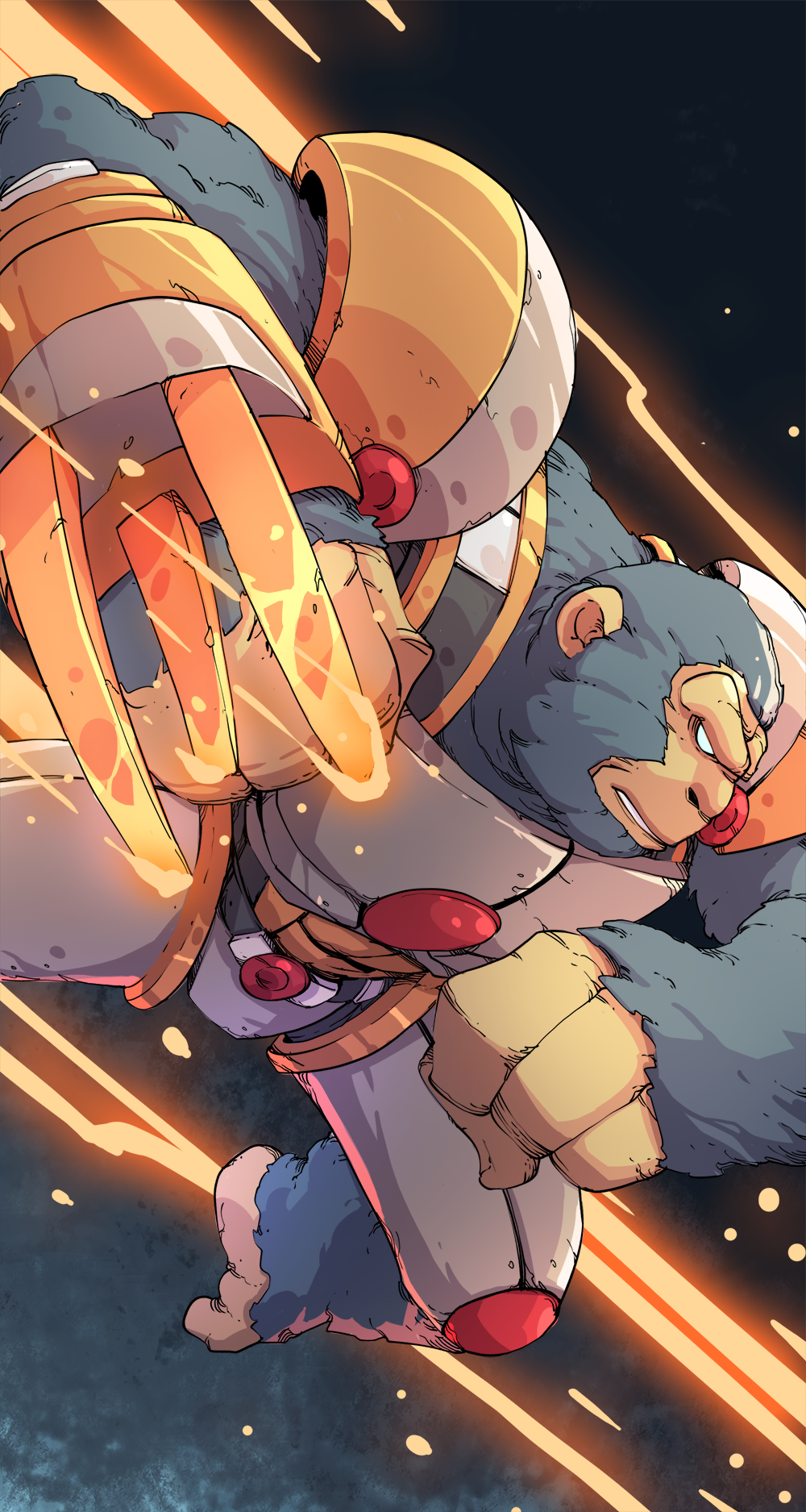 If you want to learn a bit more about how the game plays, before reading about each character, check out this video from Blackjack Legacy, which explains the basics.
BACKGROUND
Former DreadBall player Alpha Simian was forced to enter the OverDrive circuit after a poor business decision to open an inter-planetary restaurant chain called TGIB – Thank Goodness It's Bananas. Although the chain proved popular with travelling Zees, most people were put off by the prospect of a (predominantly) banana-based menu. Plus there was the fact that the Zees – buzzing after the all-you-can-drink banana-based cocktail hour – would often start throwing 'stuff' around the restaurant… and it wasn't always food. Soon the chain was hit by mounting healthy and safety fines, which forced Alpha Simian to close the doors on TGIB forever. Still, since joining the OverDrive leagues, Alpha has found a lucrative side line selling all his leftover supplies as 'Banana Dogs' during the halftime show.
STATS AND TACTICS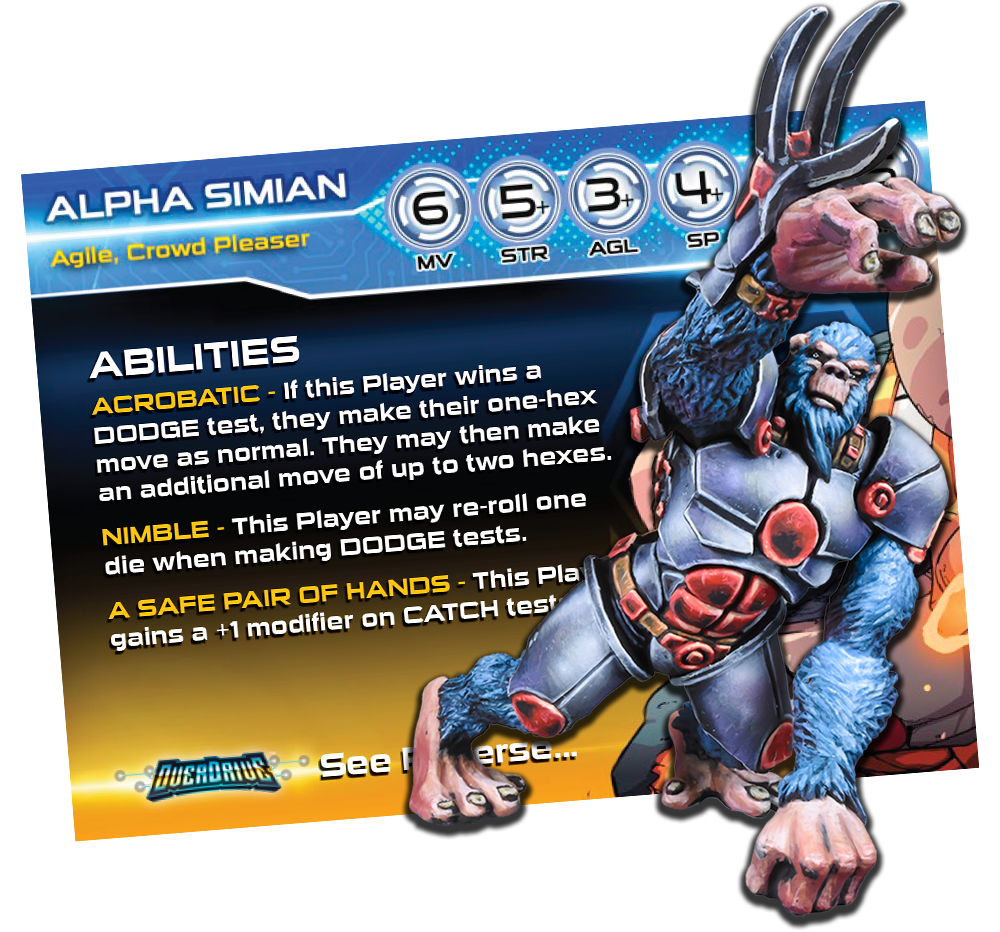 This Rivals Pack really mixes the game up with two of the most agile Players in the game. If you like to play fast – and aren't too concerned about Slamming your opponent – then Alpha Simian is absolutely one of the best in OverDrive.
Let's start off with Alpha Simian's Speed stat, which clocks in at a tasty 6! This makes sure he can keep up with the likes of Tigrax. But, even better, Alpha Simian can boost this to 8 with his OverDrive and then perform a Slam, Ranged Attack or Pass the Bomb action with a +1 modifier. Of course, the action is entirely optional too, so you could just run Alpha Simian off the bench and quickly get into an Active Scoring Zone.
Next, we'll ignore that 5+ Strength stat because that isn't really what Alpha Simian is all about. Instead, let's consider that juicy 3+ Agility stat and how it combines with his two main abilities: Nimble and Acrobatic. With Nimble you're able to re-roll one of your dice when making a Dodge test. As a result, unless you get very unlucky, it's likely you'll typically pass your Dodge test and frustrate your opponent. But then it gets even better because Alpha Simian can move up to three hexes away – imagine him bouncing off the rival player and leaping gracefully through the air. This basically allows you to quickly re-position him into different areas (potentially even into an Active Scoring Zone) to annoy your opposing coach even more!
Alpha Simian really shines in modes like Pass the Bomb – where his Agility helps him to dodge when being Passed the Bomb and his Speed helps him run across the arena if he needs to pass to an opponent. He's also pretty handy in the DodgeBrawl mode, thanks to his Safe Pair of Hands ability, plus he can actually do some damage because throwing the ball is a Skill test, rather than Strength test. Oh, and don't forget his OverDrive which gives you a +1 on Ranged Attacks.
Ultimately, Alpha Simian is a fast-paced player that can – mostly – keep out of trouble and quickly get around the arena to secure objectives and grab those last-minute point opportunities.
THE GNAW VERSUS ALPHA SIMIAN RIVALS PACK IS AVAILABLE TO PRE-ORDER NOW FROM THE MANTIC WEBSITE OR YOUR LOCAL GAME STORE. IT'S DUE FOR RELEASE IN DECEMBER.