Welcome Coaches to the OverDrive Locker Room! This is the place to come for exclusive sneak peeks at the players you'll be battling it out with in the arena when OverDrive launches this September. In each blog we'll be taking a closer look at the background, stats and tactics for each player. Today we hope there are no arachnophobes in the building because we're meeting Skarathron.
Make sure you check our previous blogs discussing Karadon, Dozer and The Spawn.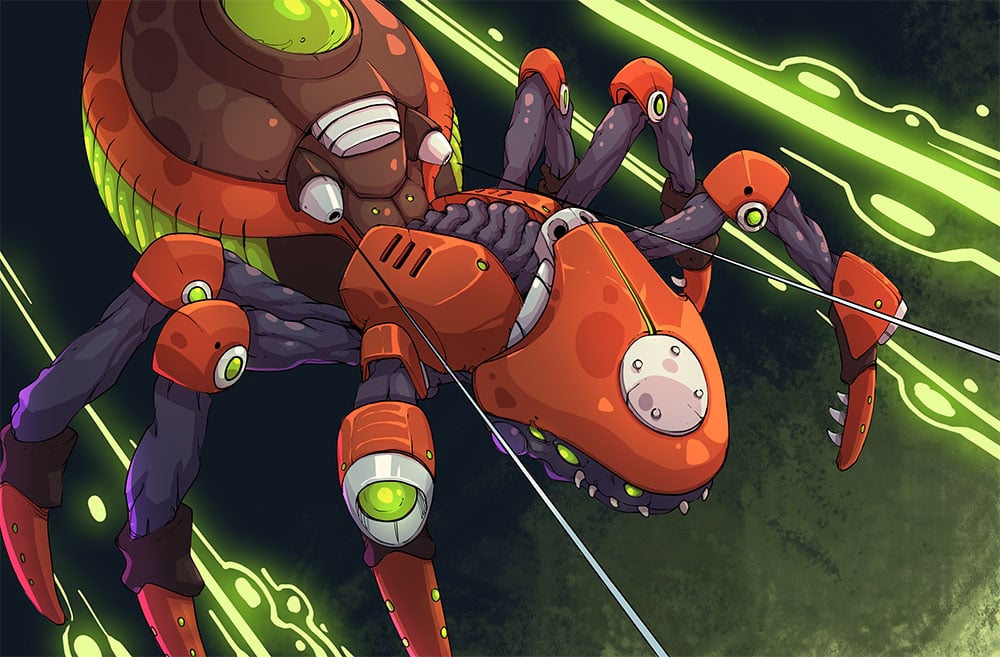 If you want to learn a bit more about how the game plays, before reading about each character, check out this video from Blackjack Legacy, which explains the basics.
BACKGROUND
Skarathron – a Krastavor with a reputation for eating players, fans, support staff, coaches… anything really – became too much of a health and safety risk for the glitzy world of DreadBall. It regularly became the victim of legal battles after eating star Strikers and MVPs. However, instead of asking it to retire (because most people were too afraid) Skarathron became a star player on the OverDrive circuit. After all, giants are much harder to eat than normal DreadBall players and the (appetising) crowd tends to be watching safely from behind titanium reinforced glass.
STATS & TACTICS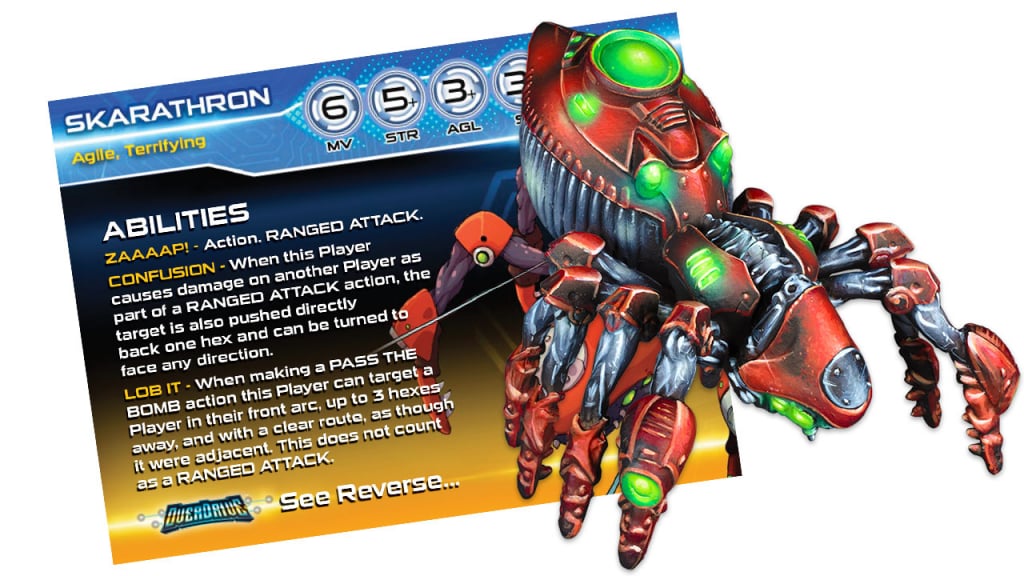 Skarathron is one of the trickier Players to master but, with a little practise, he can become a crucial addition to your line-up. First up, let's talk about that movement stat of six! Skarathron is the fastest Player in the core game and can scuttle across the arena to quickly claim the Active Scoring Zone or grab the Flag. You can even extend its movement with a well-timed Dash. Also, take a look at that Agility of 3+ because that's going to ensure that Skarathron is tough to Slam, even when using some of the big hitters.
Ok, so Skarathron is fast but that Strength of 5+…. yikes! Don't worry though because Skarathron isn't really meant to be getting up close and personal. Instead, you're much better using its Ranged Attack, which allows you to target an enemy up to seven hexes away. In fact, Skarathron is the only Player with a Ranged Attack, as standard, in the core game. This means you can potentially keep at a safe distance while taking pot shots at the enemy. Ranged Attacks are pretty tough to pull off though – for example, you'll be at a -1 modifier just for moving – so you need to plan ahead and draw the enemy close.
Let's also take a moment to talk about Confusion because that's a very tasty move that can really help you to control your opponent. Admittedly it may not look like much but being able to turn an opposing Player means you can potentially set them up for a Slam in the rear arc from one of your powerful Players, like Brank or Dozer. Although OverDrive features alternating activations – so you can't immediately steam in for a Slam – it may force your rival Coach to activate the Player you've just moved, just so they can turn them to face a different direction and avoid the rear Slam. Seriously, do not underestimate how powerful that move can be… and you only need to score one hit.
Talking of Skarathron's ability to control the game, its Overdrive is another great example of how Skarathron can potentially lock down characters. Although Poison Shot may not initially seem to cause a great deal of damage – unlike Karadon's Overdrive, for example – it gives the opposing Player a status token and the next time that Player activates it immediately suffers two damage. This is incredibly powerful for controlling the flow of the Rush because it may stop your rival coach activating a Player, as the poison could potentially knock them out.
Skarathron is a great support character that can control the game with the right tactics.
OVERDRIVE IS HEADING TO STORES THIS SEPTEMBER AND PRE-ORDERS WILL BE GOING LIVE SOON!