Spring Open Day 2018: Participation and Cool Stuff
24th Apr 2018
Pat "Chopper" Lewis
On Saturday 5th May, Mantic Games invites you, our friends, to join us for our biannual OPEN DAY. You can choose a single ticket, or the Group ticket – which covers four attendees for the price of three!
Open Day events have been evolving from your feedback and our experiences. Once again we have made certain that the Main Hall is at capacity, and – again – we will be utilising extra rooms to add in more and varied things to do. Our aim as always is to create an aspiring environment that will inspire your own hobby and captivate you for up to 6 hours!
The success of November's Open Day proved the template for the forthcoming Spring Open Day 2018. There are three blogs in this series:
Participation and Cool Stuff,
Learning,
Open Day deals
1. PARTICIPATION AND COOL STUFF
We know that many of you like to try out a new game, or play something you know – with a twist. As far as eye candy, you are pretty much unanimous that seeing inspirational models, displays, and previews are a must-have. And free stuff? Well, who doesn't like free stuff!
The Goodie Bag
As you enter you'll be thanked for your attendance with the following:
A limited edition 3-Up model!
Two vouchers for use at the Mantic Store on the day
A chance at one of 3 Golden Tickets
3-Up models are giant versions of models we already produce – 3 times the height (27 times the volume!). These are superb collector's models and amongst other things can be used as painting challenges, trophies, or scenery.
You will have the choice between the Undead Revenant or Sgt Howlett.
If you are unable to attend due to Real Life getting in the way, or if you simply live too far away, then the 3-Ups will be available to pre-order online that weekend (4th – 6th May).
If you're lucky enough to receive a Golden Ticket, you'll walk away with the following:
Kickstarter Exclusive models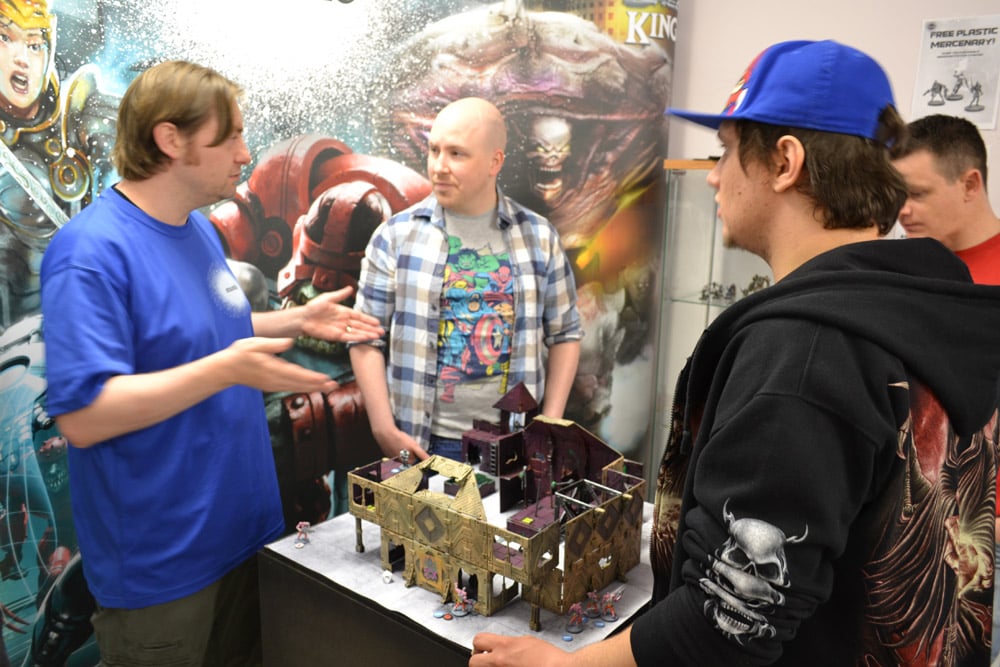 Participation and Demos
You're in the Main Hall now and you are greeted by a plethora of entertainment!
Participation Games are designed to get you into the action and roll dice. They'll play for 45-60 minutes, so get comfortable and get ready for a blast!
Hellboy – try out the game while it's running on Kickstarter!
The Walking Dead – our largest game yet, presented by gaming super-friends J'ss Dregs, their game "All Out Shopping" is 6′ x 4′ of sandbox exploration!
DreadBall: Ultimate – 6-players, 2 balls, 1 winner
Warpath: Firefight – GCPS vs. Veer-myn
M.A.D. – Move! Attack! Destroy! Bespoke vehicle mash up in the Warpath Universe
Jetbike Racing – our second bespoke game of the day – and another put on by one of our fans – is a race-day classic
If you have 15-20 minutes then Demonstration Games are a terrific taster to pique your interest or satisfy your curiosity about a game you've always fancied:
Hellboy – try out the game while it's running on Kickstarter!
The Walking Dead – Atlanta Supply Run
DreadBall – It's close to the buzzer and the scores have just been levelled…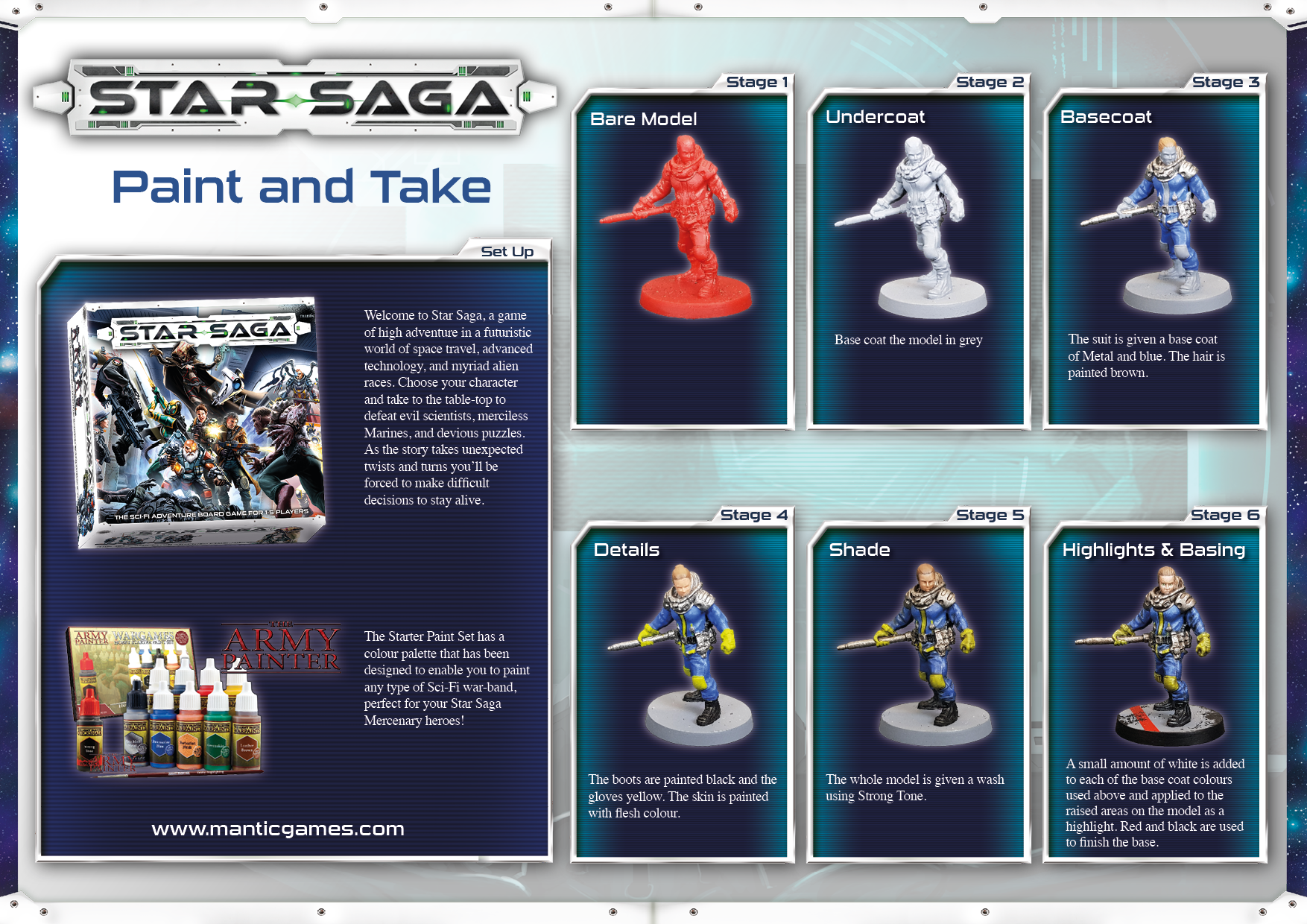 More Free Things!
The Paint & Take will once again be setting up stall. This time we'll have the Star Saga Lab Technicians – and Walkers from The Walking Dead will be returning! There will be both a step-by-step guide and on-hand painters should you need advice. It's a relaxing 30 minutes of your day.
Aspiration
Our talented photographer, Ben, will be setting up not one, but two of his incredible displays: GCPS vs. Veer-myn from our Warpath Universe; and a Vanguard showcase using the Studio's Basileans and Night Stalkers. These
The display cabinets in the Main Hall are being cleaned and primed for some showcase models old, new, and forthcoming! Everyone loves a preview and nothing says it better than models painted to an exceptional standard.
Foodie Goodness
Finally, should you need sustenance while you're with us for an extended visit, we are pleased to welcome the Bear's Street Food. who will be set up in the front car-park with their stunning range of barbecue (including vegetarian, vegan, and gluten free!). Bear's Street Food will also be running a breakfast menu from 9am.
Inside the Main Hall Cozzmic Cakes will be joining us to offer you an array of baked products that are as delicious as they are delightful.
There will be more to be revealed in the companion blogs, so check back! In the meantime, here is the timetable for the day – we did say it would be busy, right? Pick up your ticket now!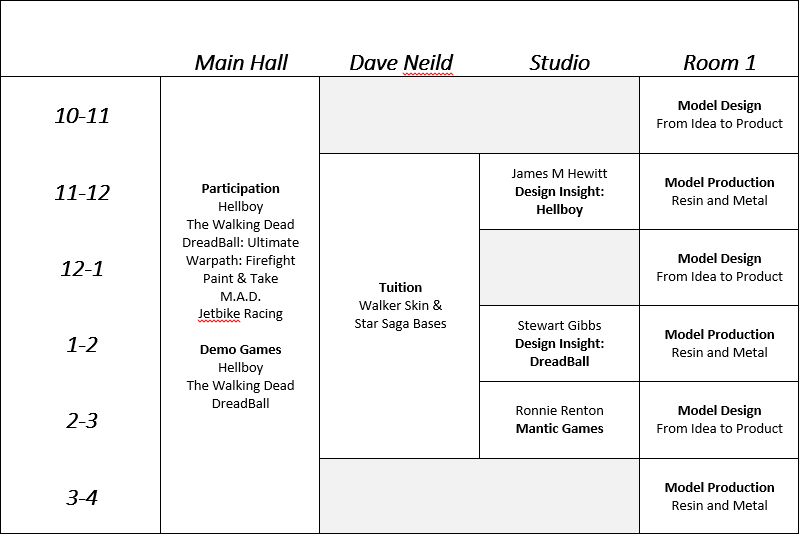 .