Did you know that DreadBall is the greatest game in the galaxy? The mix of fast-paced action, high-impact slams and filthy fouls combines into the most enjoyable tabletop sports game since Inter-planetary Death Chess.
However, we've heard some extremely worrying reports that some people out there haven't experienced the joy of DreadBall for themselves. So, with a brand-new supplement on the horizon, we thought now was a great time to explain why you, yes YOU, should be excited about Magnetar Circuit and dusting off your DreadBall gloves.
1 – THE RULES ARE GLORIOUS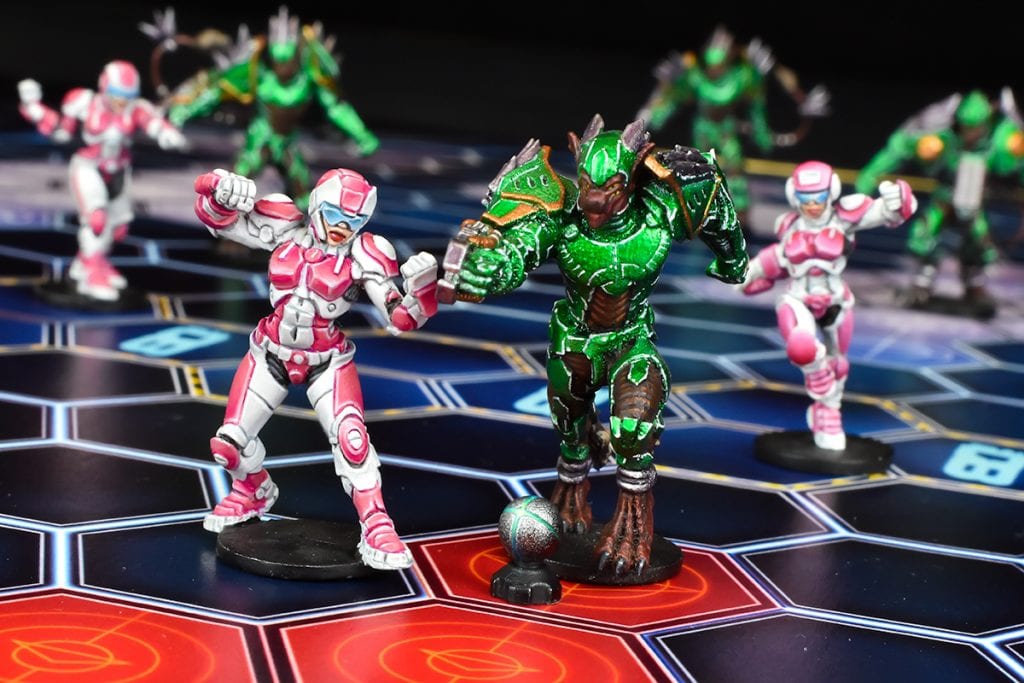 DreadBall Second Edition took the original rules and polished them until they were shinier than the trophies in the display cabinet at the Trontek 29ers' stadium.
This is a game that you can learn in a couple of turns and, before you know it, you'll be slamming Guards in the rear and shooting for three-point strikes (goals) in no time. However, once you've learned the basics, taking your game to the next level is no easy feat. Learning how to get the most out of your chosen team takes a lot of practice before you get them working like a well-oiled machine.
If you fancy learning the rules, Rob popped over to OnTabletop to take them through the basics… and hopefully got it mostly correct!
Even better, you can read the rules for FREE! That's right, all the rules are available to download from the Mantic website.
2 – NO GAME EVER PLAYS THE SAME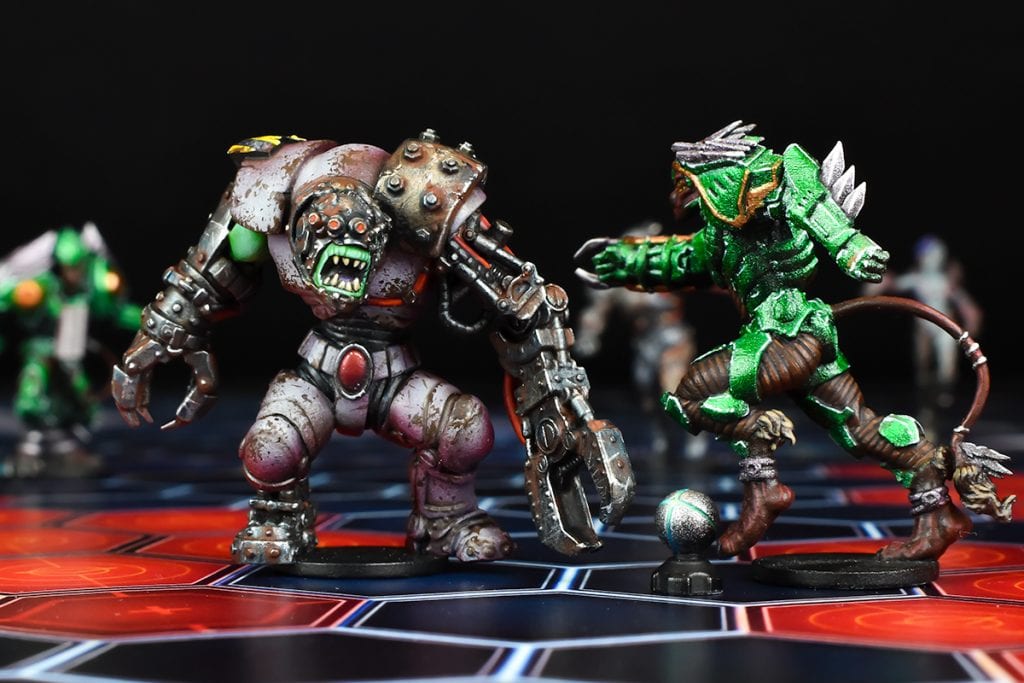 One of the beautiful things about DreadBall is that no game every plays quite the same. In some tabletop games, you may encounter the same tactics from your opponent – but in DreadBall there are plenty of twists and turns to keep you on you (and your opponent) on your toes.
First up, players are able to earn free actions by doubling certain rolls – e.g. picking up the ball or trying to stand up after being knocked to the ground. So, even when you think you might be down and out in the final stages of the match, you can get that all-important lucky double and score the game-winning strike. Therefore, it's always worth giving it your all – even if the odds seemed stacked against you.
You've also got the Game Deck. This is a set of cards that can grant your players additional actions – e.g. a free throw or run – or trigger special events that totally change the flow of the game. Careful management of your hand is a key part of the game and can make all the difference when the chips are down.
3 – RISK V REWARD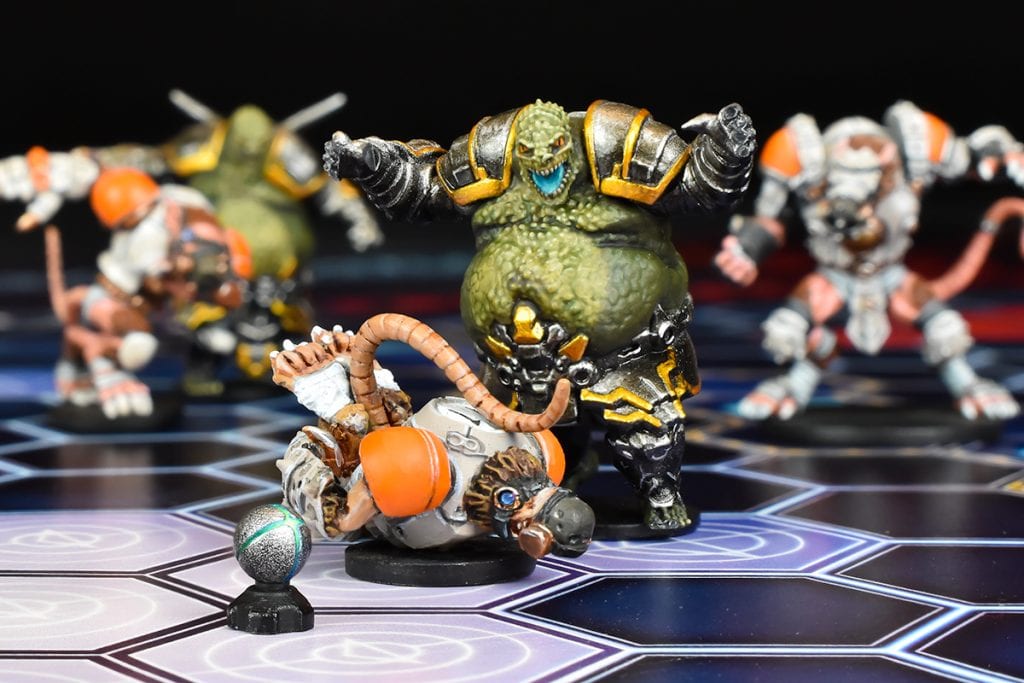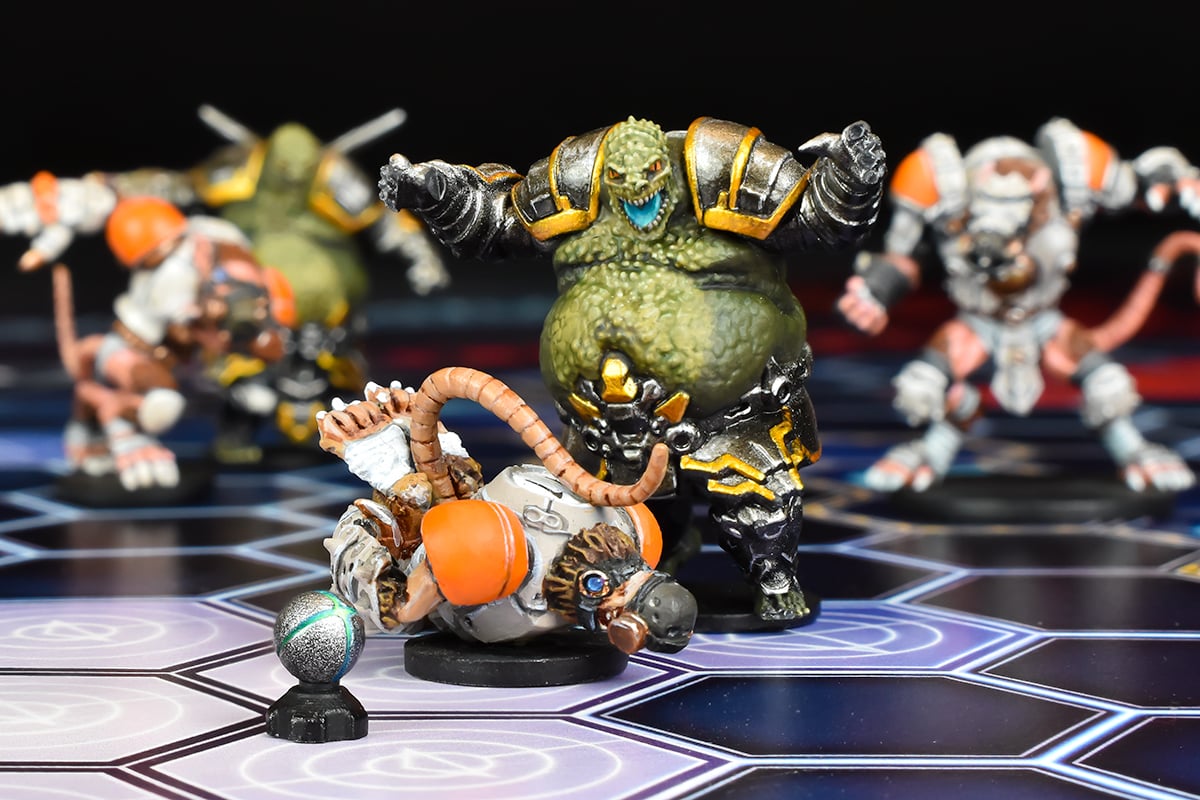 I'm not sure about you… but I hate games that don't reward risky plays. The sort of game where the best coaches are risk averse and it's all about stacking the odds in their favour by playing the game in a certain way. For example, you might get the ball, gather your players around the ball holder and slowly shuffle up the pitch ready to score. Yawn! For me, I prefer glorious passes, incredible dashes up the pitch to get into position or powerful slams that send the crowd wild.
DreadBall is absolutely a game about making those risky, but amazing, plays! Yes, you can work out the best order of actions to maximise your chances of success, but that's only half the game. In DreadBall, by performing risky or stunning actions (like throwing the ball the maximum distance or taking an opponent out of the game) you're rewarded with Fan Checks. These 'points' can then be traded in for additional cards (and we've just mentioned how important they are) or Coaching Dice, which can be added as extra dice when rolling.
This means that, typically, you can't sit back and always do the 'safe' thing in DreadBall. The best coaches really do try and push themselves to earn those Fan Checks and take their team to the limit.
4. IT'S SUPER QUICK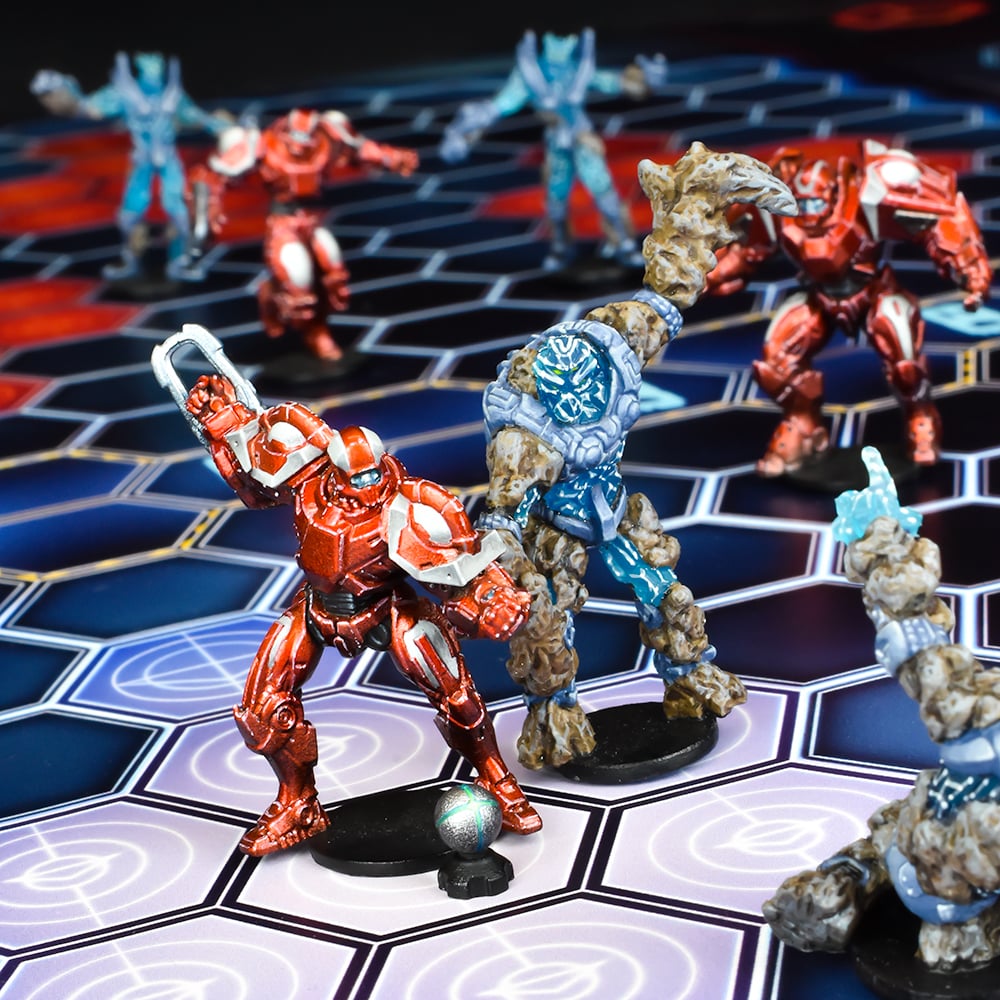 If you're sitting down to play a super quick, action-packed sports game, then you want it to be super quick and action packed! Thanks to the simple rules, DreadBall games typically last around an hour, meaning you can easily play a couple of matches in an evening. In fact, I once played an entire league in one night! We managed to cram four games into about four hours and it was one of the greatest nights of DreadBall I've had. Talking about leagues…
5. LEAGUE PLAY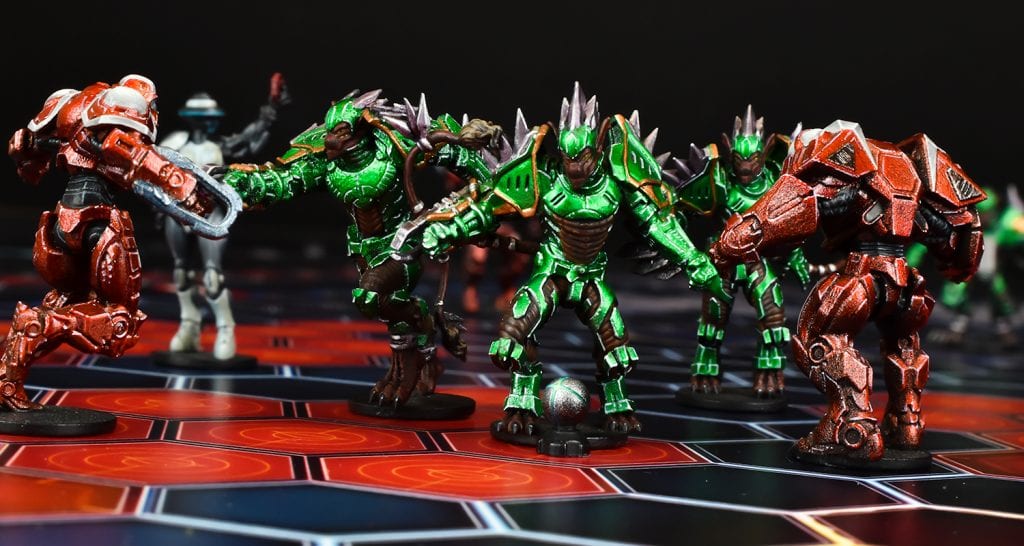 One of the best things about a sports-based tabletop game is league play. This is an opportunity for you to create your own team, with its own backstory, player names and MVPs that get added to the squad as the season progresses. Taking part in the DreadBall league is one of the most rewarding experiences in tabletop gaming… even if your star Guard does get killed halfway through the season!
6. EXPLODING SIXES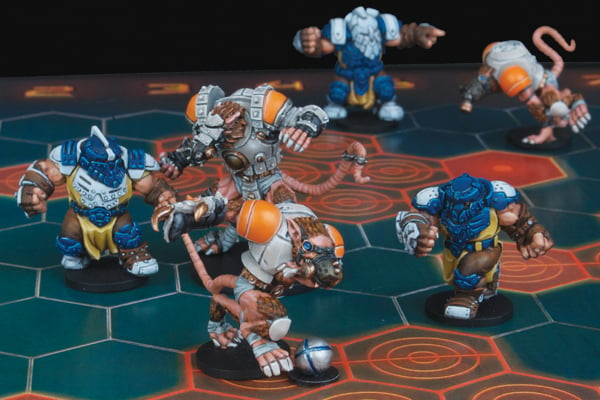 Yes, I know we said five, but just like the game itself, Exploding Sixes are here to take things up a notch. DreadBall incorporates the Exploding Six mechanic – so that when you roll a six, not only does it count as a success BUT it also allows for you to roll an additional die. If that's a six, you get to roll another… and so on. Choo choo, all aboard the six train!
The Exploding Sixes make for some wildly unpredictable but unforgettable moments that go down in DreadBall history. And when combined with elements like doubling for free actions and the event deck, it means that matches can often go down to the wire.
7. TUG OF WAR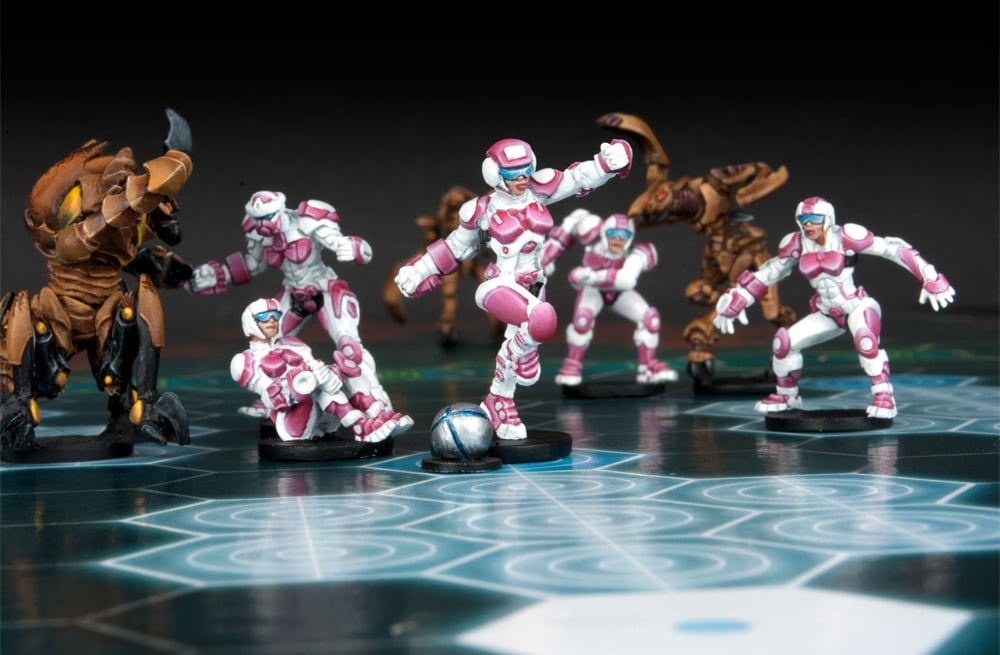 Seeing as we rolled a six 😛 we may as well have another! DreadBall has an innovative scoring mechanic that ensures there's always a reason to keep playing. You see, rather than just accumulating points each time you score, DreadBall has a tug of war mechanic that can sees the score tracker moving toward a player.
For example, if you score two points, the tracker will be moved two points in your direction. However, if your opponent scores three points, it will move three points toward them, so they have the one point advantage. As a result, there's often a frenetic back and forth as coaches fight to ensure they keep the score tracker on their side of the board.
To be honest, we could go on but 100 reasons to play DreadBall might get a bit much. Seriously , take a look at the rules, watch some videos and then wonder why you aren't already playing DreadBall each week.
IF ALL THIS HAS GOT YOU EXCITED FOR SOME SCI-FI SPORTING ACTION, THEN DON'T MISS THE NEW DREADBALL SUPPLEMENT, MAGNETAR CIRCUIT.
EITHER ORDER FROM YOUR LOCAL GAMING STORE – AND TRY TO GET THEM TO RUN A DREADBALL LEAGUE WHILE YOU'RE AT IT – OR DIRECT FROM THE MANTIC WEBSITE.