Welcome Coaches to the OverDrive Locker Room! This is the place to come for exclusive sneak peeks at the players you'll be battling it out with in the arena. In each blog we'll be taking a closer look at the background, stats and tactics for each player. Today we're previewing the newest Rivals Pack – Big Mech versus The Bug, which will take the available roster up to 12 players!
Check out the tips and tactics for the other Players in the core game: Brank Reborn, Skarathron, Karadon, The Spawn and Dozer. Plus, don't forget Rivals Packs Tigrax versus Shadow and Gnaw versus Alpha Simian. Oh, and if all this has piqued your interest in OverDrive, then you can now download the free rules from the Mantic site here.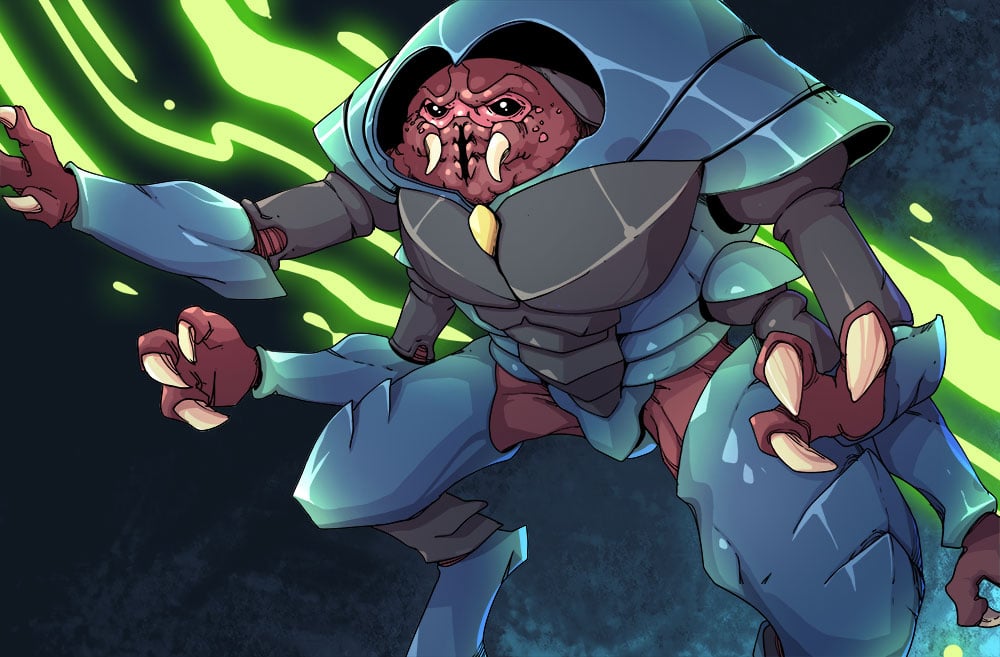 BACKGROUND
Found nesting deep in the hold of a cargo ship belonging to the Radner Corporation. Initial efforts to kill the giant insect were abandoned after the crew realised it was feeding on a small population of Veer-myn that also inhabited the ship. Upon the ship's return to its home planet, The Bug was quickly adopted as a mascot for the Radner Hornets DreadBall team, where it displayed an unfortunate tendency to run onto the pitch and Slam into opposing players. Undeterred – and quickly realising The Bug's potential – Radner Corporation enlisted The Bug into the OverDrive leagues. Its ability to seemingly shed its skin at will, regularly frustrates opponents, as does its seemingly unpredictable bursts of speed.
STATS AND TACTICS
The Bug is one of the odder players in OverDrive and, at least initially, it may seem hard to see where it fits into your squad. After all, it has a slow move of just 4, and is pretty average at Slamming. However, dismissing this unusual character would be a mistake… certainly for some of the additional game modes.
First up, let's take a look at that movement stat. "Ugh, it's just four and will be super slow like Brank and Dozer," is what you may be thinking. However, The Bug also has a Speed stat of 3+ (joint best in the entire game), which should make Dash tests an absolute breeze. Things get even better thanks to the Extra Boost ability, which gives The Bug +2 dice on a Dash test. That means it will typically be rolling a very healthy five dice on each Dash attempt. Therefore that standard 4 move can very easily be boosted to at least 5 or 6… and with five dice needing a 3+, the temptation will certainly be there to push The Bug to a third Dash and move 7 hexes.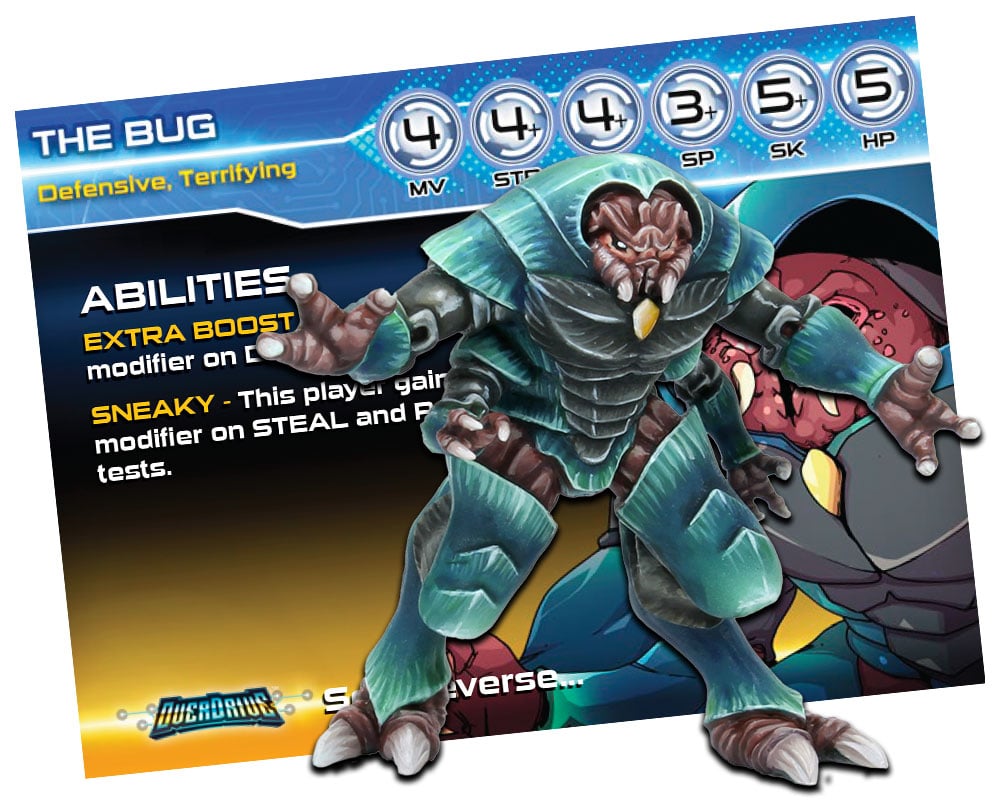 Also, just a note, although a Dash test is written as (123), there's actually no upper limit on Dash attempts, so you could try to reach 8 or 9 hexes! This unpredictable amount of movement means you can bait your opponents into thinking they're out of range of The Bug's paltry 4 movement, before surprising them with a few tricky Dashes. So, despite first appearances, The Bug is actually one of the fastest players in the game.
Next up, let's talk Sneaky. Admittedly The Bug may not be your first choice when it comes to modes like DodgeBrawl or King of Hill, but in Pass the Bomb or Capture the Flag, it can be an absolute monster. This is because The Bug has a +1 modifier on Steal and Pass the Bomb tests. When it comes to Stealing, The Bug will be particularly nasty because Stealing is a Speed test.
If you want to boost The Bug's effectiveness even further, then consider teaming it up with the Sleight of Hand and Explosive Effort Coach Abilities. Sleight of Hand allows The Bug to re-roll one die on a Steal or Pass the Bomb test, while Explosive Effort grants a +1 modifier on a Pass the Bomb test… taking The Bug to a potential six(!) dice. Talking of Coach Abilities, in a future blog we'll look at some great combos of abilities that work with multiple characters in a team.
Before we wrap things up on The Bug, let's talk about its OverDrive ability. Exoskeleton allows The Bug to basically get a 'second' life. This is because whenever he would be removed from play, i.e. from a Slam or Ranged Attack, he can use the OverDrive ability to recover all wounds and make a free one hex move. Again, a little like The Bug's slow speed, this OverDrive can be used to bait your opponent when The Bug is low on health because an opposing coach thinks they can knock it out. Admittedly, it's more of a situational OverDrive but when every point counts, this can really save your skin.
AND THAT CONCLUDES OUR PREVIEWS OF THE BUG AND BIG MECH. WILL YOU BE ADDING THESE PLAYERS TO YOUR OVERDRIVE TEAM? YOU CAN PRE-ORDER THIS NEW RIVALS PACK NOW FROM YOUR FLGS OR DIRECT FROM THE MANTIC WEBSITE.