Christmas Blogs: OverDrive in 2022
30th Dec 2021
Rob Burman
We're up to day four of our Christmas blogs and today looking at what's coming up for OverDrive in 2022! However, just in case you want to see what's coming up, here's the full list of blogs so you know when to check the blog for all the juicy info or go back and read something you may have missed.
December 27th – Ronnie's review of 2021, plus a special digital discount code. You can read that here.
December 28th – Armada in 2022, including Salamanders and new dwarf fliers. Read that here.
December 29th – Brush with Death returns! Find out how to enter here.
December 30th – OverDrive
December 31st – Supporting gaming clubs in 2022
January 1st – The Walking Dead
January 2nd – Firefight: Second Edition
January 3rd – Deadzone
January 4th – Kings of War
January 5th – The Umbrella Academy: The Board Game
Right, let's crack on with OverDrive then. OverDrive was released in September, so you may have missed it in all the excitement for Deadzone: Third Edition. In which case, we'll briefly explain what OverDrive is… OverDrive is a super-fast, arena-based game inspired by classic videogame multiplayer modes, like Capture the Flag, King of the Hill, Pass the Bomb, etc.
Unlike a normal wargame, where you create your army list or warband, OverDrive sees you 'drafting' available players. Before a match, you line up any players you have with you and then each Coach drafts three players from the line-up. Imagine it like playground games where you line up against the wall and get picked by the team captain… except this time you don't have to run into the toilets crying because you were picked last each time. Just me? Ok, I'll move on…
If you want to see the game in action, you can watch the video below, which give a great idea of how the game plays. The main takeaways are:
Really easy to learn
Great for introducing people to miniature gaming
Super-fast so you can easily play a couple of games in an evening
With all that out of the way, let's take a look at what's coming up for OverDrive in 2022!
THE BUG AND BIG MECH
Before we head into 2022, we have recently released a brand-new Rivals Pack: Alpha Simian versus Gnaw. These are two of the most agile players in the game and are perfect for coaches that prefer speed over slamming. You can read a little more about how Gnaw and Alpha Simian play in our previous locker room blogs.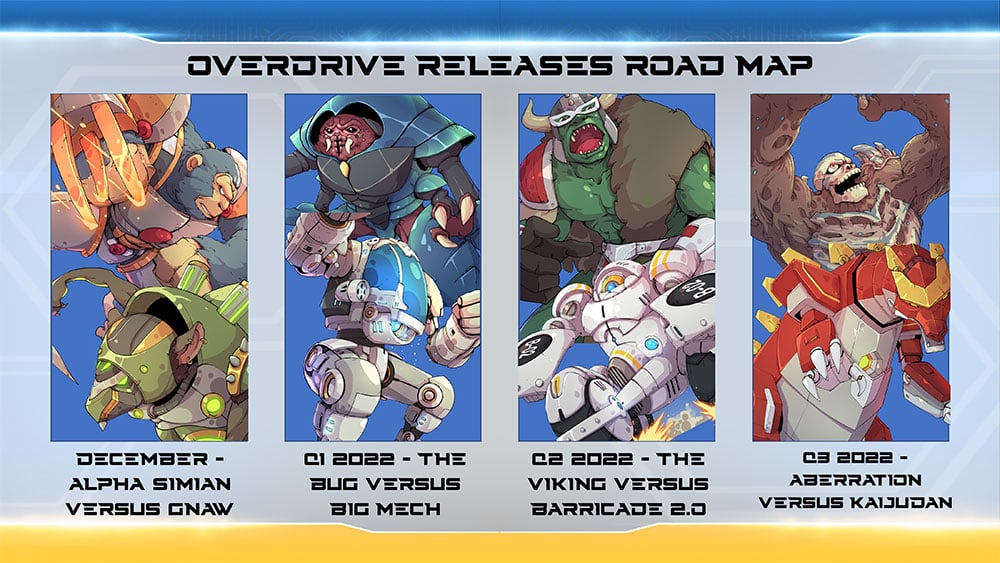 In 2022, we've got three more Rivals Packs to release, as you can see in the roadmap above. First on the schedule is The Bug versus Big Mech. This is a really interesting Rivals Pack, as both players have very different styles. The Bug is more defensive, with unusual bursts of speed that can catch your opponent off guard. Meanwhile, Big Mech is one of the only players in the game that can have an extra activation played immediately after its first activation. Again, this is a really interesting way to mess with your opposing coach.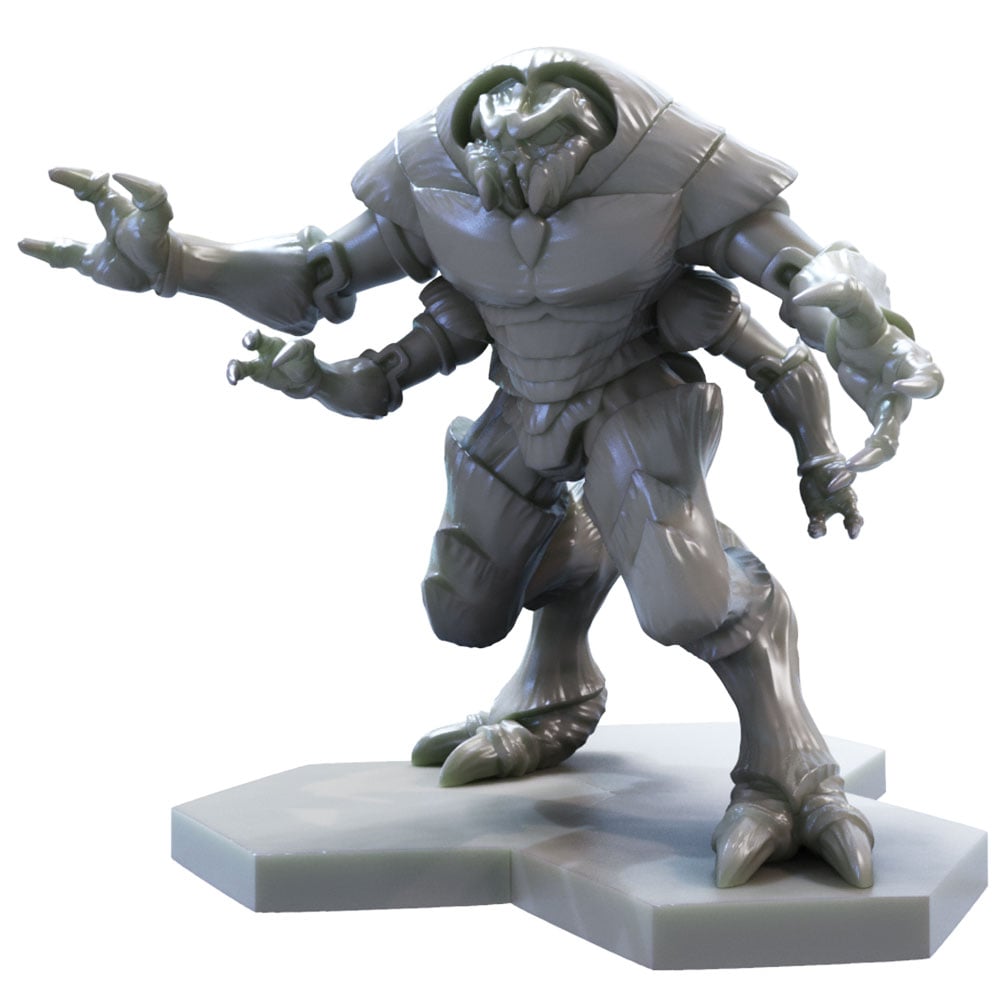 OVERDRIVE ORGANISED PLAY
OverDrive is the perfect game for organised play. You don't need any terrain, it hardly takes up any space on the gaming table, and you can easily fit four (or more) games into a single day. To help support organised play in 2022, we'll be producing a special organised play pack that stores can purchase to run their own events. Inside the pack, you'll find exclusive, alternate artwork cards for each of the core six players, along with a new game mode that doesn't appear in the rulebook!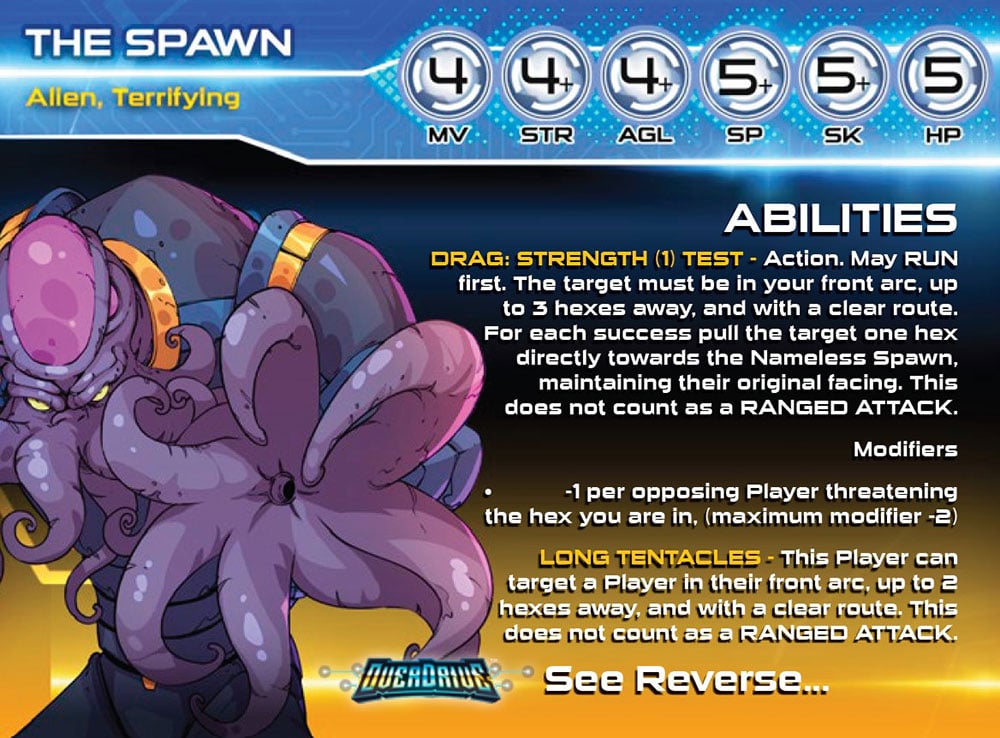 Your first opportunity to win some of these alternate cards is the upcoming Bulk Grogan Memorial Trophy Tournament here at Mantic HQ on January 29th. We've only got one ticket left and – assuming COVID restrictions allow it – we'd love to see you there.
So, as you can see, 2022 promises to be another action-packed year for OverDrive and will bring the total number of players to a lip-smacking 16. Who are you most looking forward to?